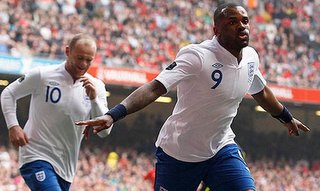 Bent celebrates after scoring the second goal for England
As this international break drags on, the enigma that is England defeated Wales 2-0 at the Millenium Stadium. While the English media fretted regarding Fabio Capello's captaincy decisions, none of that ultimately mattered as England played as a collective.
After all of the criticism aimed at Fabio Capello, the Italian coach who had been depicted as a rigid and unwavering man, England played in a very fluid 4-3-3. A midfield trio of Lampard, Wilshere, and the hardworking Scott Parker supported the front three of Rooney, Bent, and Young. Just five minutes in, Ashley Young is brought down in the box earning a penalty which Frank Lampard tucked away. Looking at the build-up to the penalty, it was John Terry who started it all with a winding run before playing Young through into the Wales penalty area.
England didn't sit back on their lead, instead they pressed in a frenzy leaving the Welsh players no time on the ball. It was a great display which culminated with a second goal in the 15th minute, when a well worked attack finished with Ashley Young squaring the ball for Bent to tap-in. The two goals eased any possible nerves which might've creeped their way into the English, and England went on to dominate the rest of the first half. The front three were dynamic and providing movement, the midfield was well balanced with Parker sweeping up any rare mistakes by Wilshere and Lampard, and the defence was strong and fluid with Johnson and Cole providing width with their runs up the line.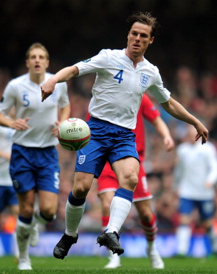 Scott Parker was energetic and hardworking
It really was a fantastic display from this England team which flourished thanks to the fairly disorganized Welsh side. While the new captain Aaron Ramsey tried to be inventive, all he could manage were a few stray and misplaced passes. Craig Bellamy wasn't very noticeable either, providing few bursts of danger for the English defence. It was a half to forget for Wales, and one to build on for England.
The second half saw a more lively Welsh team, beginning to edge out of their half of the field as England didn't seem as determined as they had in the first 45 minutes. Little by little Wales began to string passes together, and began creating a few good chances. Bellamy and Ramsey began to click, freeing up the rest of their teammates to be a bit more incisive in their forward pushing.
Yet England were still able to put Wales in some bad situations. Jack Wilshere played Darren Bent through the middle of the poorly shaped Welsh defence, but the Aston Villa forward was unable to score. In the 64th minute Wales decided to substitute King and Morison, replacing the pair with Vaughan and Evans. Capello responded about five minutes later replacing Wayne Rooney with James Milner. Before being substituted Rooney had earned himself a yellow after a couple of reckless challenges and therefore won't be playing in England's next Euro 2012 qualifier against Switzerland.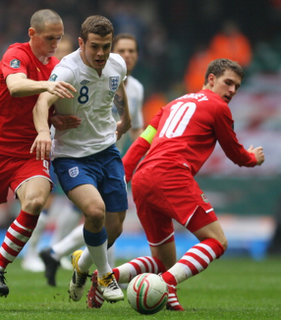 Arsenal teammates Wilshere and Ramsey
Wales continued to grow in confidence during the second half, occasionally forcing England to defend against repeated corners. But England wasn't too fazed, and the defence did its job without too many difficulties. The clock continued ticking, and Capello made his last two substitutions replacing Wilshere with Downing and Parker with Jagielka. The final whistle sounded as Wales were beginning to give Joe Hart some work to do.
It was a fairly comfortable 2-0 win for England, which helps them rise up to the top of Group G. Both England and Montenegro have 10 points, yet the three lions have a five goal lead in goal difference which gives them first place for now. Wales on the other hand still haven't collected any points in the group, and qualification to the European Championships held in Poland and Ukraine seems near impossible.
What are your thoughts on England's win? Was it the poor display from Wales in the first half which allowed England to win so easily? Share your thoughts in the comments below!