Good Morning! You're here today because you want engagement rings under 5000 dollars and honey, you're gonna get what you're looking for because I am armed and ready with some $5000 engagement ring eye candy to knock your Happy Socks off. Because this is such a strong budget, there's actually a few different ways you can approach it: with designer settings that still need a separately purchased center diamond, which I'm showing off today, with ready-to-wear engagement rings like I showed off last week, and even our designer Henri Daussi engagement rings under 5000 dollars!
Welcome back to the engagement rings under 5000 series! So far, I covered estate engagement rings and designer ready to wear engagement rings under 5000 dollars. You can check out this post on the DBRL & RLJ blog to see exactly how those two types of engagement rings differ!
But onto today's selection. I want to highlight a few gorgeous settings from Diamonds by Raymond Lee. When you look at an engagement ring setting, remember that 9/10 times that price doesn't include a center diamond (read more about that here.) You need to budget for that separately. How you choose to allocate your budget is a personal decision, but I like to bring my grooms as close to 30% setting 70% diamond as we can get while meeting their wants and needs.
So if you fall in love with a setting that costs $4700, you need to make a decision: Can you live with a $300 diamond? No, you can't, I won't let you, because that price is too good to be true and you're getting ripped off. But can you live with a CZ in the setting until you can upgrade to a diamond at some point in the future? Or would you rather look for a similar style that's maybe $2500? That would leave you half of your budget to get a diamond – and that's a great budget for a loose diamond, but it's not going to get you the 2 carat cushion cut you pinned to your #Ringspo board.
These examples can be tough decisions for some couples, which is why I like to stay in that 70/30 range regardless of total budget. That way your diamond remains the star of the show, and you still get a gorgeous setting. Again, this is a personal choice. Some couples value the intricacy of a well-designed ornate setting more than a big rock. Others don't mind a smaller center diamond as long as there's plenty of designer halos making it look enormo. It's up to you, and I hope that some of these examples appeal to those personal tastes.
The settings can all be customized to fit the shape and size center diamond of your choice – which I recommend finding with our diamond search tool, so you can get a feel for prices. My recommendation? Base your initial search off my formula for getting a great deal on a beautiful diamond. And we can cast these settings in platinum or 18kt white,yellow, or rose gold! And, in staying true to my advice and our budget, these settings are all right around 30% of $5k ($1500) leaving you plenty of room in the budget for an incredible diamond.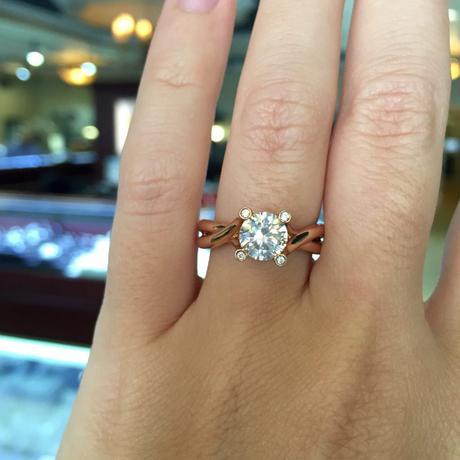 Click here to shop
A rose gold solitaire by A.Jaffe with bezel set diamond prongs and a twisted shank is modern and unique.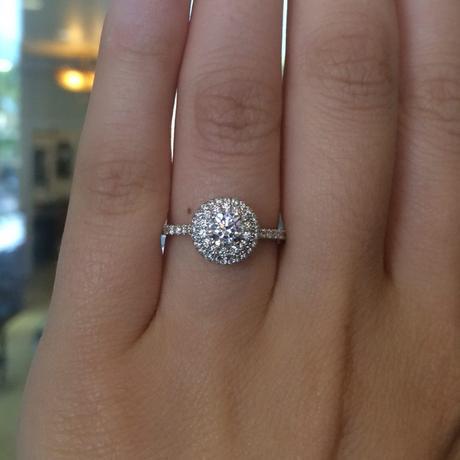 Click here to shop
This double halo by A. Jaffe is a beautiful, center diamond enhancing style.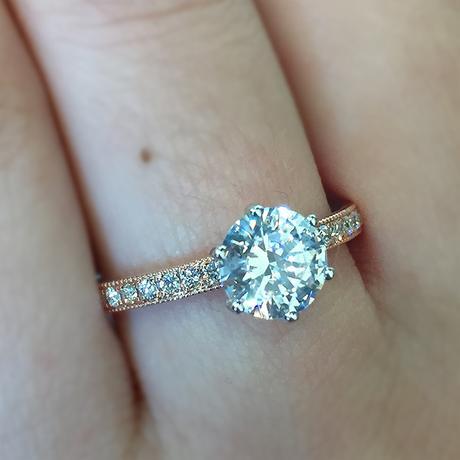 Click here to shop
This rose gold solitaire stars in one of the most popular engagement ring stacks of all time – and it's right where we need it to be, budget-wise, at $1610.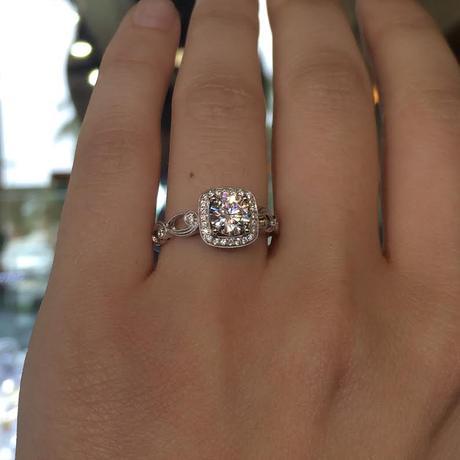 Click here to shop
This Simon G. ring is a hair over budget at $1800 and change, but the gorgeous shanks and halo make it worth the splurge, IMO.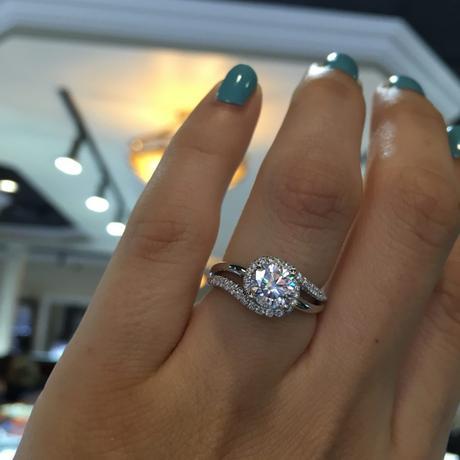 Click here to shop
A beautiful diamond pave bypass ring by Gabriel & Co.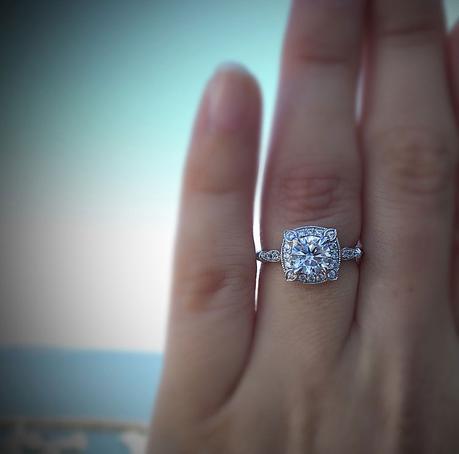 Click here to shop
Vintage inspired beauty to close us out, also by Gabriel & Co (who specialize in beautifully designed, super affordable luxury settings.)
These rings are just some of the many, many options we have for engagement rings under 5000 dollars. I hope these options showed you a great variety for the awesome rings you can get with this budget! If you need more inspiration, make sure you follow me on Pinterest and Instagram!