Happy National Plant a Flower Day! And Happy Pi Day! But guess what, we are celebrating neither of those here, today, in this realm of the internet. Why? It's also 3-12 and therefore a holiday I just decided is Happy Chicago Day. Which is all well and good because Chicago is the chit, however it snowed AGAIN/STILL last night so you can't really plant a flower here, unless it's a tulip and you did said planting last year. And eating pie is a good way to reconcile oneself with wearing layers, but not as good for willing spring and sundresses into existence. So in lieu of flowers (or floral-inspired engagement rings) and pie (or pie-inspired engagement rings, whatever that looks like), we're celebrating yellow diamonds. Because it's made-up Chicago Day. And I live in Chicago. And I love yellow diamonds. Therefore by the law of verbal traps, um, you're celebrating yellow diamonds. Extremely unique yellow diamond engagement rings, to be precise. Let's proceed.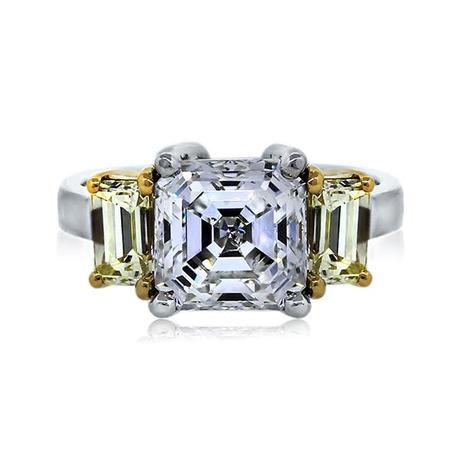 If you follow me on Facebook, are related to me, or live within a 2 block radius of me, you've already heard about this ring. For the uninitiated, this is a diamond engagement ring that is out of this world. An Asscher cut is hard to come by. A 3 carat Asscher cut? Doubly so. Add to this the fact that there are emerald cut fancy yellow accent diamonds, something I've only ever seen in Shiraz-tinged dreams, and you have one of the most unique engagement rings I've ever seen. The 3.18ct center stone is a fabulous F color, and its SI2 clarity does have some visible internal characteristics, but let's go ahead and call them beauty marks. Someone come give this beauty a loving home, before I'm forced to.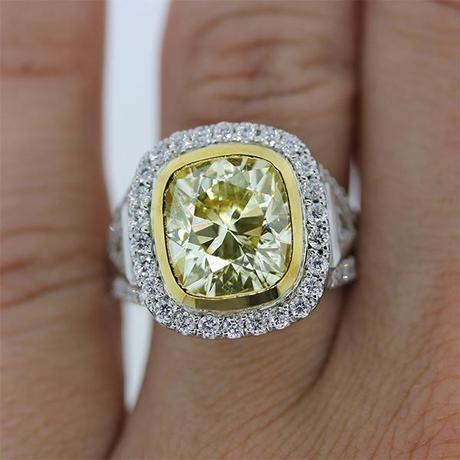 What's that? 3 carats is too small for you? And you prefer a yellow diamond center stone? Come closer, darling, and meet this lovely 4.62 cushion cut. It too is SI2 clarity, but it's yellow, so it's even more forgiving. And with an additional 1.38ctw of diamond pave, the added sparkle will catch your eye before any inclusions do. And, in the rare instance where you notice a smidge of imperfection in this diamond, .30ctw of white trillion cut diamonds are there to bring you back to where you need to be: in love with this engagement ring.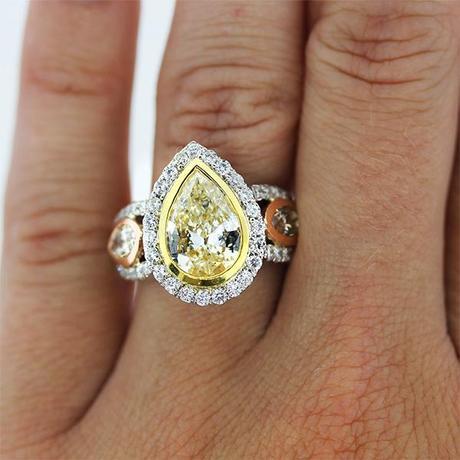 Last, but certainly mos def not least, is this insanely beautiful pear shape. Pear shaped fancy yellow diamond engagement rings are a rare and welcome treat, and RLJ was lucky enough to have two big, pear shaped fancy yellow pass through our hallowed doors in as many weeks. This one is a 2.01 carat and in keeping with today's trend, has an SI2 clarity grade. It got the yellow gold bezel setting treatment to add even more warmth to its sunny disposition. And a hefty dose of pave with 1.22ctw of round brilliants in a halo and a split shank setting. Then, to set this ring apart, we added .76ctw of white marquise accents that are in a beautiful rose gold bezel setting. It's a unique treasure, and it's begging to be on your finger!