Ain't no party like a solitaire party cuz a solitaire party don't stop…ever! That's right, you can rest assured that purchasing a solitaire ring (a round brilliant, for today's purposes) will net you one (1) eternally in-fashion engagement ring. Solitaire's don't go out of style, they never have, and as long as there are classic brides, the sky exists and James Dean remains sexy, the solitaire engagement ring will live on in elegant, timeless beauty. There's a reason why round brilliant diamonds command the most per-carat price in the retail setting, regardless of how hot right now a cushion cut may be. Or, for nostalgia's sake, a marquise. Remember the 90′s? Marquise shapes for days. So whether the cut du jour is a princess, pear or oval, the round remains prized (and priced) above all. And the most classic setting for a round is, of course, in a solitaire mounting. Now, from there you've got quite a bit of freedom. Some ladies like to go the halo route. Others prefer a little blingitty blang (sorry) on the mounting, gallery or, hell even the prongs. The world of diamond rings is your oyster. A diamond accented band adds just enough spice to your gorgeous center stone without the commitment – both financial and emotional – of a round with side stones. So today I'm craving a few solitaires with flair. Lucky for you, I'm in the mood to share. And yes, I promise to stop rhyming.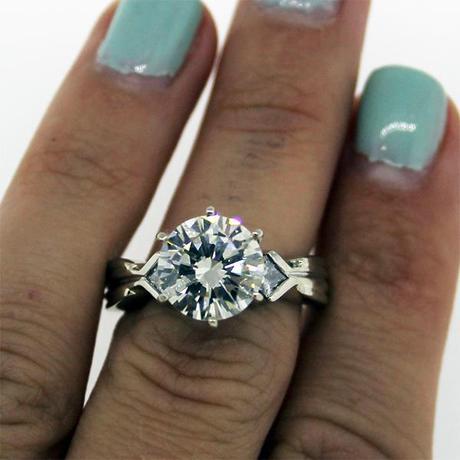 This beauty is a 2.75 carat EGL certified round brilliant with a VVS2 clarity and an M color grade. This ring is a good example of the minute differences in the color grade. This still looks like a white diamond, but you won't pay a premium like you would with a D color, or even a budget friendly J. So you end up with a  big ol' diamond that still looks like a beautiful white stone, for a fraction of the cost. The setting is unique, in that it's got two sideways set princess cuts set into the actual mounting – not flanking the center stone like side stones. it's an interesting twist that plays nicely with the channel engraved band.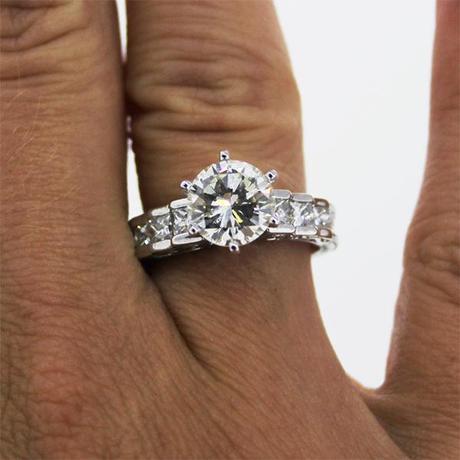 Continuing the princess cut/ RB combo, we've got this stunning 1.84ct round brilliant L color, VS1 clarity grade round. It's set in my super most favorite 6 prong setting, but that's where the tradition stops. The band is a graduated series of steps made of diamonds. 40ctw of princess cuts, set in white gold.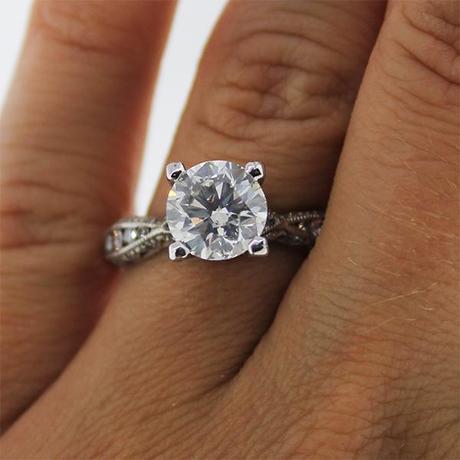 Oh,
hello
. Tacori engagement ring! This stunnah is 18kt white gold set with .44ctw of accent diamonds, centering a round brilliant diamond. The center stone is an EGL certified 1.95ct G, SI2 and it.is.fabulous.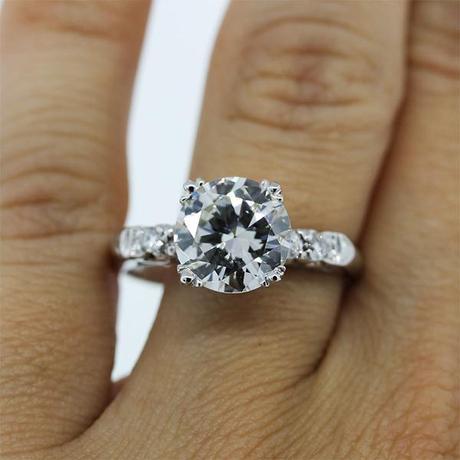 I totally saved the best for last. I know I'm not supposed to play favorites but let's be realistic here, I name the diamonds in the showcases, so I do have an emotional investment people. This ring is a gorge 2.74 round brilliant that is a GIA certified J color, VVS2 clarity. It's a big brilliant, so it needs those meaty platinum prongs to support its heft. It also gets a smattering of diamonds circling half way around the band, to the tune of .20ctw. It's practically perfect in every way.
Which is your fave? All? I know, but humor me and pick one. None? Well tell me what you want what you rele rele want!