Yes, September's over (Trust us, we checked our Facebook feed. Everyone still thinks it's hilarious to wake up the guy from Green Day now that October's here). And while a nearly 10 year old meme reminds us that September ended, its glorious birthstone sapphire lives on in our hearts and minds. It also doesn't hurt that sapphires are one of our all time favorite gemstone engagement rings. Whether we're taking our cues from Princess Kate and rocking a sapphire center stone engagement ring or we've got something more Art Deco inspired on the mind, we can't go wrong with sapphire and diamond engagement ring settings. Because sapphires are tough enough to withstand every day wear, they are actually suitable for the main stone of an engagement ring (unlike, say emerald, which makes a fabulous accent stone but calls for attention and caution when used as a center stone). But, luckily for those of us who enjoy large diamonds in their engagement rings, sapphires also make for a beautiful accent. Especially when paved into the mounting (along with smaller diamonds) and styled to represent the best of Edwardian and Art Deco designs. Octagons, ovals, and 'plain' old circles abound in this week's colorful eye candy. Just add diamonds!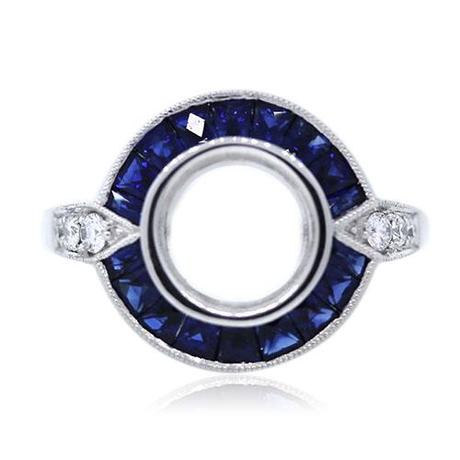 Platinum Art Deco Style Diamond and Sapphire Engagement Ring Mounting
This ring is a platinum mounting set with .12 carats of G/H colored diamonds all VS in clarity on the shanks that taper sharply into the crisp blue sapphire halo. The princess cut sapphires are set invisibly into beaded platinum and weigh 1.14 carats total.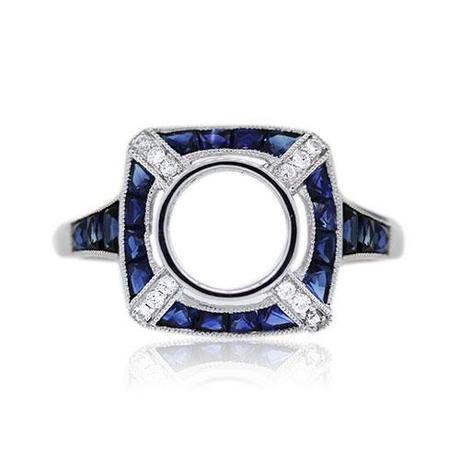 Platinum Art Deco Inspired Diamond and Sapphire Bezel Set Mounting
The next ring on our wishlist is a decidedly more bold (and more Deco) mounting. With sapphires taking the main stage, .84 carats of princess cut sapphires line the part of the shanks visible from the top and frame the bezel setting in a soft cushion cut frame. Each corner is accented by three round brilliant diamonds G/H in color and VS in clarity weighing a delicate .06 carats total. Fear not, there's plenty of room for a B.A. diamond in the center of this platinum mounting!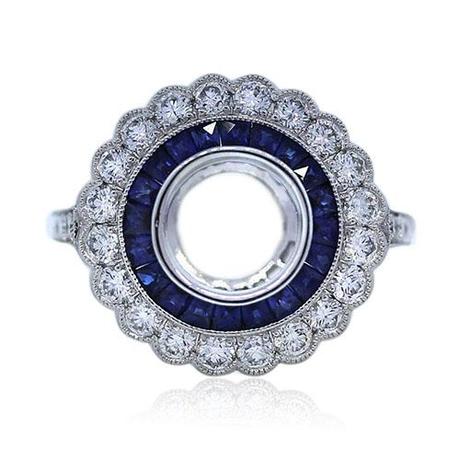 Platinum Diamond and Sapphire Engagement Ring Mounting
This ring is decidedly more feminine, with all the frills to go along with it. An outer ring of round brilliant diamonds gives the ring a scalloped border. The diamonds are all (you guessed it) G/H in color and VS in clarity, weighing a total of  .63 carats. The sapphires that make up the inner border (or 'halo' as is the popular terminology!) are .57 carats heavy and set invisibly into the platinum. Pretty, pretty pretty.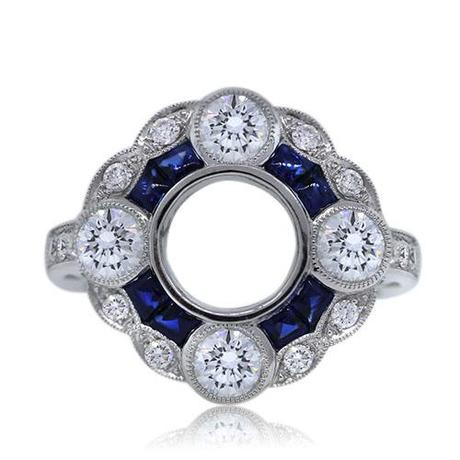 Platinum Vintage Style Diamond and Sapphire Mounting
Finally, we have this incredible, totally antique style setting. Not only does it recall the Victorian era, it's really unique. We've never seen another setting like this (and it's our job to stare at engagement rings for 80% of the week). Let's begin our discussion with the four largest round brilliant diamonds anchoring the setting. Have you ever seen such fire in accent stones? Again, they're an excellent G/H color and VS clarity, but they aren't the only ones. Smaller round brilliants center the marquise shaped platinum carvings that create the softly waved outer edge of the ring. Still more of the 1.12 ctw of diamonds are set into the platinum shanks. .98ctw of deep blue princess cut sapphires form the inner border of this platinum bezel setting to create a major impact on a ring that doesn't demand a huge diamond – just one that can hold its own in such an incredible setting, and let the intricate and immaculate setting work do all the talking.