Last week, we showed off some of our colorful engagement ring settings with sapphires, and this week, we're continuing the gemstone engagement ring trend with some rather fabulous ruby engagement rings. These gorgeous mountings are all platinum with ruby and/ ordiamond accents in varying Art Deco Designs. We love the look of a fancy yellow diamond to really make a ruby engagement ring setting pop, but a white diamond looks just as beautiful. For the lady who loves a complementary color scheme, pop a pink diamond, pink sapphire or even a rosy morganite into the center. We also can't help but think that a brown diamond (sometimes called chocolate diamonds or cognac diamonds depending on who's trying to sell them) would look rich and sumptuous paired with these gorgeous rubies. There are plenty of great options for these ruby engagement rings to shine.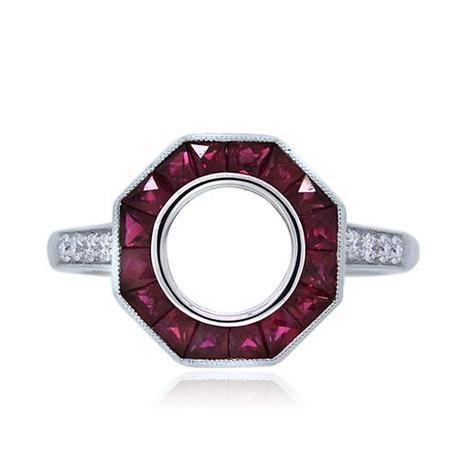 Platinum Vintage Style Ruby and Diamond Engagement Ring Mounting
The ever-popular Art Deco tradition of the octagon puts on its ruby slippers with this ruby halo engagement ring. .75 carats of princess cut rubies form the inner circle (embraced by milgrained platinum) while .12 carats of G/H VS clarity white round brilliant diamonds line the top facing part of the shank.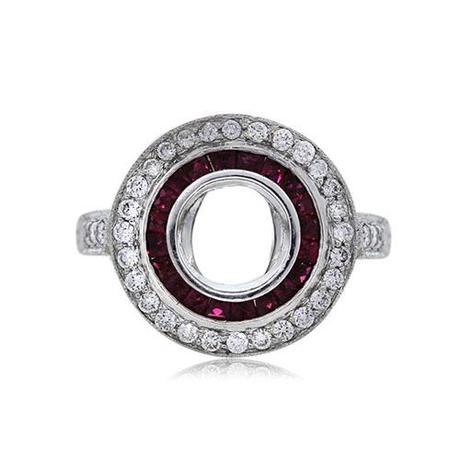 Platinum Vintage Style Ruby and Diamond Engagement Ring Halo Mounting
Another halo, this ruby engagement ring setting features significantly more diamonds, ant that's never a bad thing. .23 carats of round brilliant diamonds are set into an outer ring surrounding the rubies (they also line the shanks) The diamonds are G/H in color and VS in clarity round brilliants. The inner ring around the bezel setting is .60 carats total of princess cut rubies. We think a white diamond would look stunning in this ring.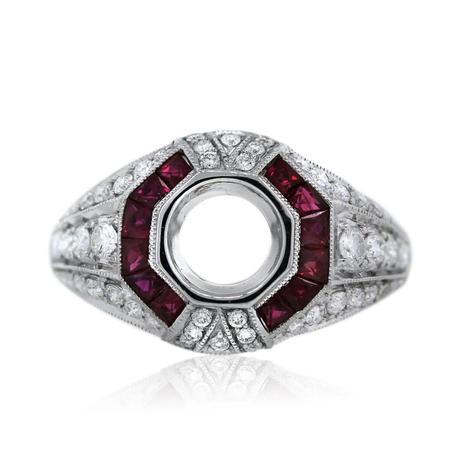 Platinum Vintage Style Ruby and Diamond Pave Set Mounting
This ring is bolder, more geometric, and more masculine. The right guy could definitely pull this off, so could the right lady. The .56 carats of G/H colored VS round brilliant diamonds are inlaid in a more intricate pattern on this mounting, creating lanes of pave that all lead to the 6 sided border of .53 carats total of princess cut rubies. A brown diamond would look fabulous in this ring.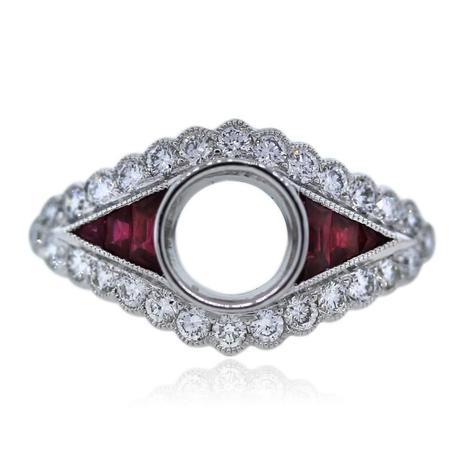 Platinum Art Deco Diamond and Ruby Engagement Ring Mounting
Our last pick is totally Art Deco. A beautiful east-west kite shape frames and hugs the center bezel, butt he components are what make it so amazing. .27 carats of princess cut rubies are invisibly set to look like trillions on either side of the setting, bordered by platinum milgrain. The outer border of diamonds (yes, G/H in color and all have a VS clarity grade) forms a gorgeous scallop detail to add feminine fringe tot his beauty. This ring would look perfect with a white diamond, a light fancy yellow, or any intensity of fancy yellow really.