Oh, radiant cuts, be still my heart. Whenever I see a radiant cut diamond, my heartbeat quickens and I get a little googly eyed. If it's fancy yellow my mouth will water. Radiant cut diamonds vacillate between my favorite/second favorite diamond shape, and when I started "browsing" for rings I equally loved radiant cuts and ovals. I ended up with a beautiful oval shaped engagement ring, but you'd better believe I'm looking forward to adding a radiant cut diamond to my collection years (and years and years) from now. What's not to love about this shape? It combines the brilliant faceting that gives a diamond the most sparkle and fire with the clean lines of a rectangle. The radiant cut can also be cut into a more square configuration, which is the savvy buyer's perfect alternative to the extremely popular (but very bottom heavy) princess cut. You get the clean lines and added surface area of an elongated shape when its cut into a rectangle, without sacrificing any "bling" to a step cut. It also gives you more leeway in your color and clarity (and therefore more room in your budget to add carats) because the brilliant cut is more forgiving, making radiants again a good option for "more bling for your buck." But don't take my word for it, please join me in swooning over the flux of radiant cut diamonds that RLJ has added to its showcases recently – and yes, stacked radiant ring pictures are forthcoming on Instagram.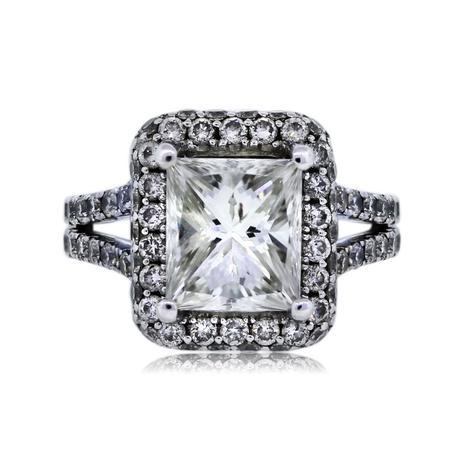 White Gold 2.42ct Radiant Cut Halo Set Engagement Ring
This is a perfect example of the radiant cut doing an impression of a princess shape. It is more rectangular than the typical princess, but prongs that disguise cut corners make this look like a large princess cut that shines in this pretty micropave split shank halo setting.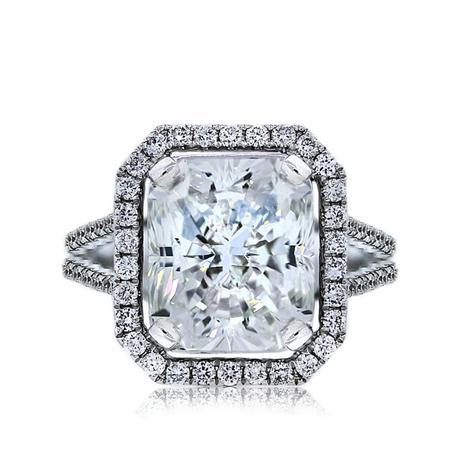 18k White Gold 5.04ct Radiant Cut GIA Certified Engagement Ring
If you like the look of the cut corners (and I don't blame you, it's one of my favorite features of the radiant shape!), you can find a similar setting that accentuates them, like this 18kt white gold and diamond setting. It's also micropave and split shank and a halo, but its cut corners hug the sides of the center stone. And should you ever tire of this mounting and want to have it re-set, those cut corners are great for those who wear their diamonds everywhere and don't want to worry about the delicate corners of a princess shape (yes, they can chip).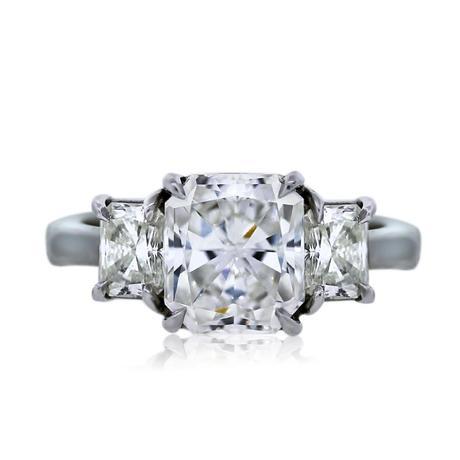 Platinum GIA Certified 3.03ct Radiant Cut Three Stone Engagement Ring
This one is one of my favorites. It's a stunning 3.03 carat K color that reads like a G in person. It's big and luscious, but not ostentatious, and the classic three stone setting gets me every time. The side stones are also radiant cuts that weigh a combined total of .94 carats, so they're perfectly proportioned to the center.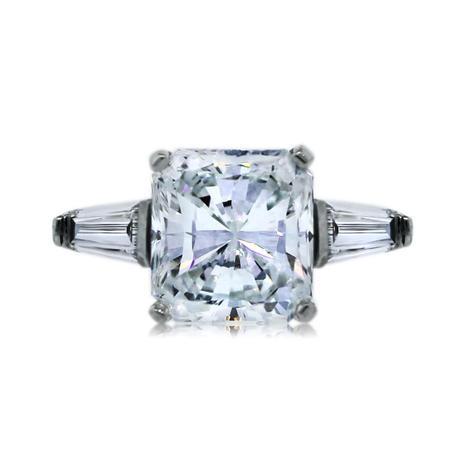 Platinum GIA Certified 3ct Radiant Cut Diamond Engagement Ring
If you prefer a vintage look, this ring looks like it came straight from Graff's 80′s archives. A big, beautiful 3 carat radiant cut (that actually is a G color) is accented by the clean, bold geometric lines of step cut tapered baguettes.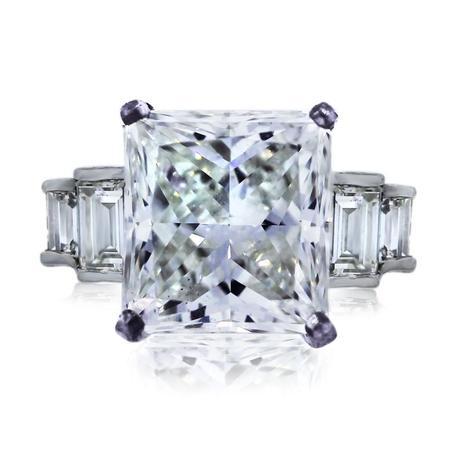 Platinum 6.05ct Radiant Cut Diamond Engagement Ring
Of course, when you need to pull out all the stops, there's nothing like a 6 carat diamond. With a stone this huge, the jeweler decided to forgo the three stone setting and bumped it up to 5. So four graduated emerald cuts ensure that your finger is covered in diamonds – big ones.