Platinum engagement rings are one of the most classic and beautiful metal choices for a diamond engagement ring. Of course, various metals (and colors of metals) lend themselves differently to the vast array of diamond cuts and engagement ring styles. For instance, an Old European cut diamond set into a geometric platinum mounting is undeniably Art Deco and looks fabulous on the hand of someone who likes the clean lines and bold opulence of this jewelry era. Put the same stone in a rose gold (or yellow gold) mounting and you've got an updated classic perfect for the modern bride who likes the romance of antique diamonds but wants a fresh take on Victorian or Edwardian style wedding rings. Platinum, however, is a metal that lends itself easily to so many different styles of ring, both contemporary and antique, as shown below. The beauty of platinum is its silver color, which has been popular in the bridal world for over a decade (although the aforementioned yellow and rose gold are both definitely huge trends lately). Unlike white gold, its budget-friendlier doppelganger, platinum never needs to be re-rhodiumed and it is slightly harder than gold. It's a stunning metal for stunning rings, and we've got a craving for the sweet rings below.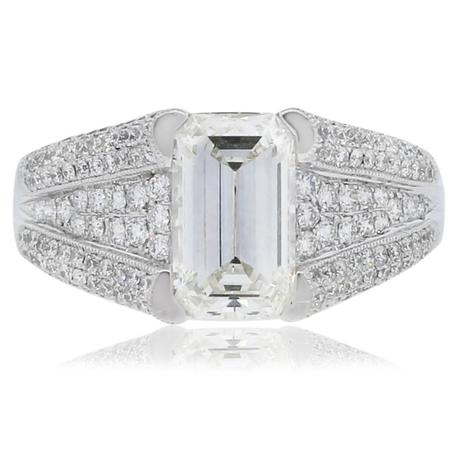 This beauty features a 1.87 carat emerald cut diamond with a stunning VS1 clarity. It's important for step cuts like emerald cut diamonds and asscher cut diamonds to have a good clarity grade because this particular diamond cut doesn't hide inclusions well. All the better to show off a clear, clean diamond! The color is a lovely I grade per GIA's strict standards, meaning you aren't paying a premium for a "colorless" grade in the D-F range, but you're still getting a stone that the untrained eye can't detect color in. The accent stones on the shank add a glittering effect to this ring and weigh a total of .69 carats.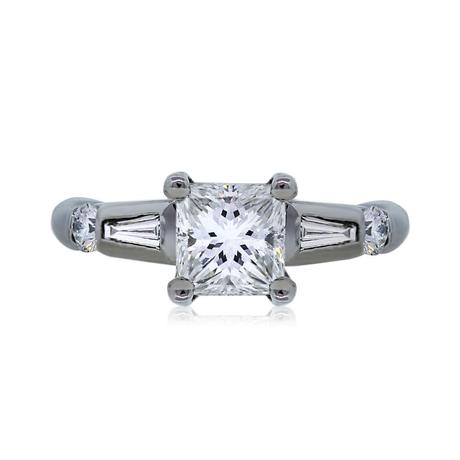 Our next ring is a perfect example of the beauty of platinum in a contemporary setting. The princess cut is the modern bride's favorite stone, sometimes outpacing sales of even the classic round brilliant. Modern brides can't get enough of the princess cut's sharp lines and fiery hearts and arrows. This particular princess cut is a GIA certified 1.24 carat sparkler with a VVS2 clarity grade(!) and H color grade. The side stones are tapered baguettes that complement the center stone's geometric lines, while the addition of round brilliant diamonds softens the ring up a bit. They also take this ring from ordinary to very unique without straying too far from the classic platinum setting style.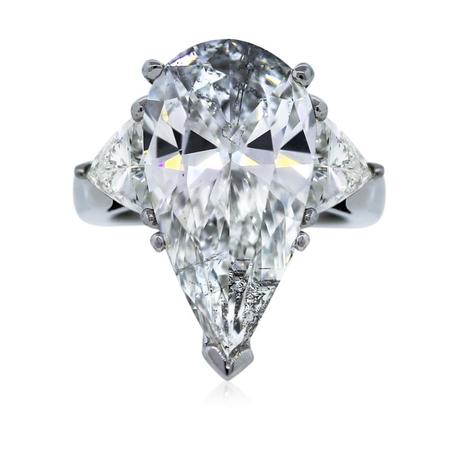 This ring is an example of platinum's ability to transcend various jewelry eras. The pear shaped engagement ring, particularly with angular side stones like the ring above, is a hallmark of vintage jewelry. However, we've seen a resurgence in pear shaped popularity lately that hasn't existed since David Gest gave Liza Minelli her engagement ring. Platinum's toughness is the perfect complement to the pear shaped diamonds' fragile point – it's why you often see pear shapes set into pendants in a bezel setting. But we love a pear shaped engagement ring, and this one stuns with a huge 4.65 carat ROCK and 1 ctw trillion accent diamonds.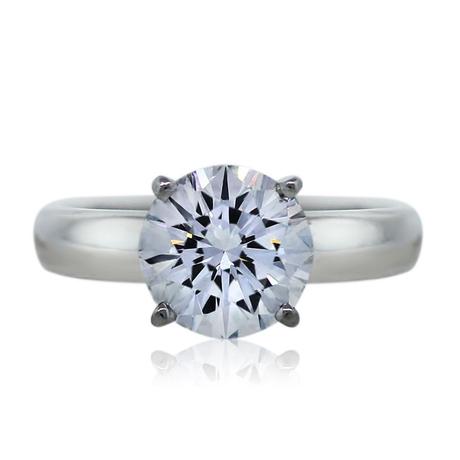 If classic is what you're after there's simply no topping the round brilliant solitaire set in platinum. The ultimate symbol of intention, this engagement ring style is the top choice for timeless brides. This particular ring is a beautiful 1.65 carat round brilliant with a fabulous SI1 clarity and H color grade from GIA. We like the slightly thicker platinum band with this particular stone.