Today's engagement rings are what's now, what's new and what's next. Bridal trends come and go, but they do tend to last longer than your average jewelry fad (RIP Return to Tiffany!) So while there are glaring trends in bridal, like the marquise cute of the early 90′s, or starburst baguettes galore in the 80′s, they usually span decades, not years. One such example is the halo style engagement ring. When the economy took a turn for the worse, couples were still getting engaged. Some of those couples still wanted to purchase a diamond engagement ring. And some of those brides still wanted all the blind she's always dreamt of, even if the budget wasn't as large as she'd hoped. And so the halo was born – it magnified any diamond in its setting, using smaller, more cost effective diamonds to enhance the center stone. This added visual weight to the ring, making for lots of sparkle with less spending. And now that things are slowly on the up and up, the halo's popularity is thanks to its beauty, not just its budget-friendliness. So now, going on a decade, the halo engagement ring is still hot. But what comes after the halo? What's new in the RLJ shop? What's hot now? And – what's up next?
New
These two rings are classics – they'll never go out of style, they never went anywhere, but they are brand spanking new to the lovely Raymond Lee Jewelers showcase! Can't nobody complain about a stunning three stone engagement ring, let alone two of them.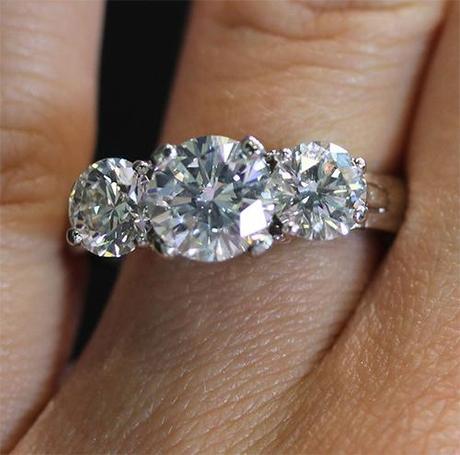 Platinum Three Stone Round Brilliant Diamond Engagement Ring with GIA
This gorgeous three stone is just the picture of perfection, with three GIA certified stones that are slightly mismatched color and clarity grades (savings!) but paired expertly so that to the average admirer it looks like they're triplets. The center stone is a gorgeous F colored 1.52ct with a fabulous VS1 clarity grade. The side stones are both H colors and from left to right, are .81cts, SI1 and .80cts VS2. All are individually certified. But wait! This classic, but seemingly familiar ring has a secret.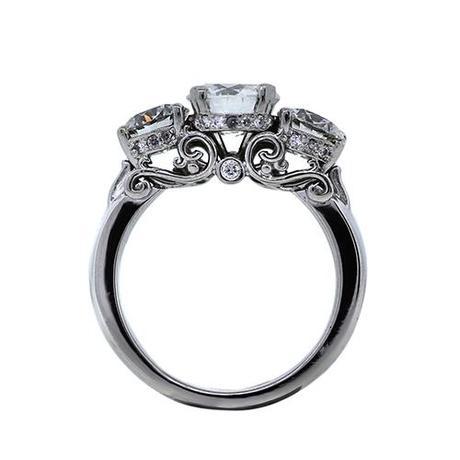 Check out that filigree! Beautiful, Victorian-esque scrolls decorate the gallery, and the mounting heads are studded with diamonds too, adding another .20ctw of accent stones to this platinum love story.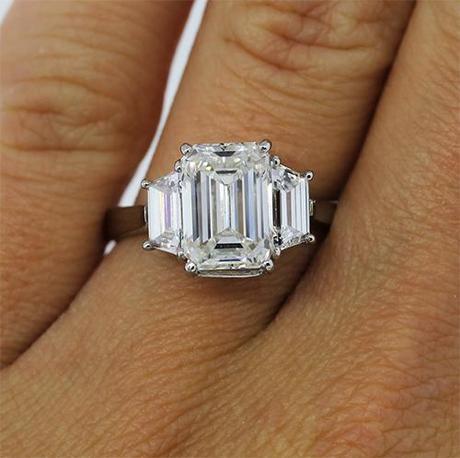 Platinum GIA Certified 3.03ct Emerald Cut Diamond Engagement Ring
As long as Lee keeps buying insanely gorgeous emerald cut diamonds, we'll keep making this ring. It's a perennial favorite – clean lines, bright colors, and enough geometry to please any no-nonsense, luxury-loving bride. Center stone is H, VS1, as are the side trapezoids, which weigh 1.20 carats total.
Now
It's no secret, the cut du jour is the cushion cut diamond. Not since the princess cut exploded onto the scene has a single cut reigned supreme in bridal requests. I hesitate to think the cushion cut will ever be labeled trendy though, because its been in circulation (even as an old mine or rose cut) for decades. And in my humble opinion, the cut looks best on diamonds 2 carats or larger – it gives enough breathing room for the table to shine without completely detracting from the rounded corners, which is the whole point of a cushion cut. Again, that's just an opinion, not science. And even if you do go the distinctly trendy route with the setting (I'll elaborate below), when you wear a diamond that large, it's really an investment. It's something you'll have forever and something you can easily re-mount if you ever change your mind. And you'd be surprised how versatile a BAD is. Mostly because it's hard to make large diamonds look truly terrible (hard, not impossible.)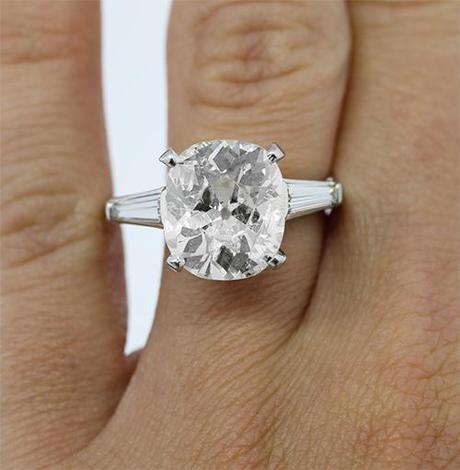 Platinum 6.14ct Cushion Cut Diamond Ring with Baguette Accents
This huge cushion cut engagement ring is set in an uber classic style, all platinum with two sleek .50ctw baguettes on the shank. Center stone is a J color (there's definitely some warmth) and an SI1 clarity grade.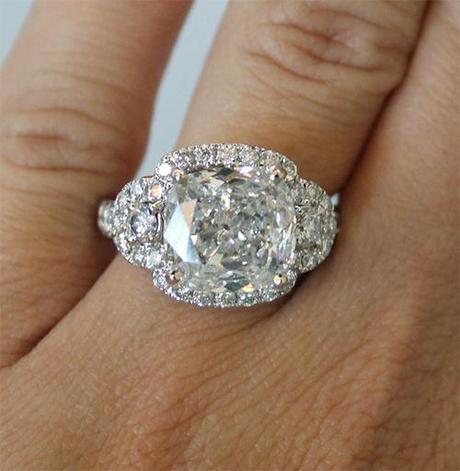 18k White Gold 3.57ct Cushion Cut Diamond Engagement Ring
On the flip side, here's another large cushion cut that's set in the hot right now halo setting. It's 3.57 carats, and is a slightly better H/I color, but a lower clarity grade than above, with an SI3. Because these stones aren't premium color and clarity, I prefer the way this one is set – there's so much more going on that enhances the stone, check out the setting! Those aren't half moons on either side, rather, they're smaller round brilliants that are also halo-fied to add even more bling. The entire mounting boasts 1.16ctw of accent diamonds all set in 18kt white gold.
Next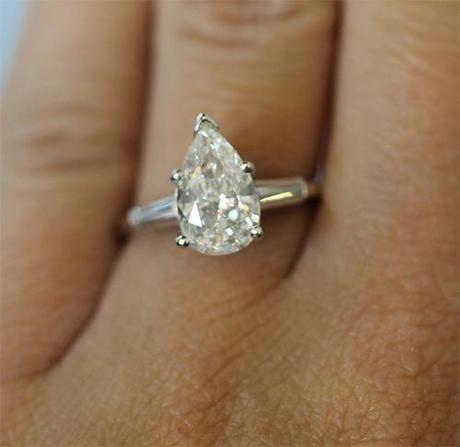 Platinum 1.70ct GIA Certified Pear Shaped Diamond Engagement Ring
Prepare for the pear. It'll be coming in hotter and hotter as we edge toward 2020. It's been gaining traction, thanks to its elongated shape (looks bigger) relative uniqueness, and perfect blend of hard angles and sweeping curves. This little number is 1.70 carats (so not little, actually). It's GIA certified H in color and VVS2 in clarity, and it too shows off some tapered baguettes. Look for more and more baguette action in the coming years too.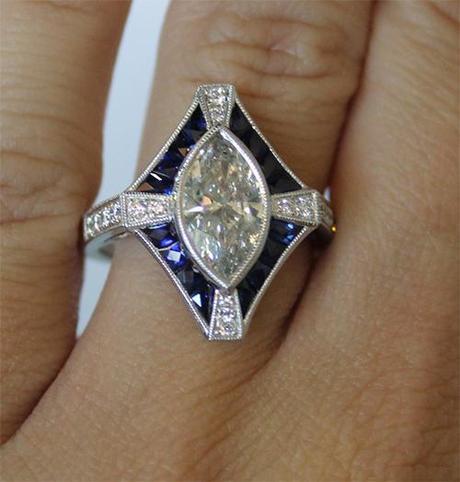 Remember that Victorian inspired scroll work on the first ring? I'll wait while you revisit it (so pretty, right?) Look for more antique touches in the engagement ring future. These colored stone accented rings were selling like the candy they look like last year, so we've started adding more to our collection. This style in particular is very unique, romantic and bold. It's perfect for the bride who doesn't want modern-day-traditional, but isn't into the organic minimalist aesthetic that's overtaken the alternative engagement ring world. Heading back a century and a smudge gives her the look she craves.