This week's engagement ring eye candy has me craving a super size helping of rocks. Luckily, the RLJ showcase is fully stocked with colorful diamond delicacies like so many truffles at Godiva. And this week, we added quite a few new hefty engagement rings with large center stones. With great carat comes great responsibility (to share the blingy gorgeousness far and wide) so it's my duty and pleasure to introduce you to a few of our new beauties and help these lovely sparklers find a new home.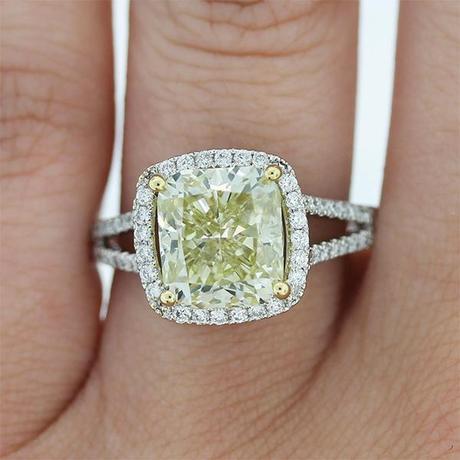 18k White Gold Fancy Yellow Cushion Cut Diamond Engagement Ring
It's my personal opinion that the best cushion cut diamond is one over three carats. And no, it's not because I'm blinded by bling-size (for instance, I think the ideal size for a round brilliant is no larger than 2.5 carats.) I just feel that a cushion cut really shines when its center is bulging, its proportions are balanced, and it's large enough to display the unique shape that separates it from square & rectangular cuts. Luckily, our newest cushion cut is 4.31 carats, placing it firmly in the B.A.D. category. It's also yellow (!) which I know is not for everyone, but bear with me because it's not the only yellow this week. This one features a gorgeous halo setting & microwave split shank.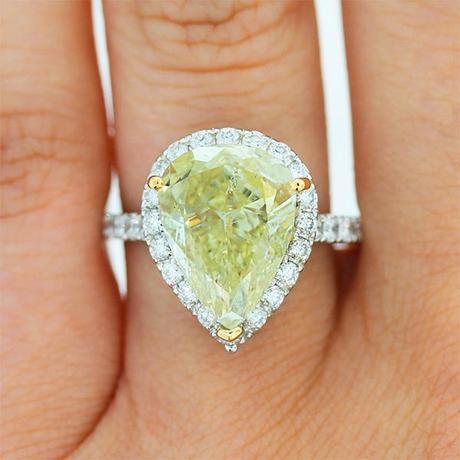 18k White Gold Pear Shape Fancy Yellow Diamond Halo Engagement Ring
Another huge, yellow diamond, this pear shape is a warm, buttery yellow and is a whopping 6.05 carats. Like the one above, it's surrounded by a gorgeous white diamond halo. However, the simple, thin microwave band is the perfect foil to the rather voluptuous center diamond. The setting is 18kt white gold, but the yellow gold prongs on the center diamond blend flawlessly into the diamond so that all you see on this ring are, well, diamonds.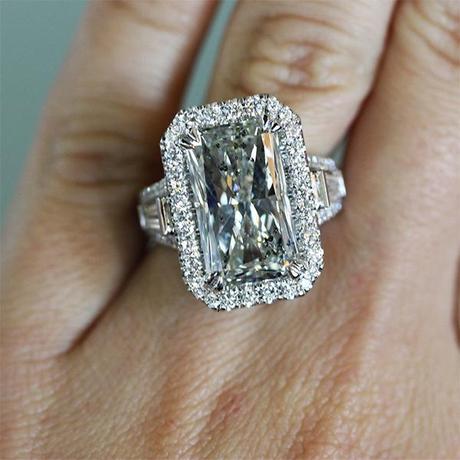 EGL Certified 9.03ct Radiant Cut Diamond Engagement Ring
Onto the white diamonds. First up, a radiant cut that would make Beyonce look twice. In fact, this ring reminds me a lot of Beyonce's engagement ring. Ours isn't a Lorraine Schwartz original, and with an SI2 clarity grade it's not quite *flawless*, but it woke up like this. Ok I'll stop. It's a massive 9.03 carats but doesn't stop there – it features an additional 2.06 carats of accent diamonds. Of course, plenty of that weight comes from the halo around the center stone, but if you check out the bedazzled split shank setting, you'll see that two tapered baguettes and two emerald cuts are nestled in there. So there's no doubt that this rock shines from all angles.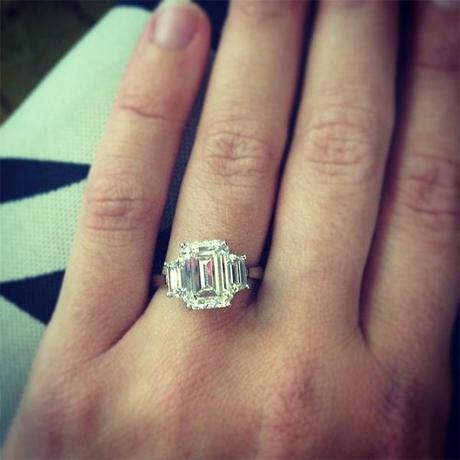 Platinum 4.24ctw Emerald & Trapezoid Cut Diamond Engagement Ring
Finally, my favorite. I know you're not supposed to play favorites, but I do. Frequently. And this one is a contender! There's nothing I love more than a three stone ring, and this style is just so classic and regal. The center stone is a 3.04 carat emerald cut (coincidentally my favorite size for an emerald cut is 3 carats exactly) and it's a stunning VS1 clarity – like staring into a crystal clear pool. If the pool were made of diamonds. I also love the proportions on this one – it doesn't go too vertical. But the center stone isn't the only beauty here, two step cut trapezoids flank the side of the center stone to blend into a beautifully symmetrical, seamless profile. Smitten.