Do you too, have the new Iggy Azalea album blaring at inappropriate decibels, on repeat? No? Now's a good time to start, because ideally you'll sync up "Fancy" while drooling over these BAD's (and a few BAGems while I'm at it.) So, who's a good candidate for these massive rings – besides everyone? I think there's a special place in engagement ring land reserved for The Patient. You might be a patient mother, who deserves an upgrade. You might be a patient teacher who should have something sparkly to admire while she's counting to 10 in her head after a sugar-fueled class birthday party. You might just be a very patient girlfriend who is all but tapping her toes and drumming her fingers while checking her watch because where is your ring dammit? For you, I saved this extra special card: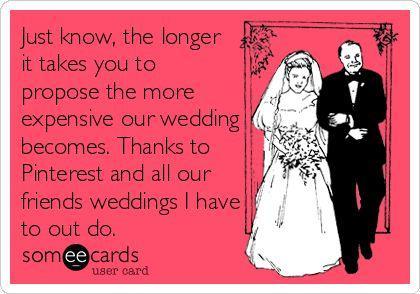 It left out how much bigger your diamond will become. Diamonds get smaller with age and time, it's a fact.
Let's get you patient ladies some big, fancy, huge engagement rings.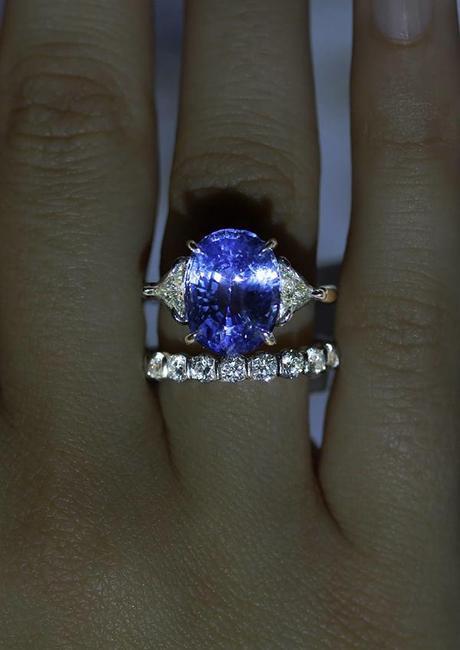 via Get More For It
For the distinguished lady who likes a little color, you can't go wrong with a Ceylon Sapphire. RLJ actually made two of these rings, one is 7.58 carats and the other is 12 carats. Both are that fabulous shade of bright violet (even without the cool effect on this photo) and both are hugged by large, white diamond trillions. Two of my favorite rings in the store.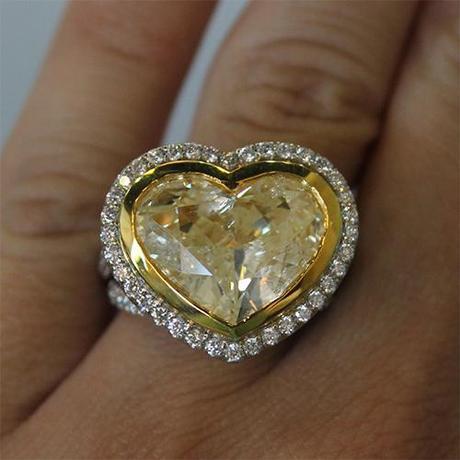 This yellow heart shape is one of Lee's Vegas purchases. It is a big huge giant 8.32 carats, and it is my super most favorite, fancy yellow. More precisely, it's a fancy light yellow with a solid SI2 in clarity. It's set into yellow gold to enhance the hue and surrounded by a halo of white round brilliants weighing 1.98ctw. Allllllll these diamonds are set in 18kt two tone gold. Yummy.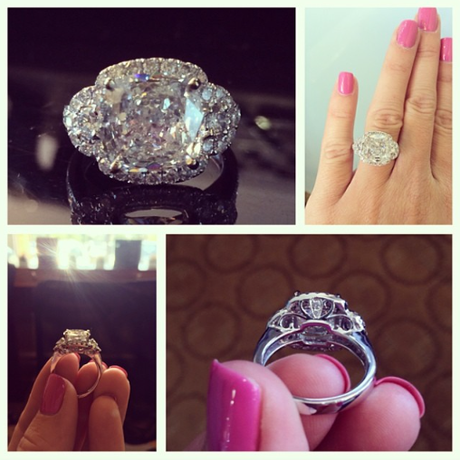 via Engagement Ring Gurus
This ring isn't even online yet, but it's another Vegas score. It's an amazing 3.5 carat cushion cut center stone flanked by half moon accents and halo around diamonds one, two and three, for an insane amount of sparkle.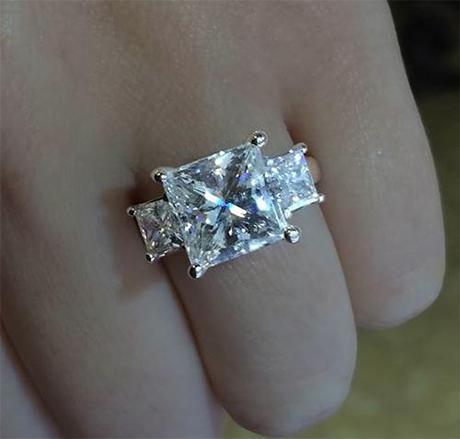 Finalmente, I present this sheer insanity, which I guess you could refer to as a three stone princess cut, but really isn't it so much more than that? This picture is just a sliver of the fire it offers in real life. In fact, I'll go so far as to call it FIYAH because this thing shoots rainbows. Center stone is a fabulous 5.09 carats. Sweet side stones are an impressive 1.5ctw in their own right, and they all combine into a fantabulous creation. The center stone, by the way, rocks an SI3 – not technically an A+ clarity grade, but it goes to show how some inclusions are really not offensive and can save you bucketloads (technical term) of money. Center stone, henceforth referred to as Big Momma, is also an H color, another way to save on a big big diamond. Side stones, henceforth known as sweet little chicklets, are an even better SI1 clarity and G color – but because they're smaller, the cost difference evens out.
I leave you with this, the thought of diamonds and chickens dancing in your head.