This week's engagement ring eye candy is a one-rock show, and frankly, it only takes this one to satisfy our raving. Appropriately, our ring of the week is a yellow diamond solitaire engagement ring, shining brilliantly with just one diamond and oh what a diamond it is! Card-holding members of the fancy yellow fanatics society, prepare to swoon because this diamond is one of the most stunning fancy yellow diamonds we've seen in quite some time (and, let's be honest, we spend more than our fair share of time staring at gorgeous yellow diamond jewelry.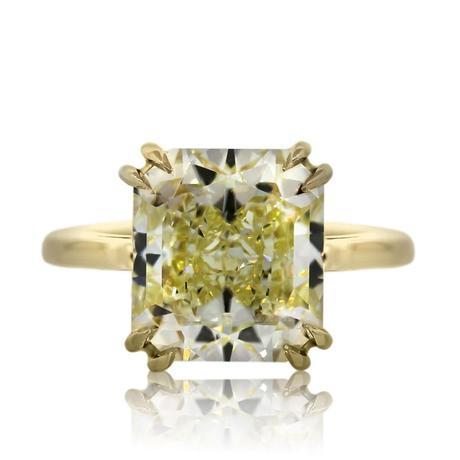 7 Carat Radiant Cut Fancy Yellow Diamond Engagement Ring in Yellow Gold
This magnificent beauty of a ring features a large, but tasteful 7 carat radiant cut fancy yellow diamond graded VVS2 in clarity by the GIA. It's all natural (no enhancement or irradiation here!) and received grade of 'good' for both its polish and symmetry. When you stare into the center you can see how beautifully and evenly it's faceted and how the pattern perfectly kaleidoscopes out from its mesmerizing center. We're completely in love. The cut corners are embraced by two 18kt yellow gold prongs that blend nicely into the diamond's bright sunny yellow tone in a way that platinum might detract from. This diamond would look lovely in any color metal setting, but the 18kt yellow gold allows you to appreciate the diamond and only the diamond.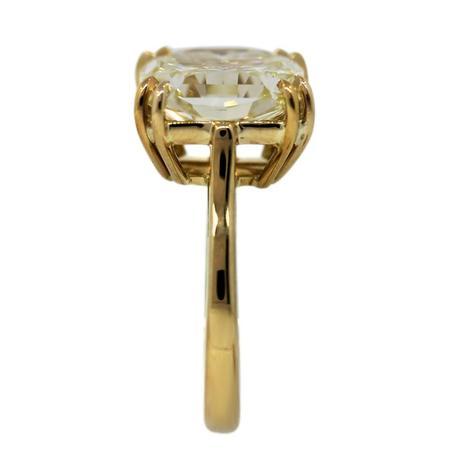 The setting itself maintains its elegant simplicity, shining beautifully with a bright polish, but free of engraving and embellishments. It gently tapers before fusing with the gallery, which is also unadorned – everything about this engagement ring caters to the diamond, and it was designed to be completely breathtaking, but never ostentations.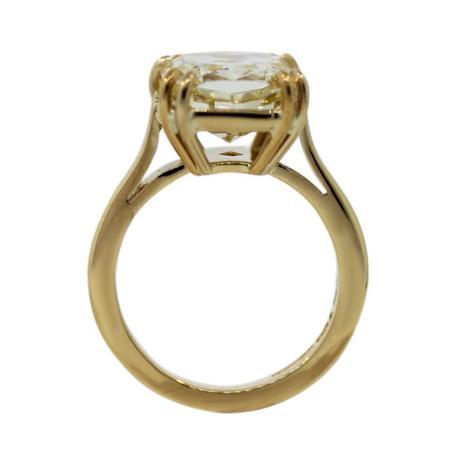 Softly rounded edges make this ring incredibly comfortable to wear. More than just being thrilled to wear a large, lovely diamond, this ring's lucky owner will enjoy a seriously comfortable fit. The simple band will also fit seamlessly with a huge variety of eternity bands – the only one that might be an issue would be a vertically set marquise diamond eternity band, but even that could look amazing stacked under this ring. And despite its big diamond, this yellow diamond engagement ring really is perfect for every day wear. Unlike some large stones that cause their owners stress or mild annoyance to wear during day-to-day activities and errands, this ring is pretty low key. A nice low profile means it's less likely to catch on clothes, and even the most enthusiastic gesticulators should be fine rocking this rock. Best of all, it looks absolutely perfect on the hand.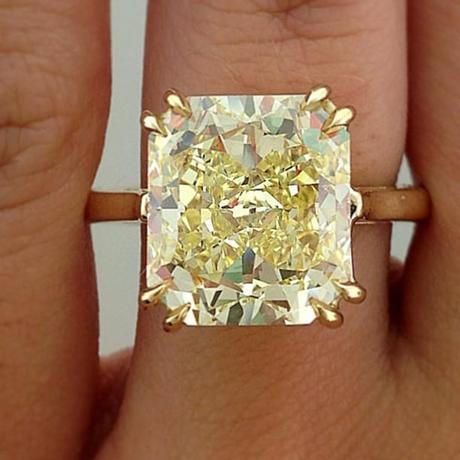 A 7 carat diamond might sound huge, and don't get us wring, it's a big diamond, but this one's weight is proportioned so it always looks elegant and never tacky. You could wear this ring to the grocery store just as easily as you could wear it to a black tie event. This is one ring that wouldn't sit in the safe only to come out on special occasions, it can be worn with a wedding band like we mentioned before, and you really wouldn't ever need to take it off. But then again, why would you want to?