This week we're drooling over engagement rings with diamond bands. Not too far distantly related to the micropave engagement ring, this engagement ring style adds miles of sparkle to its center stone by using smaller diamonds on the band to attract the eye and refract more light. The overall impression is a fire-y flash of bling on one very important finger. And like micropave engagement rings, the additional sparkle doesn't jack up the price of the ring enormously because a mass of smaller diamonds is always a better deal than one massive diamond. Why? Supply and demand (actual diamond supply notwithstanding). Larger, jewelry caliber diamonds are much, much more rare and thus that much more expensive. This is the same reason that diamond price-per-carat doesn't increase incrementally along with the diamond's weight and size – a 2 carat diamond with the exact same specs as a 1 carat diamond is going to be more than twice the smaller diamond's price. And with diamonds used as accent stones on an engagement ring, they're typically smaller than a carat with the majority being under even 1/4th of a carat. So these small diamonds, as long as they're cut well and have decent clarity, sparkle just as beautifully as the big rocks, and there's more of them. This technique is the best way to stretch an engagement ring budget to achieve maximum sparkliness. And not only is it a savvy engagement ring style, it's a beautiful one.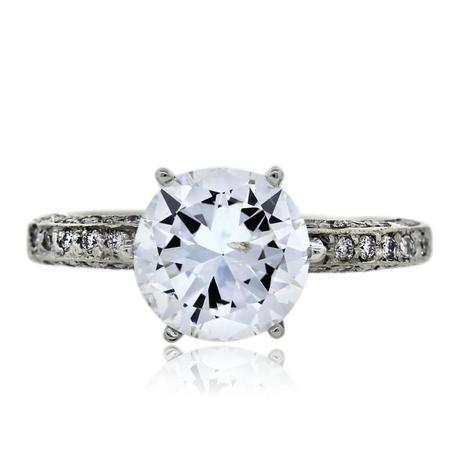 14k White Gold Pave Set Solitaire Engagement Ring
This ring features diamond pave on all three visible sides of its band. With lustrous diamonds set into the 14kt white gold mounting, they beg you to tear your eyes away from the big round brilliant center stone – quite a feat. The center stone is no slump, weighing in at a generous 1.81 carats with a lovely bright J color and a budget friendly SI2 clarity grade from GIA.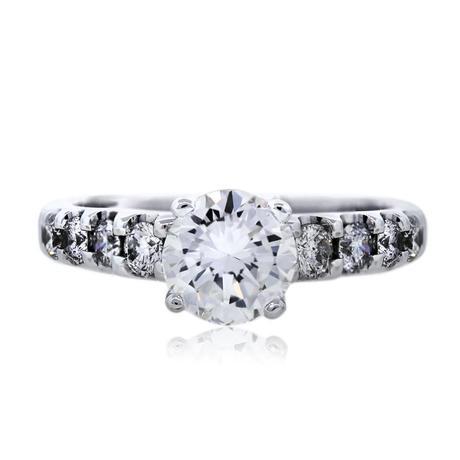 14k White Gold Prong Set Round Diamond Engagement Ring
This ring, also in a 14kt white gold setting, uses a similar prong setting style for its diamond band, but uses larger diamonds in lieu of micropave. These larger diamonds only extend half way down the shank (and there's a gorgeous pave detail on the ring's gallery, visible in profile). The center stone on this ring, while closer is size to its accent stones, is of impeccable color (F) and clarity (VVS2)
.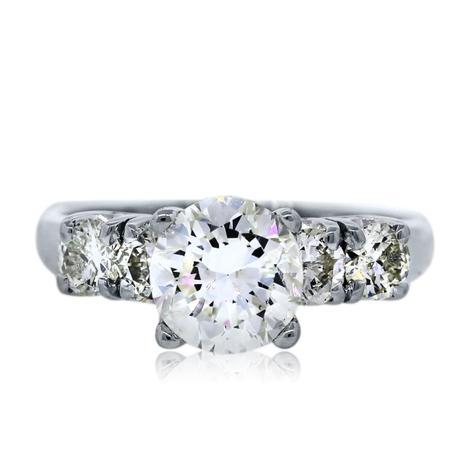 18k White Gold .96 Carat Round Diamond Engagement Ring
Kicking it up to 18 karat white gold necessitates some larger accent diamonds, right? So this ring uses four round brilliant diamonds weighing a total of .50 carats to enhance the center .96 carat I color SI1 clarity diamond.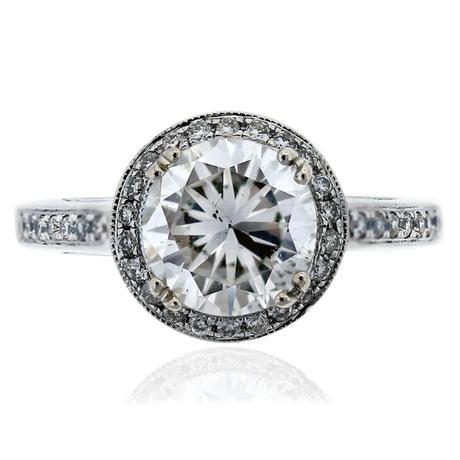 14k White Gold GIA Certified Diamond Halo Engagement Ring
Finally, this big 1.83 carat round brilliant is enhanced even more by a micropave halo, one of the most immensely popular engagement ring styles. Set in 14kt white gold, the accent stones clock in at .26 carats and they sparkle magnificently to up the 'curb appeal' of the main diamond which is a K in color and SI2 in clarity.