Diamond shoulders on an engagement ring are a fabulous way to add more sparkle and more personality to your engagement ring. While side stones are mounted next tot the center stone of a ring in a 3 stone or more configuration, diamond shoulders are slightly different. We aren't referring to the specific parts of a diamond cut (both pear shaped diamonds and heart shaped diamonds have "shoulders" but rather a setting that features accent diamonds that aren't quite side stones, but are definitely more than pave. They can be stacked on top of one another to create a sparkling border, they can be bracketed with metal to form a unique setting. They can sit just under a raised center stone to create depth and add sophistication to a solitaire. SOmetimes they aren't diamonds at all, but intricately carved or gently shaped parts of metal that add interest to a solitaire center. We've chosen a few of our favorite engagement rings with diamond shoulders you can cry tears of joy on.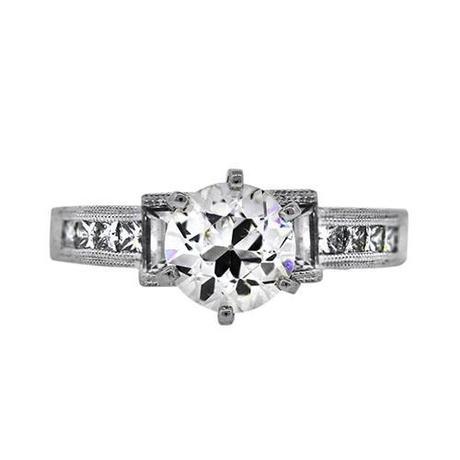 GIA White Gold .99 Ct Diamond Vintage Style Engagement Ring
This beautiful ring features a great deal of a diamonds – .99 carats places it in the price-per-carat range of a ring that's .75ct (even though it's just .01 carats shy of a perfect 1 carat stone.) The difference is undetectable to the eye – even under a loupe – and saves you the price of jumping up to a 1 carat and up price. Its a GIA certified I color with an SI1 in clarity, both fantastic grades that give you a white, clean diamond that sparkles like no one's business. We love the step cut shoulders placed just under the center stone, and the invisibly set princess cuts on the shanks are outlined by subtly textured milgrain platinum.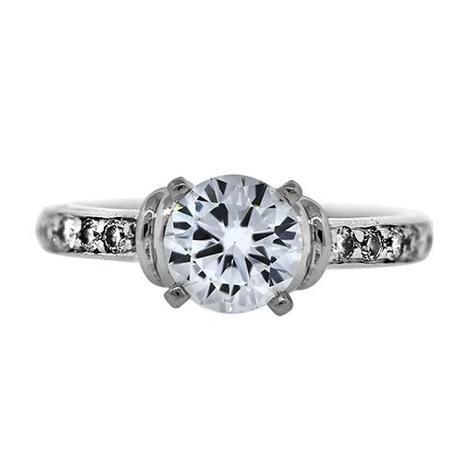 The next ring is also a fabulous, GIA certified round brilliant weighing in at .72 carats. Its J color and [email protected] clarity grades are enhanced by a pure white gold setting  with grooved edges hugging the four prong center setting. The shanks of the ring are embedded with a quarter of a carat of round brilliant accent diamonds.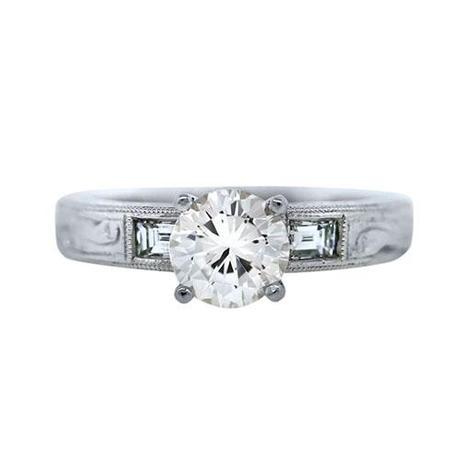 This ring is pure vintage style gorgeousness. A platinum mounting pays tribute to Edwardian design elements with engraved buff platinum scrollwork on the band. A super fine border of mil grain surrounds both edges, and also the baguette shoulders set directly into the shank. THe center stone is yet another GIA certified round brilliant with a perfect weight of one carat. Its color grade is a near perfect G (this diamond is definitely an over-achiever!) and its clarity grade is a crystal clear VS2. With no florescence, good polish and symmetry, the .23 carats of baguettes are really just proverbial icing on the cake.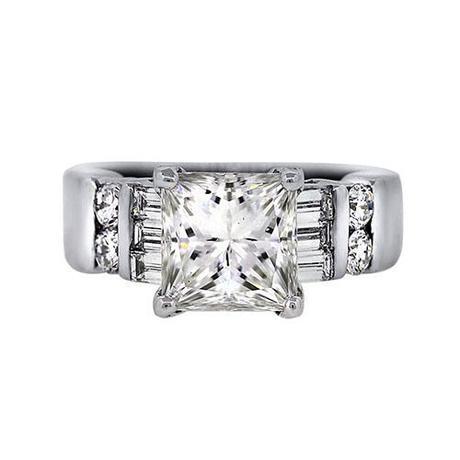 Our final pick is a beautiful princess cut that takes our breath away. 2.04 carats with a color grade of I and a clarity grade of SI1, this diamond is truly stunning, even if it were in a solitaire it would make a huge statement. Instead, it gets an even bigger boost from a double helping of diamond shoulders with triplet stacked baguettes on either side and four round brilliants on the outside of that. The accent diamonds alone weigh .35 carats. Set into a smooth 18kt white gold setting with a bright polish, this ring is a big diamond in a big way.