The Art Deco jewelry began around 1925 and began to feature the opulence of the roaring 20′s. Cubism and geometric designs are the first and most iconic features of Art Deco jewelry, while elongated diamond cuts, step cuts, trapeze diamonds and trillion diamonds feature prominently too. We also started to see Asian influences in the form of carved coral and jade, and rubies from India. The contrast of colored stones with diamonds is a huge Art Deco theme – and one of our favorites. Thanks to the booming 20′s, Art Deco jewelry is one of the most opulent antique eras. Platinum was the metal of choice, and the better the diamond…well – the better! This period also solidified Tiffany and Harry Winston as the American jewelers. We adore the Art Deco period. We specialize in buying antique jewelry and snap up Art Deco engagement rings in particular. However, because it's such a popular style for our clients and customers, we love to create Art Deco inspired engagement rings too! Today, we're feasting our eyes upon  some of our Art Deco inspired engagement rings.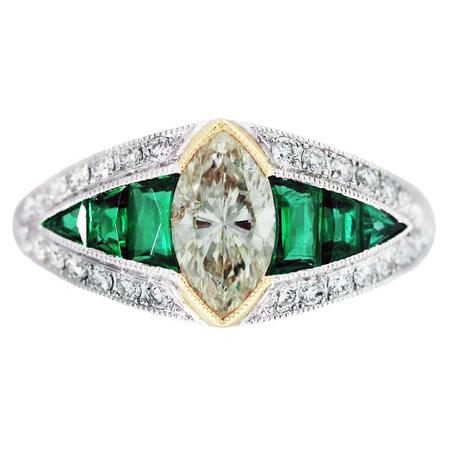 Diamond Emerald Platinum Yellow Gold Vintage Style Engagement Ring
This fabulous vintage style engagement ring is one of our favorites. The invisibly set graduated emeralds add a pop of color that was treasured in Art Deco jewelry. The gold accents draw attention to the angular points of the marquise diamond center stone, while the ring itself has the elliptical shape also popular in Art Deco jewels.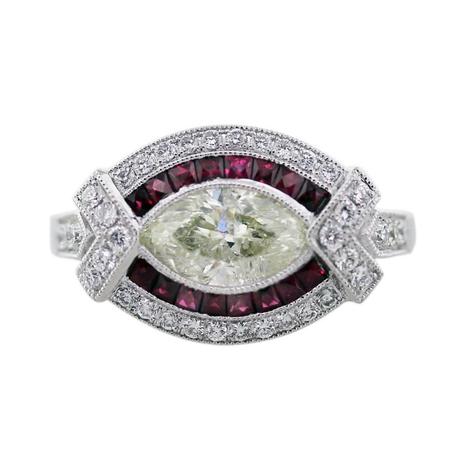 1.01 Carat Marquise Cut Diamond Platinum Ruby Engagement Ring
This fabulous ruby and marquise diamond ring is one of our new additions (see below, and check out the rest of the collection featuring light yellow diamonds). Again, the elliptical shape maintains a Deco profile, while diamond pave arrows bracket the center stone to create some nice sharp angles. Again, it features invisibly set colored stones, a technique pioneered by Van Cleef and Arpels during this era, and very popular.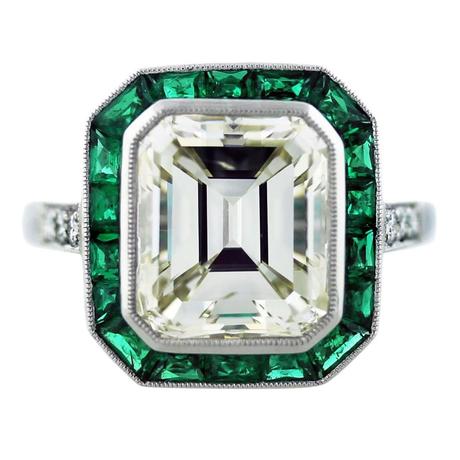 5 Ct Emerald Cut Diamond Emerald Platinum Engagement Ring
This 5 carat emerald cut engagement ring with emeralds was one of our most popular Diamonds of the Day last week – and we completely understand why. This pristine 5 carat diamond shows off a stunning geometric step cut; the Art Deco era and its technological improvements gave cutters more room for innovative cuts. Again, invisibly set emeralds add a rich pop of color, but while we're being wow-ed by the gorgeous stone and emeralds, the metal – or lack thereof, shows off a more subtle Art Deco feature. Because jewelers were using platinum, they needed less of the much stronger metal to secure stones. This gave Art Deco the clean, airy look it's known for.