We just got in a slew of new antique style engagement rings. We had several of our loose diamonds set into the most beautiful platinum vintage style mountings. There are several Art Deco style settings, some vintage style, and plenty of antique style – they're all gorgeous. Today we're showing off just a small selection (but don't worry, we're adding more and more to our online showroom every day!)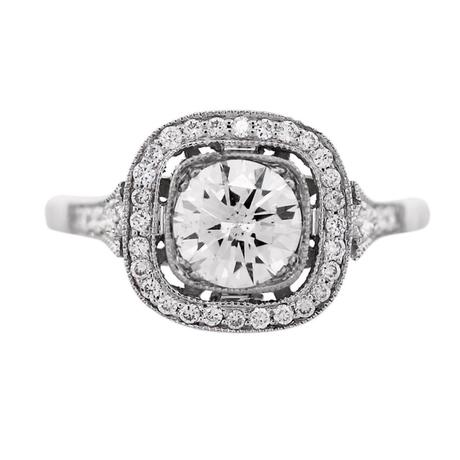 Platinum Vintage Style 1.02 Carat Diamond Engagement Ring
We love this ring with a capital LOVE. You've probably seen it on our Instagram feed if you follow us, we're so obsessed. A beautiful .80 carat round brilliant diamond is set in prongs inside a cushion shaped inner frame. An outer frame of round brilliant cut diamonds creates a floating halo, and more rounds are mounted into the shank. The gallery also features a Victorian swirling detail.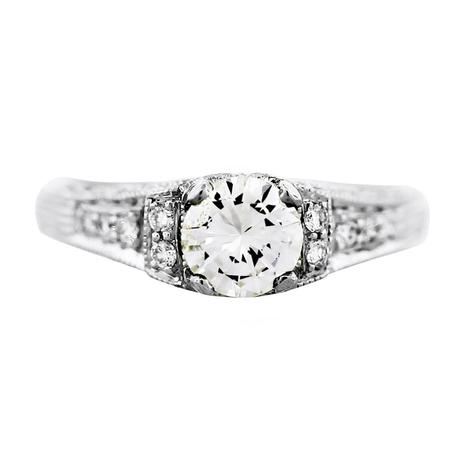 Platinum Vintage Style Diamond Engagement Ring
This stunning .65 ct round brilliant gets special treatment from stacked round brilliant accent diamonds, graduated round brilliants down the shank, and patterned engraving all over. The gallery is also diamond studded scrollwork, and is truly magnificent from any angle.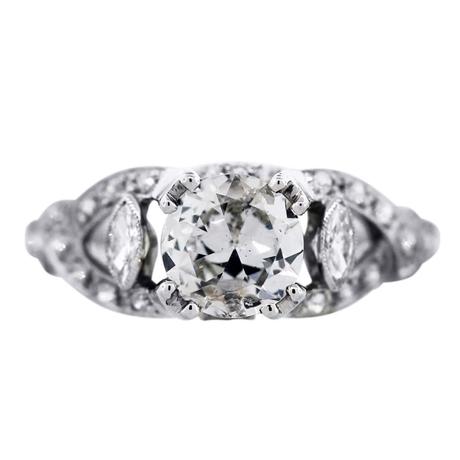 This diamond's inclusions called for a more intricate setting. Its internal characteristics aren't as prominent to the naked eye as they are to our camera lens, but  we still thought this nicely sized diamond would shine in a design with lots of elements – there are an additional .36 carats of accent diamonds (marquises and rounds) set into the pattern of the setting.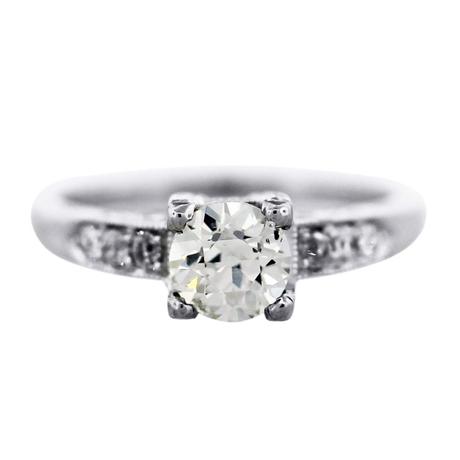 We love a round diamond set into a square prong – it gives the ring an extra element of interest. This particular ring is set with a modern round brilliant, which is fun because you typically see this style set with an Old European cut stone. Delicate diamond pave sprinkles half way across the shank, adding an extra layer of sparkle to your fingers.