Sometimes, darlings, I can't find a unifying theme for e-ring eye candy. No, this isn't a segue into another Can't Week, I just truly don't know how to classify this week's batch of goodies. Their only shared characteristic is awesomeness. But you know what? I think that's just fine. Especially because there's a ring for every bride (and then some). Brides are wildly different, so by the laws of permutation, engagement rings can too be wildly different. You follow? Am I stretching? Whatever, let's skip to the good part where we drool over fabulous diamond engagement rings. Ready?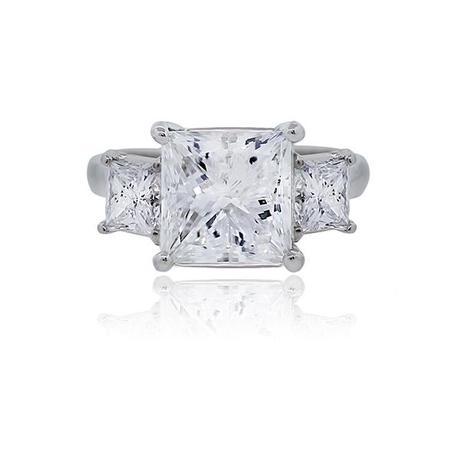 Boom! Right out the gate I'd like to blow your mind with this insane 6.59 carat engagement ring. The center stone is a large and in charge 5.09 carat H color, SI3 clarity, per EGL. It's joined by twin princess cuts weighing 1.50 carats total (.75 each) that are both G in color and SI in clarity. They're set in a classic white gold cathedral setting, and this beauty is not for the faint of heart wrist.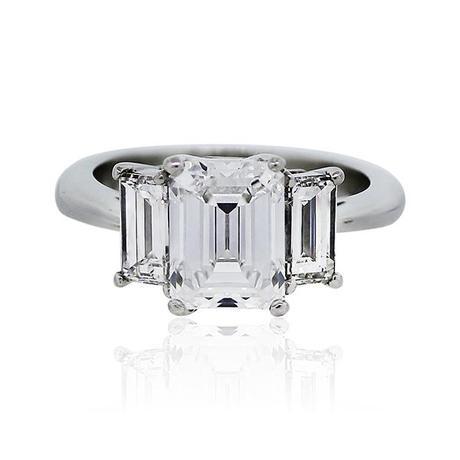 Up next, another three stone beauty, similar to a few other three stone emerald cuts I've featured in the past. We make this style of ring fairly frequently, and they're a favorite among the emerald-cut lovers who dig the symmetry of the cut. They like everything in balance, rather than playing up the stark, clean lines of an emerald cut with a  solitaire. The tree stone style adds just a smudge more interest thanks to varying size diamonds, and it;s just the ticket for many a bride. This ring centers a 2.45ct emerald cut with a GIA certified E color and VS2 clarity grade. The side stones are also E VS2 and weigh a total of 1 carat, and all are tucked into a pristine platinum cathedral setting.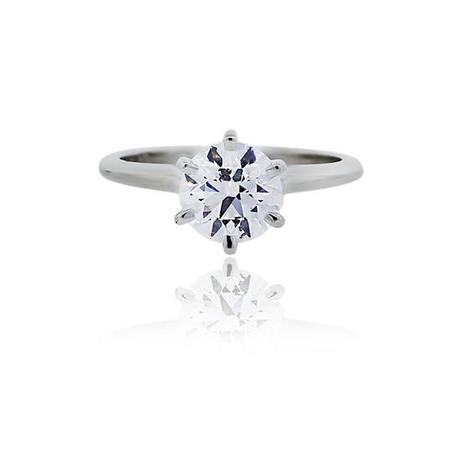 For the ladies who do love a solitaire, nothing says classic like a six prong solitaire round brilliant engagement ring. This one features a 1.28ct G colored, SI2 clarity grade diamond with an AGS certificate. The ring is mounted in platinum, the ideal metal for this look.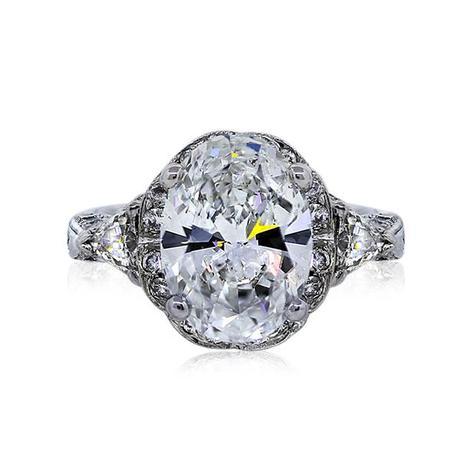 Finally, and I'm not even going to pretend I'm not playing favorites, my precious. This ring is 14 karat white gold centering a 3.58ct Oval cut diamond. The center stone is 3.58 carats of pure fire, with a GIA certified G color and SI2 clarity. The surrounding stones aren't quite a halo, but rather like little rainbows set into a pebble bed of textured gold. The ring doesn't stop there though, with two trillions on either side to balance everything out. The accent diamond add an extra .92 carats total to the ring's heft. Swoon.
Ok, I wasn't shy about which is my favorite – so please tell me yours!