Yesterday, I was scrolling through Instagram, when I remembered to go through all my pending messages, as one does. (Why, oh why, Instagram, can't you just let the spammers and real people DM me alike??) Anyway, I got a request from a follower for more details on a certain ring – though it wasn't a DBRL or RLJ ring.
This happens occasionally, someone will see a ring elsewhere, on another Instagram account or Pinterest, and for whatever reason its source isn't credited (another post entirely, sometimes along the lines of this one.) And I don't get those ID requests very often, but when I do I get super excited.
I love playing detective to try to figure out the designer of a mystery setting almost as much as I love instantly recognizing one of our designers, and providing the enquirer an exact model number. When I can't find the designer, I still try to be helpful. That's right ladies, I'm more than just #ringspo 😘
So yesterday, I found myself analyzing a very pretty ring shot with a ring of unknown origin to see if Diamonds by Raymond Lee carried anything similar. I found a few, and a few that are a stretch, but had similar design qualities, and sent them over to her. It was a blast, and I'd be HAPPY to do this for you if you love a ring on Pinterest but can't find out who makes it.
But, back to today's ring consultation. I'll explain why I chose each of these settings, and – as always – you can click on the images to shop for the rings you love. Designer, carat weight, PRICE, and all, right there for your perusal, Pinning, and pining.
The Ringspo: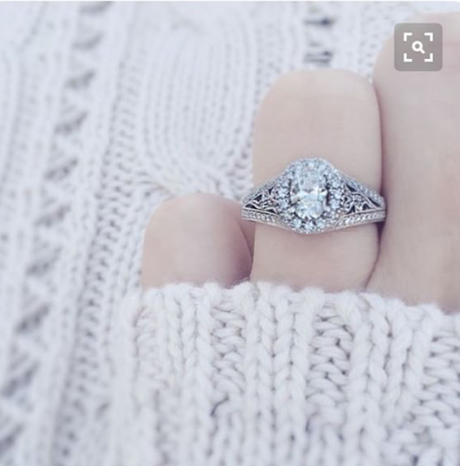 Please excuse my screenshot of a screen shot – but how pretty is this? If you know the source PLEASE CONTACT ME.
The Results:
Click here to shop

I chose this Gabriel & Co. setting because it bears the most similarities, structure-wise. It's a split shank, oval halo, with diamond pave on the bands. It's white metal and featured delicate bead settings and prongs. However, it's a little more modern than the ringspo shot, and less ornate.

Click here to shop

This Tacori Sculpted Crescent also boasts an oval halo, though with only a single shank for the band. But its design style is definitely more intricate, has a more handcrafted look, and appeals more to the ringspo's antique-style sensibilities. I also love the profile perspective – please click through to check out the awesome side view – because it reminds me of the highly decorated vine motif.

Click here to shop

About those vines. As soon as I saw them, I thought "Simon G.!" Simon G rings do vines better than Shawn Mendes.* This pretty solitaire definitely mimics the leaf design inside the ringspo's shanks. It's shown here with a round brilliant, but swapping that for an oval is no problem.

Click here to shop

This Simon G. ring is also all about the vines, but I love that it features the same milgrain detail that the ringspo does. It adds that antiquey texture that creates depth in the ringspo pic. Plus I love the twin wedding band so very much.

Click here to shop

And one more vine ring. This one also features that lightly textured milgrain, but its band is also subtly antique-y. The shape reminds me of tons of the authentic antique estate rings at RLJ. So if the romantic, hand crafted and nostalgic vibe is what made the ringspo pic "it" for this particular ring-lover, this setting is actually pretty perfect. Again – adding an oval is ridiculously easy.

Click here to shop

Now allow me to get a little more creative. This ring feels close to the ringspo in style, even though the design elements are pretty different. The swirly, romantic shanks are a beautiful and unique element, like the ringspo's vines. The halo, while soft square instead of oval, is a halo nonetheless. And the different setting style of the halo diamonds (vs. the shanks) add texture and depth just like the ringspo. And the milgrained "bumpy" edges also mimic it.

Click here to shop

This ring trades the Antique vibes for bold diamond pave at every turn. But the unique shanks and eye-catching halo make it a style match.

Click here to shop

Finally, I threw this halo in for fun because it bears very little similarity to the ringspo exceeeeeept it's super unique. And for some brides, the individual elements are less important than the sum total of having an amazing engagement ring that makes you look twice. This setting fits that bill, big time.
Have a ring you're obsessed with, but can't find a place to buy it? Or do you love a custom style that sold? E-mail me ([email protected] ) or shoot me a DM on Insta and I'll play matchmaker for you too.
*I am an Old. But I remember this Stitches guy from when Vine first got big.