It is at this time of the year that I start to let the garden go.   I am never too sure why, perhaps it is because it no longer gets any sun and feels damp and depressing.   Despite having little rain, what we have had has left the plants and lawn soggy.   Everything has stopped growing and I am always in a quandary whether I should pull it all up and make everything look clean and tidy, or  leave it to create some Winter architecture.  I tend to do the latter because I don't like to see bare borders.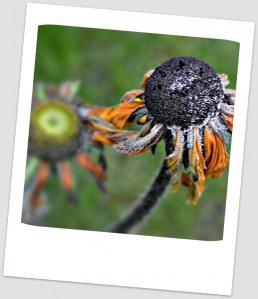 Also, I have spent more time out of the garden, with my photography and have left it to its own devices over the last few weeks.   Taking a walk around the garden this morning, to do a past month review, I noticed that the Rudbeckia have gone black and mouldy so come next weekend they will have to cut down.  I am hoping that if I don't pull them up, they might come back next year.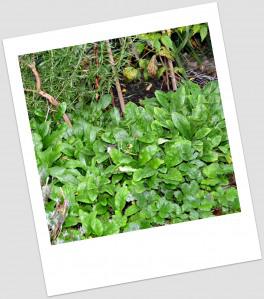 Forget-me-nots have spread themselves under the fennel and rosemary and are probably elsewhere if the truth be known.  Whilst I love to see the little blue flowers in the Spring, I  find that I have a lot to remove about this time of the year.   They are great ground cover but really do need to be kept in check.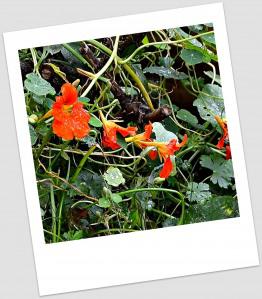 Nasturtiums are winding themselves all over the place and before I know it,  little seed pods will have tucked themselves comfortably into the soil, ready to take over again next year.  Even when I turn the soil, nothing seems to prevent them from coming back.  I could pull them up as they grow, before they have time to self-seed, but I quite enjoy seeing them rambling up the climbing rose.   My Mum used to grow Nasturtiums and I suppose that I why I like to have them in my garden, they remind me of my childhood.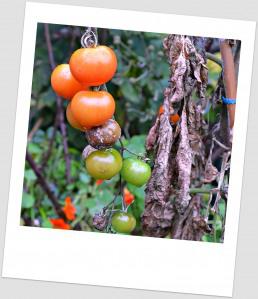 Next year I am not going to grow so many tomatoes, but then I say that every year.   There are only so many you can eat and give away, and I don't have time to make chutney to use up the green ones.   They have grown very well this year in the raised bed, this was the first time I have grown them this way and not in pots or grow bags.   I will certainly grow them this way again.  I do feel ashamed though to have let my tomato plants look like this.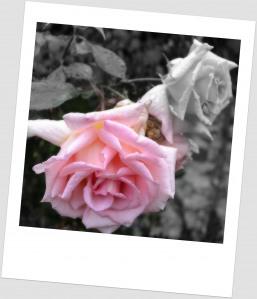 The weather is unseasonably mild and as I have mentioned in earlier posts, plants are clearly confused.   The great thing is that even though we have got to the end of October, there are still flowers in the garden.   Roses, as usual, are incredibly hardy and continue to bloom, often up to Christmas.
Every time I write a post about the garden, I include a photo of  my passion flower and I offer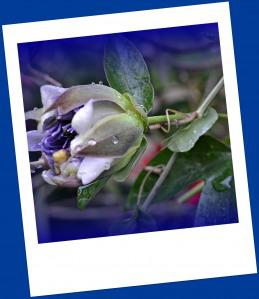 no apologies for that.  It is still flowering, but soon I am going to have to deal with it being in a small pot.  I have not had to tackle this before, but the amount of growth it put on this year has meant that I need to address this problem.  
Advice please!!
   Where do I start?  I am worried that if I cut it right down, so I can re-pot it, it might not recover and it has been so glorious this year.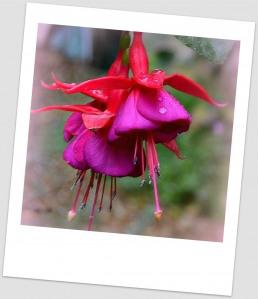 Not everybody likes Fuchsias, they can be seen as gaudy, but I am happy with mine.  Whilst I would not go out and buy fuchsia plants, these were  inherited and  need very little attention apart from a drastic pruning at the end of the year.   They flower  prolifically every year and give great color down the side garden.
Finally, if you walked into my garden you would notice the overwhelming smell, (not sure if I can call it a perfume!) of the Ivy.  When I first moved in 10 years ago, I found it qui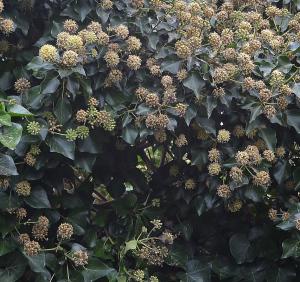 te abhorrent but now I am used to it.   I really must arrange for some drastic work to remove a lot of the ivy which has now grown a good 2ft above the 5ft stone wall that borders three sides of the garden.   That is why, in the Autumn/Winter the garden gets no sun and I always have a dilemma as to the best time to do this.   Now is not good because the birds are feeding off the flowers and the flowerbeds are still fairly full.  If I leave it until the Spring the birds have made their nests in it.   All suggestions welcome please.
Before I finish, I want to say thank you to Helen at Patient Gardener for running this monthly meme.   Please take a look at the other contributors and see how they have fared this last month.