They say better late than never! No longer the owner of a garden I was feeling a little melancholy, to say the least, when reading the links to the various blog posts for the End of Month View. Whilst looking at the photos of other gardeners flowers and plants I realised there is no reason why I can't still join in even though I no longer have a garden.
I left my lovely garden in Worthing at the end of April, moved to Emsworth and now only have a patio, however I do have an overgrown bind weed choked allotment that I offered to look after whilst waiting for my own to come up.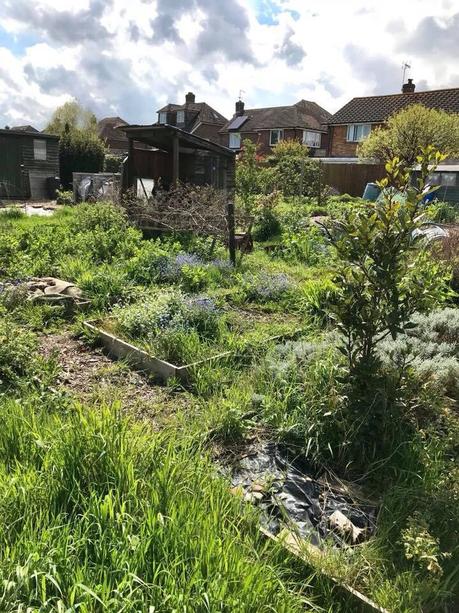 It is only half a plot, owned by an elderly lady who is loathe to relinquish it (naughty!) and advertised for someone to look after it. Whilst not ideal, it is something to do until either I am offered another plot or I can persuade the lady to pass it on to me, which can be done apparently if we send joint letters to the council. It is so overgrown, but has lots of wonderful fruit bushes. I am making myself work on one area at a time and not spend any money!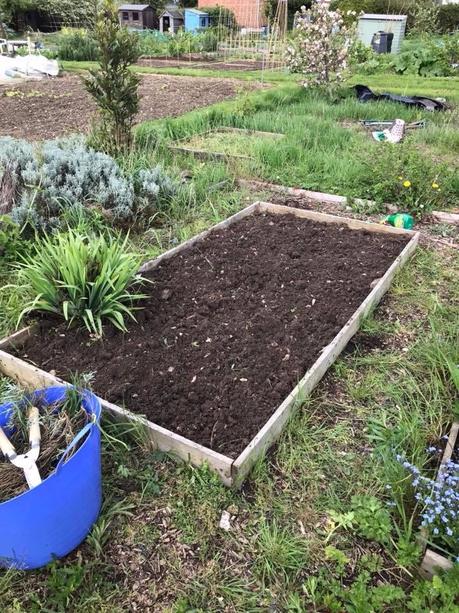 The other gardening project I am involved with, (again not mine!) is helping my daughter and son in law renovate their large overgrown garden. I have written several blog posts on our progress titled Restoring a Hampshire Garden. They are both still learning and I have given them an idea of what to plant and in what positions. Also I brought a lot of plants from my old garden for transplanting into theirs. There were a number of precious plants with memories that I was not going to leave behind. Last week we planted the grasses, including a rather beautiful Pennisetum 'Karley rose', Penstemon 'Husker Red', Dahlia 'Preference' and a bright pink echinacea.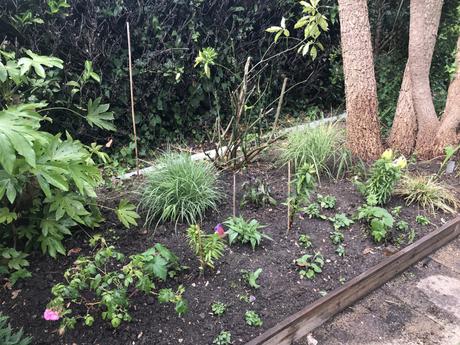 As for my own personal gardening, I am getting into container gardening in a big way! A couple of years ago I completed an online course for container gardening with Learning With Experts, and my tutor was the inspirational Harriet Rycroft. With extra words of advice from Harriet plus the likes via Instagram I have been busy planting my own container garden just outside my patio doors.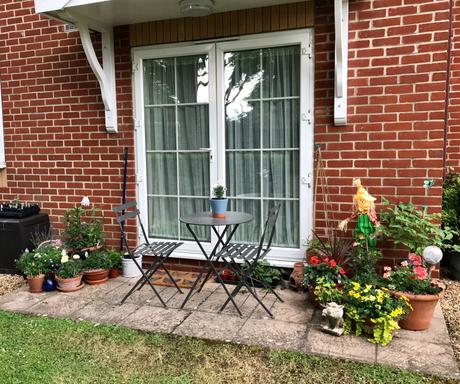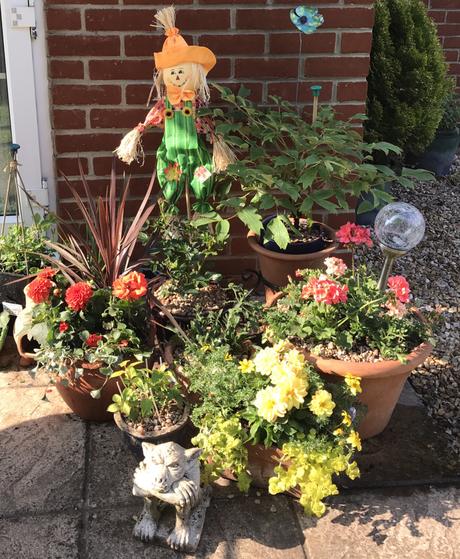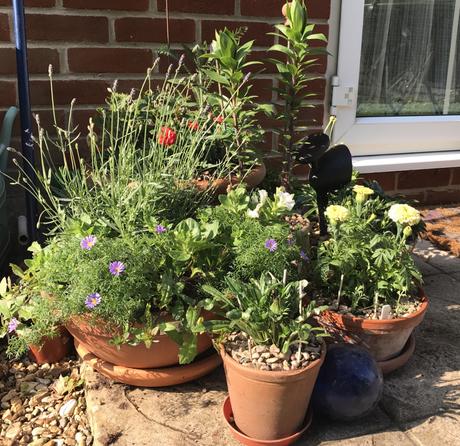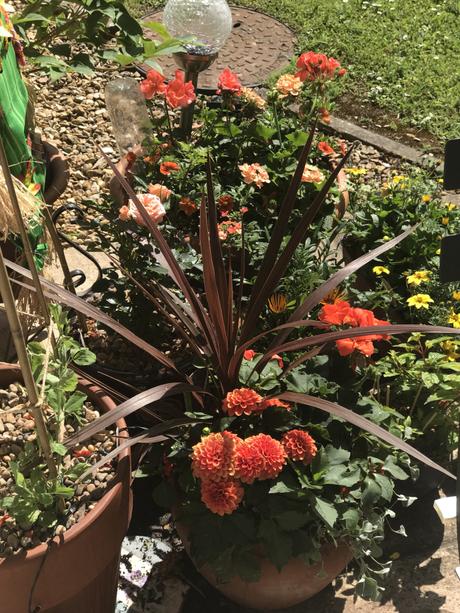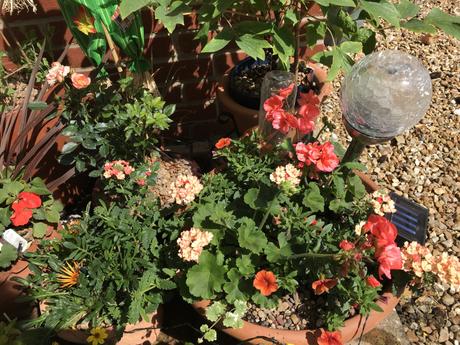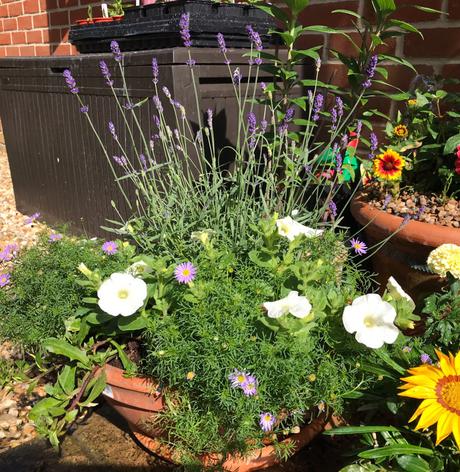 The patio faces south, and is bathed in sunshine from early morning to late afternoon. There are a lot of trees around and I have had an issue with squirrels digging up the pots. One morning I came out to find all my freesia bulbs missing. Magpies and pigeons are also a nuisance.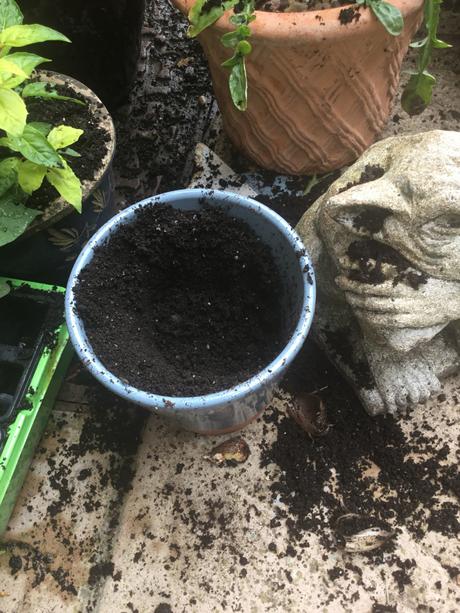 Turning to good old Google, I read that chilli flakes and especially Birds Eye chillies were an excellent deterrent. I added gravel around the base of all plants and gave them a liberal sprinkling of chillies and so far, fingers crossed, the squirrels have kept a wide birth.
Talking about trees, there is a fabulous Monterey Cyprus opposite the entrance drive which has a tree preservation order. It does block out the sun for a couple of hours mid day, but that's no great loss, a little shade can be a good thing.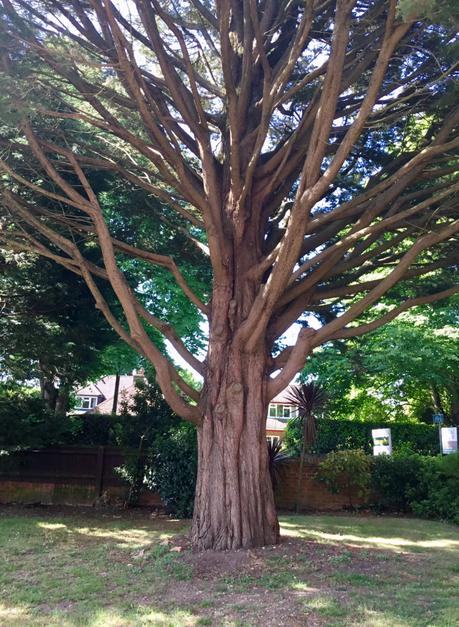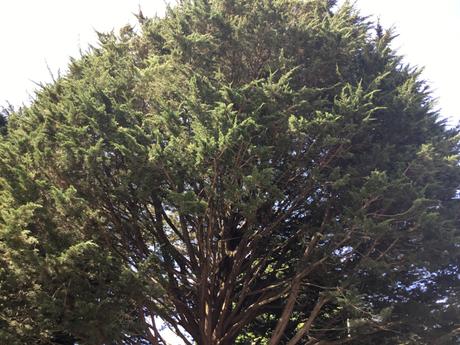 There you go, that is my End of Month View, and although I no longer have my own garden I am keeping very busy. It is very hot working on the allotment during the day so I am trying to go early evening and soon hope to be able to post some photos of it's progress, but it's a bit daunting and sometimes soul destroying. The bind weed grows overnight, apart from pulling it up daily I can't really do anything constructive until the autumn and the slugs have eaten all my sunflowers – but that's gardening for you!