This post is a day early but as I have found time to sit down and write this post I thought I would post it today.  I don't write as many blog posts these days so making up for lost time.  Thank you Helen at Patient Gardener for hosting this meme, it has proved to be an invaluable diary of the garden over the years I have been writing my blog. 
I don't know about where you live but we have had a distinct shortage of rain this month.  My water butt ran empty during the week and the soil (clay!) has been rock hard and almost impossible to work.   We did have an afternoon of rain yesterday with more promised tomorrow, so I will be out there with the hoe to loosen the hard pan of soil at the back of my border at the bottom of the garden.   It's still quite cold also which is holding back hardening off my plants and planting them out, this includes the sweet peas, Amaranthus and Cosmos.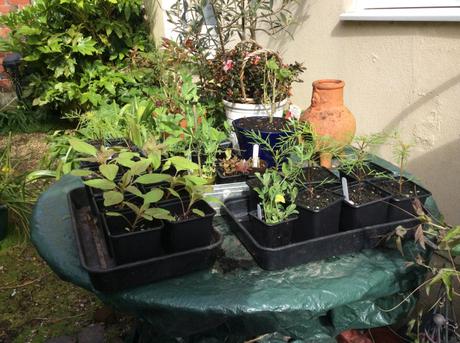 I love peonies and was really disappointed when it failed to flower last year.  However, it has graced the flower border this year with three blooms.  It was great to see that the heavy rain yesterday didn't beat them down.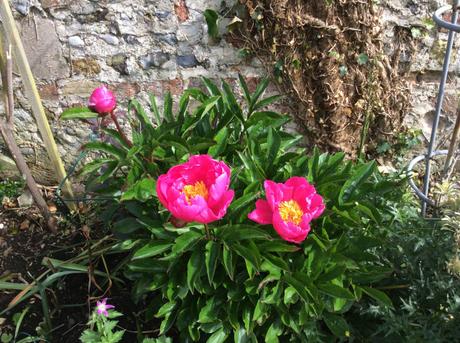 The roses are looking good too, with lots of buds on the Compassion rose.  I have pinched out the side buds to encourage larger blooms, I may regret this but someone told me once that this is what rose growers.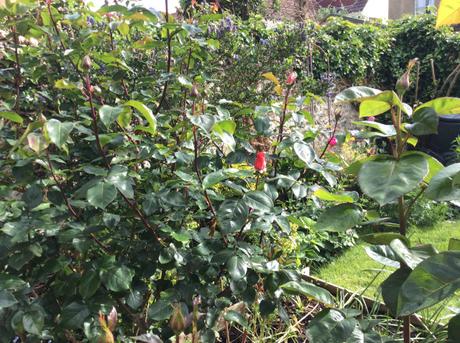 The Alliums are standing proud along side the Aquilegia.  It would seem that I have a flowerbed full of plants starting with the letter A.   Alongside the Alliums, there is Agapanthus, Aquelgia, Astrantia, Alstroemeria and Acanthus.  This was certainly not deliberate!  I was so pleased to see Nora Barlow this year, it didn't make an appearance in 2014 and I thought I had lost it.  Nature never fails to surprise does it?   A very small William Guiness is doing its best to make a show, fighting for space with the emerging Dahlia.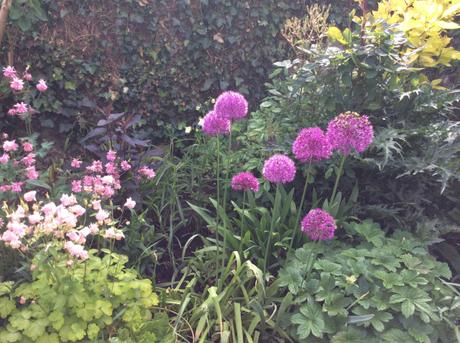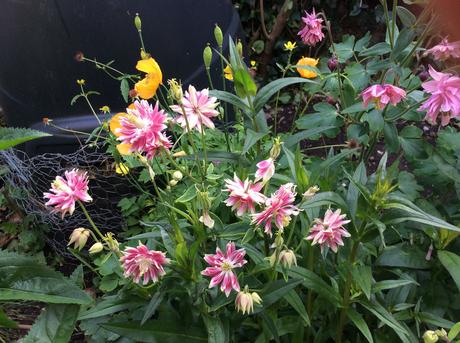 Aquilegia Nora Barlow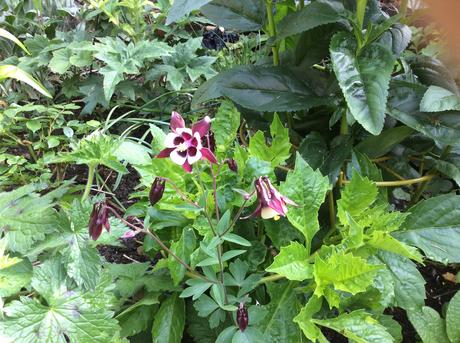 Aqeligia William Guiness
There is a Ceonothus in the garden at the end of my garden which always flowers a good month before mine.  I'm never sure why, perhaps it gets more hours of sunshine.  Happily mine is now flowering just as theirs is dying off.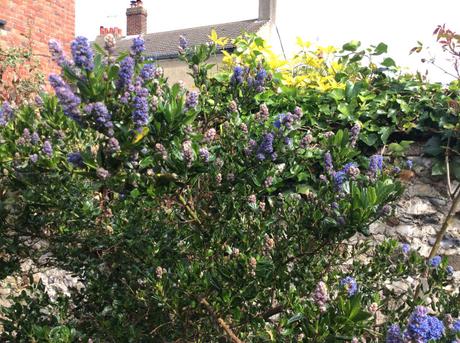 Finally, I will leave you with the beautiful Iris by the front door that welcomes me home.