Enantra - short for Entrepreneurship Mantra - is South India's largest Entrepreneurship and Management fest, happening under the guidance of Centre for Entrepreneurship Development (CED), led by its Director Dr. G. Ravikumar and Deputy Director Dr. G. S. Mahalakshmi. Founded in order to spread the value of entrepreneurship and management among the general public and to aid in the building the state's entrepreneurial ecosystem, Enantra aims to foster the growth of independent businesses and startups. This event would encourage people to nurture their nascent startup ideas and scale it up into a profitable company. Due to its growing success, Entrepreneurship Development and Innovation Institute (EDII) have taken initiative to aid in the creating awareness and growth of the event.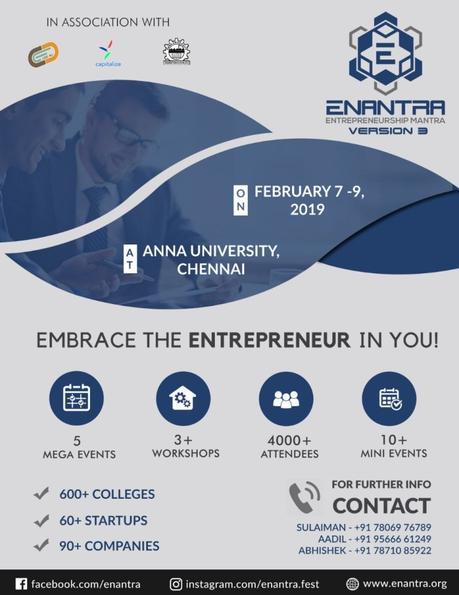 With the previous two editions of Enantra being very well received, the 3 rd edition of Enantra, Enantra 3.0 is all set to occur on Feb 7-9 at the College of Engineering Guindy campus of Anna University in Chennai, India. As 2019 marks the 225 th anniversary of CEG and 75 th anniversary of ACTech, Enantra 3.0 promises exuberance with 4 workshops, 5 signature events and 12 mini events and cash prizes worth 8 lakhs spread over a span of 3 days.
The mini events are all designed to test and bring out the nascent management and entrepreneurial skills of the students. Out of the events at this festival, Zoomcar's Pitch on Wheels promises to be one to look out for due to its creative and innovative nature of its event. This event comprises of aspiring entrepreneurs and startup enthusiasts pitching their ideas for a startup (or) viable enterprise to a panel of judges while moving in a car around the university. The winners of this event get a 12-Hour Free Drive in select Zoomcar vehicles.
The workshops that have been organised include Webpreneurship - a digital marketing workshop, Entrepreneurship 101, Six Sigma and The Art of Stock Investing.
Our sponsors for this year's edition include India Cements, The Hindu, Vish-U Money, Zoomcars, School of Design thinking (Intellect) and Trident Net Solutions.
Enantra 3.0 has 5 signature events, Startup Street, The Startup Pitchfest, Unconference, E- Bazaar and the 6 Degree Talks. An Entre-tainment dinner has also been organised- Ingeniously named, Entre-tainment is a high profile dinner setup for the sole purpose of providing a complacent atmosphere wherein top business personnel, entrepreneurs and elite investors interact. This will be a closed networking dinner happening on Feb 10.
THE STARTUP STREET:
Start-up street is an Internship fair for individuals looking for an opportunity to explore the life of a startup's culture. The event incorporates various start-ups alongside governmental agencies, incubators, investors, students and technological companies from all across India. It includes the participation of various investors, policy makers and budding entrepreneurs. It will be organized in the format of a two-day Internship fair with 25 startups.
THE STARTUP PITCHFEST:
In the Startup Pitchfest, Teams pitch their startup ideas to an expert jury panel, and the top five pioneering ideas will be given a seed grant from Entrepreneurship Development and Innovation Institute (EDII). Each team can attend the "design sprint", a pre-event workshop, and will be assigned a renowned entrepreneur as the team's mentor, who would guide them throughout the event. With cash prizes worth 6.75 Lakh and design workshop conducted by intellect, the event has already garnered a lot of interest and registrations.
UNCONFERENCE:
Unconference is a conference which emphasizes on informal exchange of information and ideas. It is completely organized, structured and led by the people attending it. The 'discuss leaders' provide moderation and structure of attendees.
6 Degree Talks:
Interactive talk sessions analogous to the Ted Talks, the 6DTS host prominent guests, mentors and high-level entrepreneurs to share and express their stories, and inspire the students. The eminent speakers at this event include Mr. Sam Paul (Paulson's group - SLAM FITNESS & Toni and Guy essentials), THE PUT CHUTNEY TEAM and Mr.Madan Gowri.
A pop up sale
A pop up sale that enables small time shops and startups to sell their wide variety of products to the sea of students at the event.
Celebrate Entrepreneurship and Management at Enantra 3.0 will be organized at Anna University on the 7th - 9th February at the College of Engineering Campus in Chennai. For tickets, please register at www.enantra.org
Enantra 2019 - Anna University's ENtrepreneurship mANTRA