A lot of other beauty bloggers do empties post, so I thought I'd start doing the same every month.
This year, I am on a spending ban. I want to get my finances in order and I want to finish the crazy amounts of makeup and beauty products I've collected over the months.
So… here is my first ever empties post. (There are a lot!)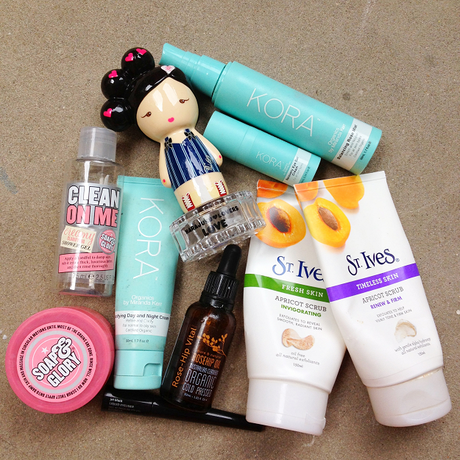 St. Ives Timeless Skin Renew & Firm Apricot Scrub
I liked this scrub but I found it that it didn't do a thorough job on my skin. I like my exfoliants to be a little course, but if you like a gentle scrub this would be perfect for you. I won't be repurchasing this product again.
Available from Priceline and some supermarkets for around $10.
St. Ives Fresh Skin Invigorating Apricot Scrub
This is, by far, my favorite exfoliator. It does the job very well and one bottle lasts forever. Definitely repurchasing this one.
Available from Priceline and some supermarkets for around $10.
Harajuku Lovers 'Love' 30mL EDT perfume
This was my favorite perfume from the Harajuku Lovers collection. Unfortunately, it's quite popular and is sold out almost every time I go looking for it. I wished they came in larger bottles and didn't have the doll as the lid. Very cute, but seems too OTT for such a small amount of perfume. I bought this when it was on sale for $29.00, so I will repurchase when they're having a sale again.
Available from Priceline for $59.00
Models Prefer Jet Black liquid eyeliner
My holy grail liquid liner. I can't fault this eyeliner. It's opaque, it doesn't smudge, sweat off or move all day. I can control it better than any other liquid eyeliner I've ever used and it's extremely cheap. Definitely repurchasing.
Available from Priceline for around $13.
Rose-Hip Vital cold pressed organic rosehip oil
I was really impressed with this rosehip oil. Others I've used aren't an amber color this this one, which I think I prefer. I don't know if that's got to do with the fact that it's cold-pressed, but I could be wrong. Repurchasing for sure!
Available from Chemist Warehouse for around $23.
Soap & Glory Flake Away scrub
I picked this up in a Kit Cosmetics haul and thought I'd give it a go. I wanted to like it, but I just couldn't. Although it smelled amazing and was thorough enough on my skin I just didn't like it. I didn't like that even after I rinsed it off I could tastes it. There were a lot of other nasty ingredients in it that I didn't like and wouldn't want to continue applying to my skin. Not repurchasing.
Available from Kit Cosmetics for $5.95.
Soap & Glory Clean on Me Shower Gerl
Like the Flake Away scrub this was a product I wanted to like but couldn't. I liked the smell, I liked the way it lathered, I liked the texture but because of it's contents I didn't want to be using it continuously on my skin. Not repurchasing.
Available from Kit Cosmetics for $5.95.
KORA Organics Purifying Day & Night Cream
I think it's a known fact that I speak highly of the KORA Organics skincare range. This is my holy grail moisturiser. I love that it's light, smells like citrus, organic and has helped my skin look and feel beautiful. My skin has definitely gotten better since I started using KORA Organics. I've already repurchased this and I will continue to.
Available from KORA Organics and David Jones for $59.95.
KORA Organics Recovery Eye Gel Cream
This was a nice eye cream. It's not a oil which I like and the product isn't sticky either. It depuffed my eyes first thing in the morning and firmed the fine lines around the eye area. Worth repurchasing, but it now comes in a squeeze tube which I'm not too excited about when I found that pump disbursed the perfect amount for both eyes.
Available from KORA Organics and David Jones for $54.95.
KORA Organics Balancing Rose Mist
Now this product has a scent to it that you either love or hate. I know there have been some people I've shared a house with who detest it but I'm a fan of it. It doesn't really smell sweet like you would imagine rose mist smells like so it would be up the individual. I love spraying this on in the morning after I've applied my makeup, sometimes I apply it twice; before moisturising and after makeup.
Available from KORA Organics and David Jones for $39.95.

What products did you finish in January?