What an exciting month February was huh. I hope everyone had a good month and got to try out some new products and makeup.
Here are my empties from February…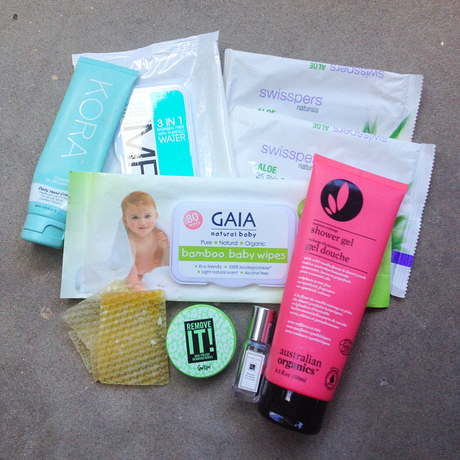 Gaia Natural Baby wipes
You're probably thinking why do I have baby wipes when I don't have a baby. Well, I like these to wipe my hands and my face first thing in the morning. It wakes me up a little before I stagger off into the bathroom to brush my teeth, wash my face and do other forms of grooming.
It's nice on the skin especially when it's a little bloated and cleans out the gunk in your eyes easily. I also use this on my face just a little to remove a little makeup like mascara that accidentally went somewhere other than my lashes.
For mums, I highly recommended these. They're made of bamboo, eco friendly, 100% biodegradable, light natural scent (I love it), organic (aloe vera and chamomile extracts) and alcohol free.
Available at Priceline, $5.99 (80 wipes)
Swisspers Naturals Aloe Skin Perfecting Facial Cleansing Wipes x2
OK, I know that you're probably thinking – TWO?! Yes, I did finish two in a month. I had two wipes left of one packet towards the end of the last month's empties but didn't include it in then.
These are my favorite makeup wipes. They remove all my makeup, even my waterproof makeup and leaves my skin hydrated thanks to the aloe that it's in it. Of course it doesn't mean you skip moisturising, but it doesn't make your skin feel dry like some makeup wipes do.
Available from Priceline, $4.99.
Models Prefer Matte Me Pore Minimising Cleansing Wipes
I thought I'd trial these for a couple of months to see how they worked – to see if they indeed minimised pores. Truth is, they did… but only slightly. Although the pores were significantly smaller it didn't control the oil which is something a lot of people forget. Control the oil, control the pore size.
Anyway, good product. Removed makeup really well, made my skin feel softer and smoother. I am impressed. As far as repurchasing, it would have to take my regular makeup wipes to be sold out for me to repurchase these.
Available from Priceline, $6.99.
Jo Malone Orange Blossom Cologne (Sample)
I got this sample in a goodie bag and I've been trying to save every last drop of it but sadly it had to end.
This is a beautiful floral scent with a hint of citrus and it lasts on the skin for hours. It's a very strong feminine fragrance, so it might not be for everyone.
Available from David Jones, 100mL bottles are $170.00.
Sportsgirl Remove it! nail polish remover wipes
I love this nail polish remover wipes because they don't smell like the old school nail polish remover. I believe this one smells like lime. Removes nail polish amazingly and doesn't sting your hands if you have small cuts or anything like that.
I don't know if they still sell this scent in Sportgirl anymore but I know they still have the same concept in store.
Available from any Sportsgirl store for $4.95 (32 wipes).
Lush's 'Honey I Washed The Kids' soap bars x2
So… if you follow me on Twitter you'd know how obsessed I am with this soap and shower gel. When I say obsessed, I mean OBSESSED! So much so I've given my cat a bath using the shower gel. (By the way, it's completely safe to use on cats – DO NOT USE REGULAR SHAMPOO TO BATHE YOUR PETS IN THOUGH.)
In February I went through two big blocks of the soap – both well over 100g. I can't get enough of the scent of it. Delicious!
Available from LUSH, $6.95/100g.
KORA Organics Daily Hand Cream
If you haven't heard, this is my holy grail hand cream. A lot of the KORA Organics products are fantastic!
I did a product review on this a while ago and even after all this time I still can't flaw it. Yes, it does sound expensive but I finished this tube after purchasing it six months ago and I use it several times a day.
I've already repurchased this and will continue to because it's such a great product to use. Available from David Jones and KORAOrganics.com, $39.95.
Australian Organics Moisture Recharge Shower Gel
I can't for the life of me remember where I bought this from but I'm fairly certain I bought it in a pharmacy a while ago. I honestly haven't seen this product anywhere else, so good luck finding it anywhere.
Really nice shower gel; smells amazing and feels nice on the skin. I think it was well priced but if I found it again I wouldn't repurchase it.


What products did you finish in February?