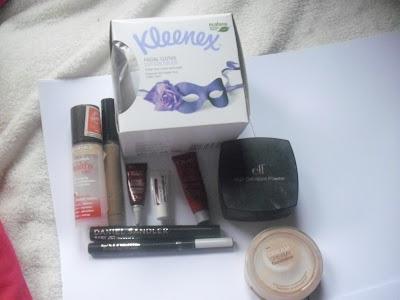 As i am using up most of the things i own up i haven't been buying many new items to add to my collection of make-up and skincare products. These are the things that i have used up over the past 2 months. Being in a bag on my shelf i think its best i get this post up and done!.
Kleenex Facial Cloths
Bought for about £1.99 when they first came out into shops, my first thoughts on the product wow they are really good! but after using them for a little bit it got to the point where i just want to use them up now!. I cant say im a massive fan of these and in two minds whether i would buy them again but for £1.99 as i bought them for there pretty good. And also made from ecoform natural fibres and 30 to a pack. They can be used for cleansing, toning, taking off masks or removing nail polish the uses are endless.
ELF HD Powder
Pretty good powder for about £6, i cant fault it for the price it does the job! Cant say i would repurchase this anytime soon just because it takes so long to use!
Maybelline Cream Creamy Foundation
This is one of my favorite drugstore foundations to get, it makes you skin just glow or as i find on myself. It gives me the right amount of coverage i find it good for my skin. This pot is about my 3rd one i have gone through since i had started using the maybelline products. Definitely worth a try.
Bourjois Healthy Mix Foundation
I must must MUST say putting it out there this is my best gorgeous favorite foundations out in the drugstore hands down! i find it stays on my skin all day long (if i don't go wild touching my face when im tired at college) with the "upto" 16 hours wear and fruit therapy, its just to amazing.
To also add i bought one of these to take to Australia with me!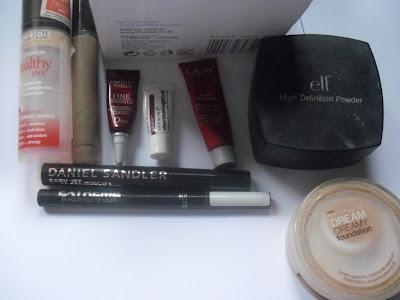 MUA Mascara
This i like to chuck out after a few week as it only costs £1 and it get extremely grimey when used with powder to do my eyebrows but holds your eyebrows in place perfectly!.
Daniel Sandler Baby Jet Mascara
I don't usually hate mascaras but this, this is an exception for me. i found it pointless it have a very small wand which doesnt distribute mascara very well on the lashes. the mascara is barely used but i cant keep it as my hate to it. hello bin!.
Collection 2000 Extreme 24 hour felt tip liner
£2.99 and amazing. i sometimes find the cheaper items to be the best comparing them to some higher end products. this is just great extremely black i find it lasts all day and takes forever to run out as long as you keep it tip down!.
Skincare Samples
Dior skin boosting super serum
After using up the sample i really started to like it although i would never buy the full size for myself as we all know dior is pretty expensive when your saving but over all i thought it was good!
Olay 3 point super serum
best best best it gives you skin an amazing glow on its own or under make up i would defiantly buy the full size!.
Dermalogica renewal lip complex
This was a sample out of glossy box, im really into lip stuff as i suffer with very chapped lips. Although i used this as it was ment to be as first i saw a difference but after a while it didn't do much. However a little goes a long way!
Sorry for the lack of post guys ive been really busy! forgive me! :)
Much love