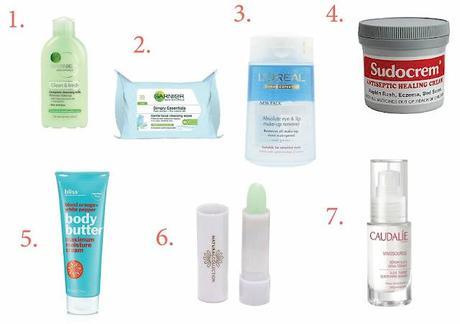 So I'm still battling through lots of beauty products and am doing quite well in not buying much new stuff apart from necessary skin care. I haven't done an updated empties post in 6 weeks or so, so the list is is cumulative of that.  
1. Garnier Clean and Fresh Cleansing Milk £3.15 - I feel like my skin is changing a lot at the moment so I'm trying to experiment with different skin care combinations to lose my teenage spots that keep appearing even though I am now in my twenties. I love the skin care products and think they are really good value and always get rid of make-up and cleanse the skin very well but for me I just need a routine so I won't be replacing this cleanser. It's crazy value for money this bottle lasted me so long so if you want value for money this really is the cleanser.
2. Garnier Essentials Face Wipes £2.99 - I only use face wipes if I'm staying at friends or my boyfriends and I'm in a rush so I don't rely on them a whole lot. I tend to just pick up wipes that are on offer so I have some to hand. I haven't repurchased these Garnier wipes simply because I've had them for a while and I'm trying some new ones at the moment - they are super wet and very good at removing make up without being too abrasive to the skin. 
3. 
L'Oreal Absolute Eye and Lip Make-up Remover - 125ml £4.99 - I have had this L'Oreal make up remover for what seems like ages - it's perfectly good at doing the job you only need a little bit to remove all your eye make up even the stubborn gels and pens. I've not repurchased as again I wanted to try something new - very fickle I know. 
4. 
Sudocrem Antiseptic Healing Cream - 125g £2.69 - I seem to be relying on this a lot more recently and I'm going through tubs very quickly. It's a product I will most definitely be replacing and always have spares of its so multi-use. I use it for burns, spots, blemishes or just to give my skin a real moisturising treat. 
5.  
Blood orange and white pepper body butter - paraben free 200ml

£20.50 - I got this in the March Glossybox and I've absolutely loved using it. It smells 

divine

 and it is so thick and moisturising I 

completely

 love it. I can't excuse the price tag at the moment though so I won't be replacing this in my collection - it will be going on my treats to myself list when I have some more money. 
6. 
Natural Collection Corrector Stick £1.99 - I've used this product since I was about 12, it's perfect under foundation or concealer on any red blemishes it completely tones it down. I've seen lots of expensive tone correcting products on the market and I don't see the point in them personally this does a perfect job and for just £1.99 I will most definitely be replacing. 
7. 
Caudalie Vinosource S.O.S. Thirst Quenching Serum 30ml  
£26.10 - Again I got a sample of this in a glossybox, I use it before my moisturiser morning and night and I've loved using it. It's made my skin feel a lot plumper and full of moisture. Once again this is a little too expensive to replace in my collection at the moment so I will be on the look out for a cheaper serum to use in my skin care routine if not this will too be added to my treat list.