~  
EMPTIES  ~
MARCH & APRIL
Previous - July / August / September / October / November / December / January / February
~ MARCH! ~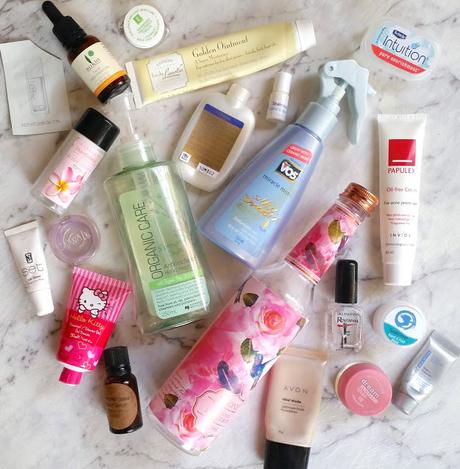 So obviously time is flying by too fast for me to keep up to these days so I am combining two monthstogether as March especially was AGES ago! Plus it is almost the end of yet another month so a newmonth of empties is again due for reflection and review.
Being at home 24/7 with my two toddlers plus being co-owner of our own business I help run withmy husband, free time to relax and blog/vlog and do my own thing is rare. However I am doing thebest I can with the time I have. Being busy sure does make the time FLY! I have come to realize this so much more over the past almost five years since becoming a mother. Seems like everyday second of everyday is go, go, GO! Frankly I need a break and time to breathe...
Come early August we are packing up our place we have lived in here in Brisbane over the past six years and are moving on to live closer to my husbands family about an hour and a half away to a more quiet neighbourhood.  I am really looking forward to a fresh start in a new place, having someextra family around and with Imbi starting big school next year (which I am completely freaking outand excited about) it should be nice to have some of my day partially calmed down and can focus onjust one kid at home which might let me relax a little. Maybe...
Anyway mini life update over, let get onto the fun stuff!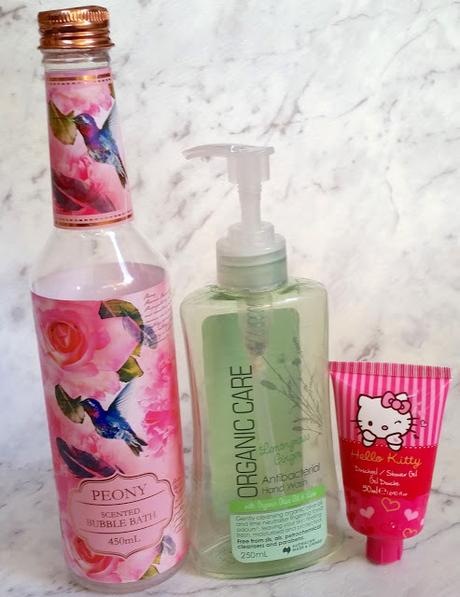 ~  CLEANSERS!  ~
Peony Scented Bubble BathBack in January I received my $5 birthday voucher from Priceline in the mail and this is what Ispent it on. :) Mainly for the kids bubble baths, they loved it. Had a gorgeous scent and made greatwhite, fluffy bubbles!
Organic Care Lemongrass & Ginger Hand Wash (Review!)Picked this one up again a few Beautorium's ago. Why? Because it is amazing and great value!Not to mention my whole family uses it and enjoys it. 
Hello Kitty Shower GelReceived this in a gift pack with matching perfume. So super cute and made great bubbles in thebath!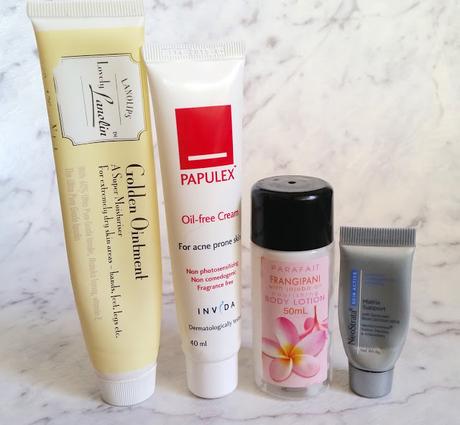 ~  LOTIONS & MOISTURISERS  ~
Lanolips Golden OintmentIf you have really and I mean REALLY dry skin then this product is a must for you! So rich and thickthe lotion just soaks in and softens the skin instantly!! Honestly the best, most effective dry skin treatment I have ever come across!
Papulex Oil-Free CreamThis was a nice light weight facial cream. My skin didn't irritate or break out whilst I used it. So Ithink the fact it is designed for acne prone skin worked because my skin does tent to break outwhen I don't use products targeted to my skin type.
Frangipani Body LotionThis smelt amazing. Nothing else too special about it though. Just your average body lotion from agift pack I was given for Christmas.
NeoStrata Skin Active w/SPF (Sample)This sample was good. I got two uses out of it. I would use it again.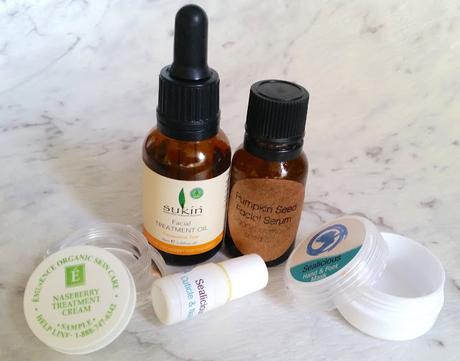 ~  SERUMS & TREATMENTS  ~
Sukin Facial Treatment Oil (Review!)This is so hydrating and healing. I love it for my acne scaring and it just feels so so good!
Pumpkin Seed Organic Facial Serum (Review!)This was such an interesting product to me. Simply sure pumpkin seed oil. That's it! The onlyingredient. I had no idea how lovely a product is actually is. Found in my Pearlesque monthlysubscription box reviewed here.
Eminence Naseberry Treatment CreamI used a dab of this whenever I eyed a cheeky spot coming on and bam, it just cleared it up andhelped the already nasty ones heal up. My skin is so good right now! Hope I can live without thisnow it's empty! I do have a bunch of other acne related products I have to replace this with thoughso I should be good.
Sealicious Cuticle & Nail OilThis tiny little bottle was in my Doll Connection goody bag and this was my first time using thebrand's products. Really nice, I liked it! Made my cuticles nice and soft and I believe my nails arestronger and longer now because of it.
Sealicious Hand & Foot MaskUsed this sample up in one go! Lathered up my tootsies and let it set. I don't think I had ever used afoot mask prior to this, so it was oh so nice to treat my tried aching feet!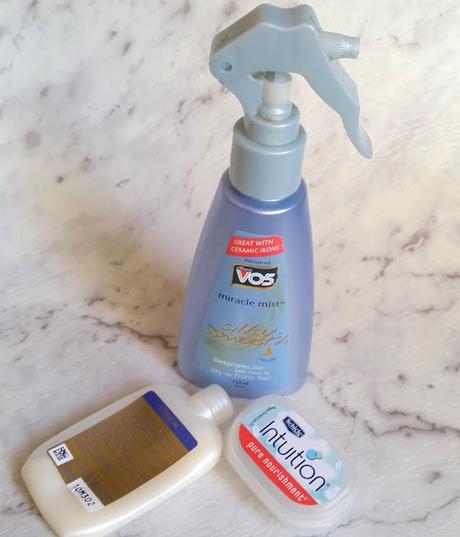 ~  HAIR!  ~
VO5 Silky Mist Miracle MistI used this on both mine and my daughters hair and it actually did an amazing job at detangling thehair and giving it a lovely shine. Sadly, I don't think this product is still available to purchase.
L'Oreal Paris Perfect Blonde Cream This conditioner came in my hair dye box which I forgot to keep for photographing for this emptiespost. However it is the same boxed hair dye I used to use way back in my early 20's when I firstbleached my hair. It stripes the hair of any color so the base is ready for colouring. It does a hell ofa great job at lightening the hair in one go!
Schick Intuition Pure Nourishment Razor Refil (Review!)Here it is again. I go through these all the time. Cannot recommend this razor enough! The moisturestrip saves me every time. I just love it!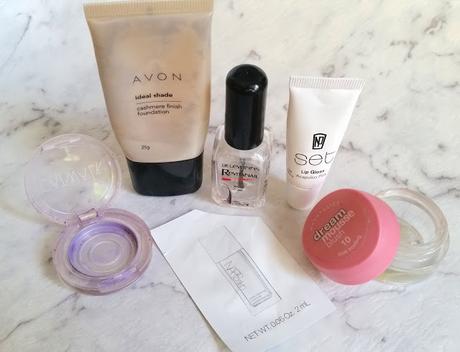 ~  MAKEUP & NAILS  ~

Avon Cashmere Finish FoundationThis wore more like a tinted moisturiser in my opinion. Very light coverage. Would not particuarlyrecommend it.
Revitanail Clear Base CoatBrilliant! Love it, dries fast and up there with the best.
Napoleon Perdis Lip Gloss in Acapulco PinkPretty light barbie pink shade. Love it, it's my go-to lip colour! Always!
Catwalk Purple EyeshadowHad this for far too long and glad to see it go. Much prefer eyeshadow palettes over singles to be honest. Much less fiddly and easy and faster to get the job done. The shade and quality was goodthough. Had a nice subtle shimmer through it.
Maybelline Dream Mousse Blush in #10 Pink FrostingThis was a gorgeous shade and this pot lasted me AGES! I would purchase this again, though Imight go for another color to try something new.
Nars Optimal Brightening Concentrate (Sample)Hard to have much of an opinion after just one use. Didn't irritate and did not leave any kind ofresidue. Was able to apply my normal facial moisturiser over the top straight away.


~ APRIL ~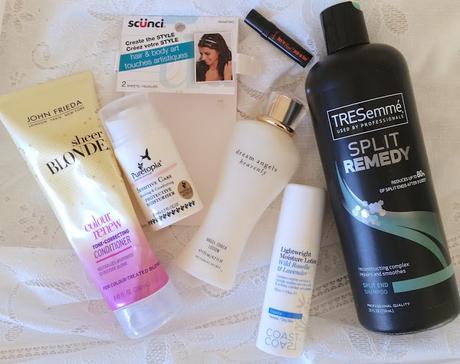 Not so many this month. Just a few large bottles which I have to say I am still pretty proud of sincethey are so large. Every one is a little win. :)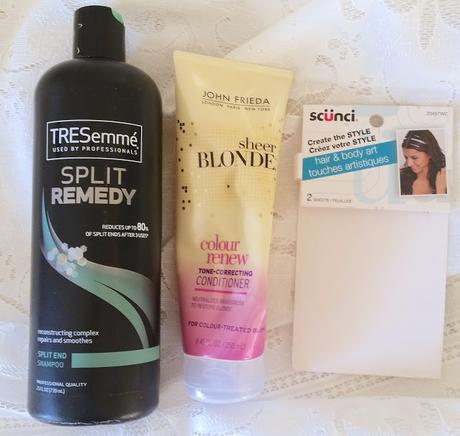 ~ HAIR! ~
Tresemme' Split Remedy ShampooI have been using this shampoo/conditioner combo for years and have reviewed them here.Does a good job at curbing those pesky split ends. Smells really nice and lathers up like a treatwith every wash.
John Freida Sheer Blonde Colour Renew ConditionerWith my DIY hair lightening comes DIY tone correcting! At the moment my hair is leaning towardthe gawd awful orange side and I just ain't got time for that! So purple & silver shampoos &conditioners have been my best friends at every single wash!
Scunci Hair & Body Art TattoosWe've all heard about body tatts, but with hair tattoos being the new thing to do, it was a funexperience to try these out and if you are interested, you can watch my video tutorial on these here.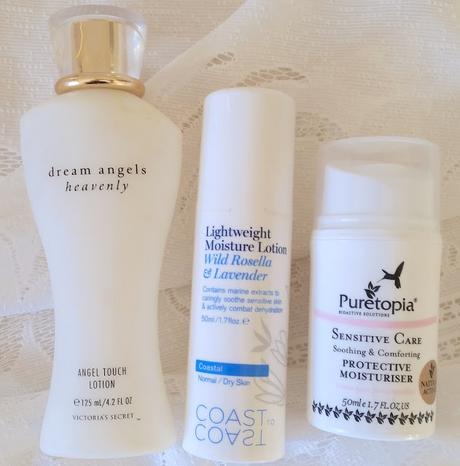 ~  BODY!  ~
Victoria's Secret Dream Angels Heavenly LotionThis lotion is gorgeous! A gift from my husband a few years back which I have been savouring. However it was most likely past it's due date so had to be used up asap!
Coast To Coast Lightweight Moisture LotionAnother beautiful product. I have reviewed the whole Coastal range here. Lovely and light on theskin. The fragrance is light and is so hydrating and soothing at the same time.
Puretopia Sensitive Care Protective MoisturiserComing into Winter, my skin is becoming dryer, hence why I am probably going through a few morefacial creams than usual. I don't have sensitive skin by any means, but I still really liked this.Stopped the dry feeling and sensation on my skin and soaked in fast!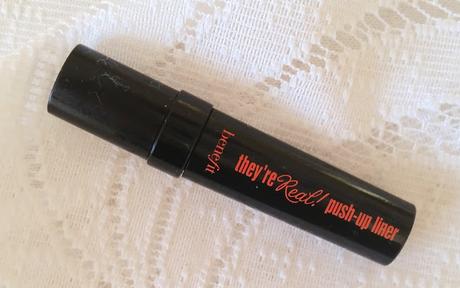 ~ Sample! ~
Benefit They're Real Push-Up LinerI wanted to love this, really I did. Props to Benefit for being innovative, however this product was justa big fail for me. Maybe it was just the sample packaging and the full size is much easier to use? Please let me know, because this was pretty much impossible to use and dried out pretty much straight away. 

How are you going with your empties so far this year?

Missed my last posts?
Match Perfection Makeup! | Newa Anti-Ageing! | Magnif'Eyes Cream Shadow Pens!
 | SkinB5 Skincare! |
Schkinny Maninny Detox!
 | 
Vitamin C24
 | Priceline Goody Bag!
GIVEAWAY!
Win A Circa Home Mother's Day Pack!
Related Posts!
Perfume Collection! | Room Tour! | Adore Beauty Haul! | My Makeup Collection!
Let's follow each other! 
Facebook | Twitter | Youtube | Instagram | Pinterest | Bloglovin' | Google+
*Some products were kindly sent to me for consideration/review
*All photographs are my own work & my o
pinions are all 100% honest & all my own