After last week's 2012 Emmys, we thought we'd take a trip down memory lane with our best dressed from the Emmys of 2011!
Sunday night's Emmy Awards were a delightful surprise, with several "upsets" in the drama category (Kyle Chandler, Peter Dinklage, etc.) And while Modern Family made sure there was no room for surprise in the comedy categories, Melissa McCarthy of Bridesmaids did sneak in a win for her role on Mike & Molly; when each of the other nom's for best actress in a comedy joined her on stage, beauty pageant style, it was a moment in Emmy history.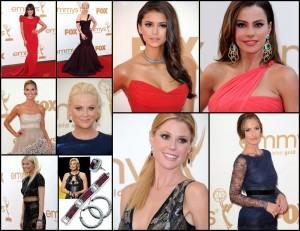 Jane Lynch was radiant, funny, and highly entertaining – not only did she make the RLJ short list of Awards Show Hosts Better than the 2011 Oscars, but she made our jewelry best-dressed list as well! Follow the jump to see who else dazzled on Sunday
10. Gwyneth Paltrow
Gwynnie kicks off the countdown with her Neil Lane 7 carat black diamond and platinum drop earrings, two diamond bracelets topping out at 100 carats, and a diamond, onyx, and platinum ring.
Via AP
9. Kelly Osbourne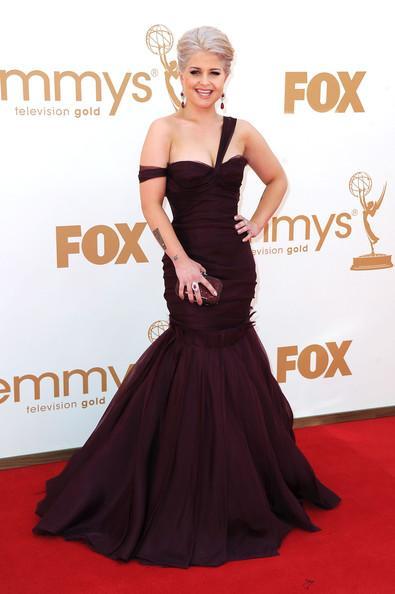 via StyleBistro
The E! Fashion Police star knocked it out of the park in her burgundy J. Mendel mermaid gown, accented by a gorgeous pair of Katerina Maxine 18k white gold, ruby and diamond earrings with a matching ring.
8. Minka Kelly
Minka's Dior gown is a show-stopper, and a show-stealer. Kelly let her gown do all the talking and stuck with simple, classic and stunning Tiffany diamond drop earrings and a platinum and diamond ring.
via Fashion Paparazzi
7. Heidi Klum
Heidi strolled the carpet in full on support of one of her Project Runway superstars – Klum donned a design by Christian Siriano, topped off by whimsical multi-colored and floral Lorraine Schwartz jewels.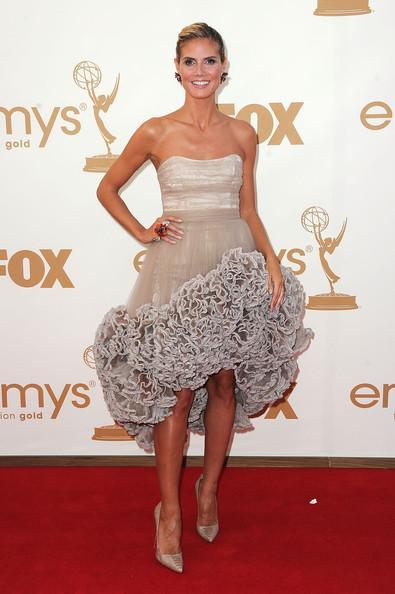 Getty Images via StyleBistro
6. Lea Michele
Lea's Marchesa gown is a bit polarizing, but her Lorraine Schwartz jewels can do no wrong. Michele paired red with more red and rocked rubies.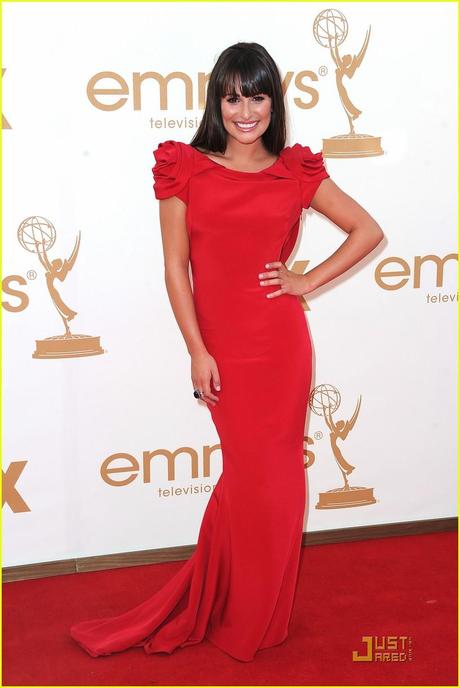 via JustJared
5. Jane Lynch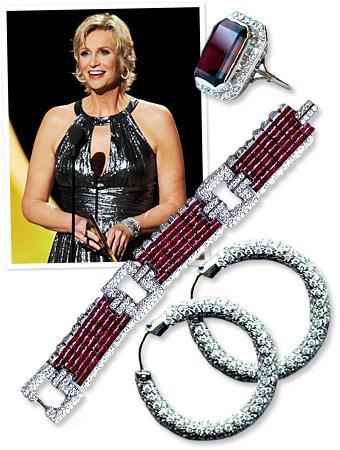 via InStlye.com
Jane's another Hollywood lady who loves rubies. The hostess with the mostess was dressed by NYC's Doyle & Doyle, who used Jane's favorite actress Greta Garbo as inspiration for her estate jewelry ensemble.
4. Amy Poehler

via JustJared
This Parks & Rec funny lady wore Martin Katz black diamond rose cut swing earrings and a matching ring to accessorize her royal blue gown.
3. Julie Bowen Neil Lane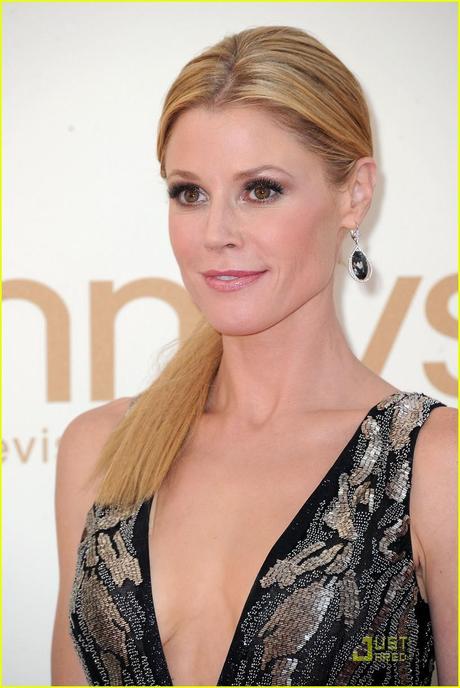 via JustJared
Julie Bowen, who won for her role as Clare Dunphy on Modern Family, wow-ed in these Neil Lane pear shaped black diamond drops with white diamond pave surround.
2. Nina Dobrev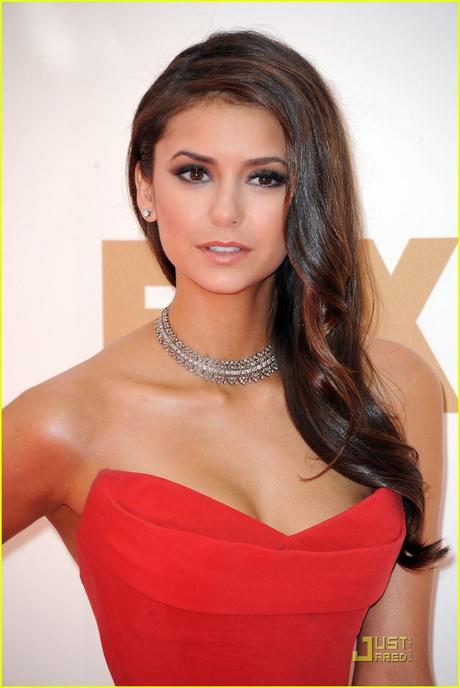 via JustJared
The Vampire Diaries star looked mouthwatering in red (the hue of the night), and set herself apart with this Neil Lane diamond studded choker, perfectly offsetting her Donna Karan gown's vampy neckline.
1. Sofia Vergara
via JustJared
We would be muy remiss if we didn't mention Sofia, who downright stole the show in her perfect, custom Vera Wang coral gown and, of course, The Earrings. Sofia, in her trademark accent, said "The most exciting part of my outfit is my Colombian emeralds." Lorraine Schwartz knocks it out of the park again with the Number 1. Best Jewels on the Emmy red carpet.
Readers, who is your pick for best-jeweled starlet at Sunday night's Emmy Awards?
Liz for Raymond Lee Jewelers, your source for jewelry news and trends.