Emirates and Virgin America today announce a frequent flyer partnership that allows members of both airlines' frequent flyer programs to earn and redeem* points or miles for travel across the networks of two airlines Emirates and Virgin America respectively recognized as best-in-class for global and U.S. domestic service. For its part, Virgin America has swept the major travel awards every year since its launch in 2007, including being named  "Best U.S. Airline" in Conde Nast Traveler's Readers' Choice Awards and "Best Domestic Airline" in Travel + Leisure's World's Best Awards for six consecutive years.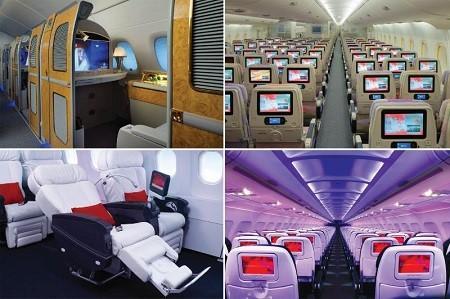 Emirates and Virgin Clockwise: Emirates First Class, Emirates Economy Cabin, Virgin America Main Cabin, Virgin America First Class.
Emirates and Virgin America Launch Frequent Flyer Partnership
Emirates, connector of people, places and cultures, with one of the youngest fleets in the sky, has earned scores of awards for in-flight cuisine, in-flight entertainment, and excellence of overall guest service, including the 2013 "Airline of the Year" award from Skytrax.
Starting today, members of Emirates Skywards frequent flyer program will be able to earn Skywards miles when traveling on all Virgin America flights and can redeem their Skywards miles for reward flights on all Virgin America routes. Members of Virgin America's Elevate frequent flyer program can now earn Elevate points when flying with Emirates to one of its 135 destinations in 76 countries, including Dubai and beyond, as well as redeem* their Elevate points for international reward flights on any route flown by Emirates including those out of New York (JFK), San Francisco (SFO), Los Angeles (LAX), Washington (IAD), Seattle (SEA), Houston (IAH), Dallas/Fort Worth (DFW) and Boston (BOS).** Additionally, Elevate members will have the opportunity to earn and redeem* points on Emirates' new non-stop service between New York and Milan. Emirates is currently the only carrier to offer a First Class cabin service between these two cities.
Emirates and Virgin America Launch Frequent Flyer Partnership
"Through our partnership with Emirates, we're able to offer enhanced international travel options; Emirates' network can take Elevate members to the Middle East and beyond," said Phil Seward, Virgin America's Director of Guest Loyalty. "Virgin America is an airline recognized for high-quality guest service and unique tech-forward in-flight amenities. In Emirates we have found a partner that also offers guests an attractive mix of award-winning service, innovative in-flight entertainment and other features."
"Emirates is committed to providing passengers with a superior product, service and connections," said Jim Baxter, Vice President for North America, Emirates Airline. "We are delighted to be able to offer our loyal Emirates Skywards members with more options for earning and redeeming their reward miles through our frequent flyer program partner Virgin America.  We also look forward to welcoming Virgin America's Elevate program members on board our flights, and providing them with more rewarding access to our extensive route network."
To celebrate the launch of the frequent flyer partnership, one lucky Elevate member will "Win a Dream Trip to Dubai with Emirates."*** Members may enter at http://woobox.com/dhk73a for a chance to win two (2) round trip Economy class tickets on Emirates to Dubai for an exclusive VIP experience that includes a three-night stay at Dubai's iconic Atlantis, The Palm resort, a Dolphin Encounter at the resort's Dolphin Bay,  and a unique all-inclusive dinner in the desert dunes.  All Elevate members will also earn 250 Elevate points for entering the promotion.***
Emirates is the fifth airline to join Virgin America's Elevate frequent flyer program, which also includes Virgin Atlantic, Virgin Australia, Singapore Airlines and Hawaiian Airlines. The partnership will offer expanded redemption* opportunities for both business and leisure travelers on the two carriers.
Emirates and Virgin America Launch Frequent Flyer Partnership