Celebrity makeup artist Jenn Streicher used Votre Vu to create actress Emily Blunt for her look at the screening of her film Sicario at the Toronto International Film Festival on Friday. "Emily Blunt is channeling Audrey Hepburn in a beautiful blush Dior dress with a blue overlay. Because the dress has a princess vibe, we wanted to rock out her makeup a little bit.
I always start working on the eyes first, because you don't want to have to fix smears or mistakes later. I applied Votre Vu Le Joli Crayon Soft Eyeliner in Marine directly to the lash line. I feathered it out with a brush to create a soft cat eye and impart a smoky effect. I finished with many coats of black Diorshow mascara on the bottom and top lashes. Emily prefers not to wear color underneath her eyes, so the mascara gives her definition there.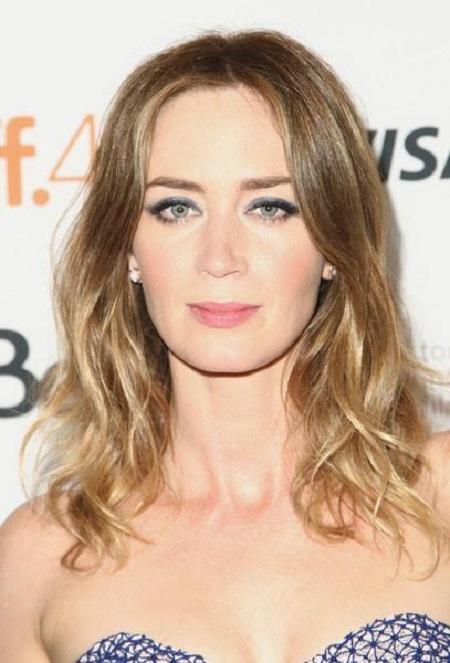 Emily Blunt TIFF-Leonor Greyl-Jenn Streicher
Emily Blunt TIFF-Leonor Greyl-Jenn Streicher
I smoothed Laura Mercier primer over her complexion, and followed with a light-reflecting foundation and a pinky-peach blush from Chanel. Her dress is strapless, so I reached for my new secret weapon: Votre Vu Silk Stockings Picture Perfect Leg Lustre. I massaged that allover her décolletage and arms to get her glowing. It imbues your skin with a little color and warmth, but no obvious glitter.
Even though the focus was on her rocker-girl eyes, I added Votre Vu French Kiss Lipstick in Lulu, a soft blushing pink, to bring out undertones of the dress. Right before she exited the car, I added a final touch of Votre Vu Lip Lustre in Charming. Overall, her look was a collaboration. We all agreed that when you wear a girly dress, you have to rough it up to make it not so precious. That's always fun for me."
Powerful and Proven
Purveyors of professional skin care formulations; Votre Vu imports its signature collection from just outside Paris where our family-owned laboratory has been handcrafting award-winning, botanically infused formulas for three generations.
Beauty with Benefits
Likewise, our premier color line is custom-created with utmost integrity and unparalleled ingredients by some of the best naturally based cosmetic formulators in the U.S. and Europe.
Esteemed & Adored
Beloved by celebrity makeup artists and Hollywood starlets, our boutique brand continually graces the red carpet and the pages of such prestige beauty press as People, InStyle, Glamour, Harper's Bazaar and Cosmopolitan.