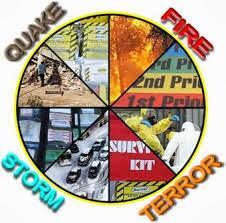 From newportoregon.gov
What if there's an earthquake? Or what if there are strikes? Or something happens? Are you prepared for an emergency? Many people aren't.
It's not difficult to get prepared, but you do need to plan a bit. It doesn't take that much time to learn about emergency prep, so please take the time and get organised.
Recommended Sites
ReadyPA says that there are 3 steps to becoming prepared: being informed, being prepared, and being involved.
You should have some basic items at home, enough to last you at least 72 hours. Emergency Management BC recommends that you stock up on are water (2 liters per person per day), canned and dried food, candles, cash, a battery operated radio, a can opener, medicine, house and car keys, and your emergency plan. In addition, they say that you should have extra clothes, a blanket, a whistle, garbage bags, TP, sanitary gloves, basic tools, and a basic stove.
The Red Cross also has some great information for the home, school, and work.
Learn a Bit of Spanish
Knowing some basic words in Spanish will greatly help you in case of emergency. If you're not good at languages, at least have somethings written down, such as any allergies, or medications that you take as well as basic info about yourself and your family. Two programmes I recommend are Synergy Spanish and Fluent in 3 Months.