It's about that time! The once annual, glorious time when it's Engagement Ring Eye Candy and I suddenly realize it's May. And that emeralds are May's birthstone. And that emeralds are one of my all time favorite additions to an engagement ring! You can add a little emerald to your e-ring in many a fashion. The most obvious is to slap that slab of beryl right in the middle of your setting for an emerald engagement ring. The next option is to add a little sumpin' sumpin' by way of smaller emerald accents to your diamond. The third option is, of course, to get creative and rock an emerald cut engagement ring. See what I did there? Subtlety. I'm all about it.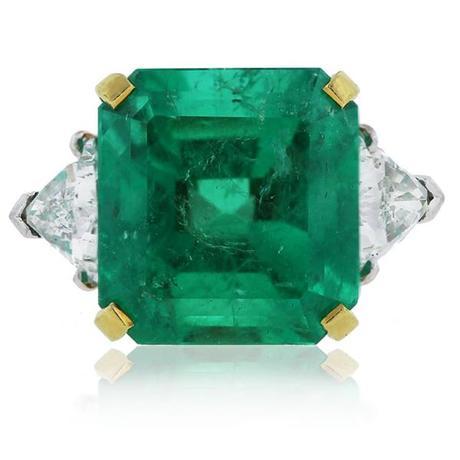 Platinum 18k Gold Emerald Cut Emerald Trillion Cut Diamond Ring
Speaking of subtlety. Nothing to smack you in the face with it like an amazingly huge emerald. For the lady who wants something big, and bold, but might not have the budget for a seventeen carat diamond. The 17.5ct emerald though, she can handle. To say nothing of the lovely white diamond trillions on either side that add 1.50ctw to the ring.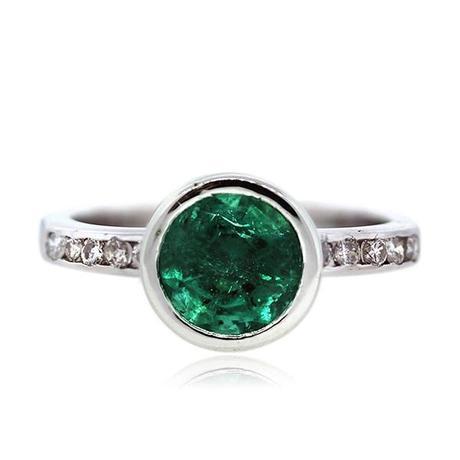 14k White Gold Bezel Set Emerald and Diamond Ring
A more demure, and modern style is this lovely bezel set emerald engagement ring. a 1.30ct emerald is hugged by white gold and flanked by full cut diamonds weighing .15ctw.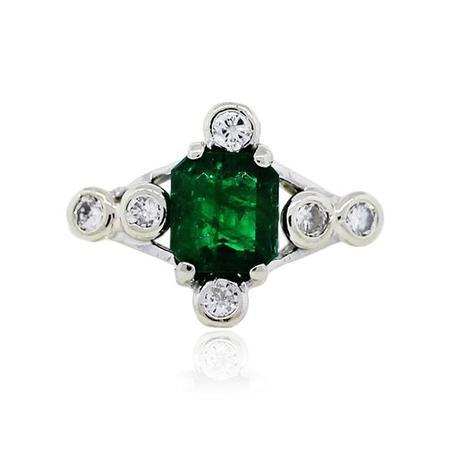 14k White Gold Emerald and Diamond Bezel Set Cocktail Ring
Also very cool, and also bringing the bezel setting to the table, we have this awesome emerald and diamond engagement ring. I love how unique it is, and it looks almost steampunk in its antique style. It reminds me of Wicked, for some reason I can't put my finger on. Though I'd be glad to put this on my finger.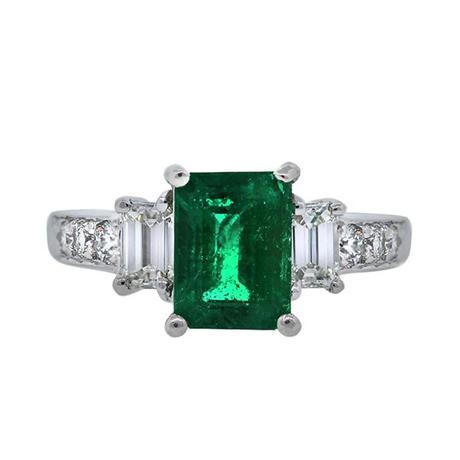 14k White Gold 1.80 Carat Emerald and Diamond Ring
One of my favorite emerald engagement rings! I adore the step cut center stone & its step cut diamond accents. I'm a sucker for symmetry. The round brilliants set into the band soften all the sharp corners and take it to the next level.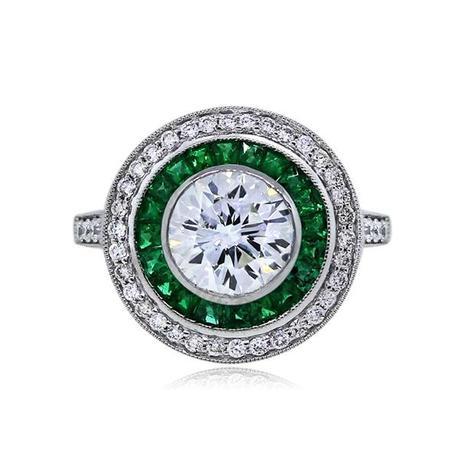 Emerald and diamond halo engagement ring
Finally: I've said it before, and I'll say it again. This halo ring is one of my all time favorites, and is the ultimate blend of trendy, classic, Art Deco, cool girl chic, and luxury.