Emerald cut engagement rings are a beautiful sight that are often few and far between. Emerald cut diamonds themselves are rarer "in the wild" than brilliant cuts, because they are a fancy cut. I wrote about the fabulous world of fancy cuts over on the Raymond Lee Jewelers blog yesterday, and TBH it was hard for me to choose just one emerald cut to highlight.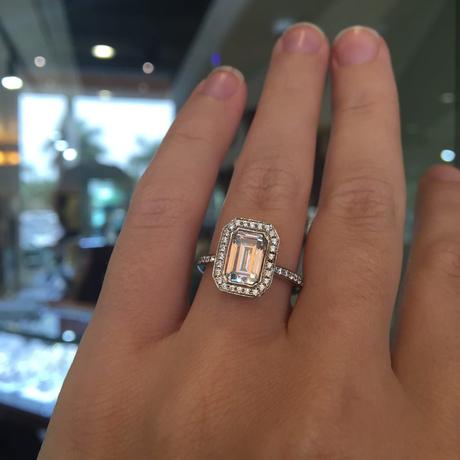 This A. Jaffe three level halo is one of my all time favorites.
Fancy cuts are a step outside of the round brilliant norm, so their appeal is to a slightly smaller audience. However, those that love them can't get enough! Fancy shapes also have different quality standards than round brilliants when it comes to shopping. This is especially true of emerald cut engagement rings.
Fancy cuts like cushion shapes need higher color grades because they show color so strongly. Fancy cuts like ovals and marquise and pear shaped diamonds call for better cut grades because without one, they have a dark, bow-tie effect in the center of the stone (exactly what it sounds like. The middle of the rock looks like it's sporting black tie.) Emerald cuts, of course, call for all of the above – plus impeccable clarity.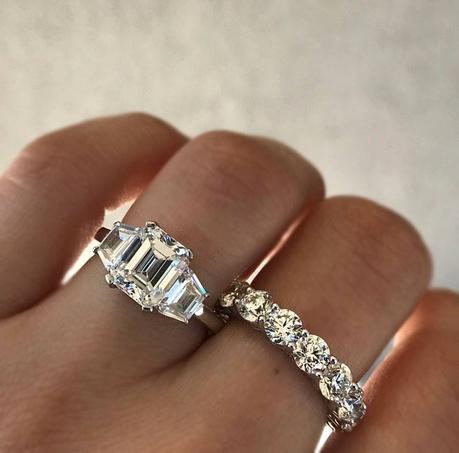 Because of the tiered, step cut facets, emerald cuts show their flaws right up front. Therefore they simply call for the best of the best! And the bride who wears an emerald cut agrees. This sleek, elegant shape is perfect for showing off refined taste and a great quality diamond will fit the bill.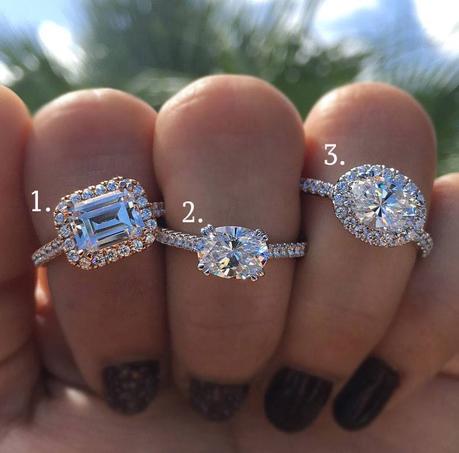 Check out that awesome East-West emerald cut on the left! Click the image to shop.
When shopping for an emerald cut, you want to look for clarity first. With an emerald cut, don't dip below a VS when shopping for solitaires. Adding a halo will earn you wiggle room, as long as the inclusions are minimal and the stone is "eye clean." Read more about diamond lingo here.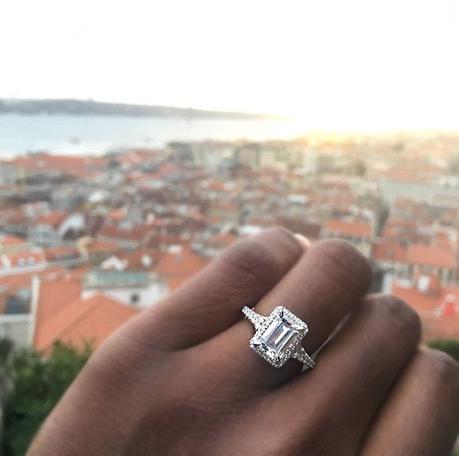 Color on an emerald cut should be no less than H, and ideally G. Again, something with a little more color can handle some "distractors" in the form of gorgeous gemstone accents.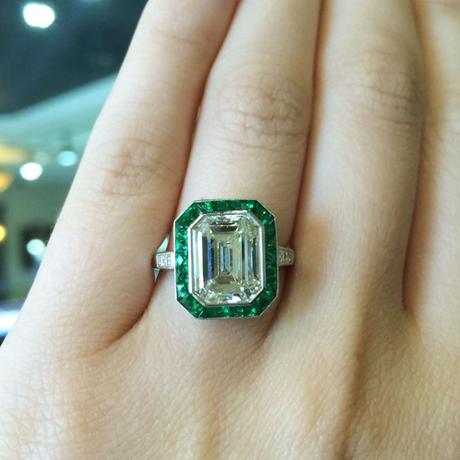 Cut should be very good on an emerald cut diamond, so maximize the reflections and refractions in the minimal facets.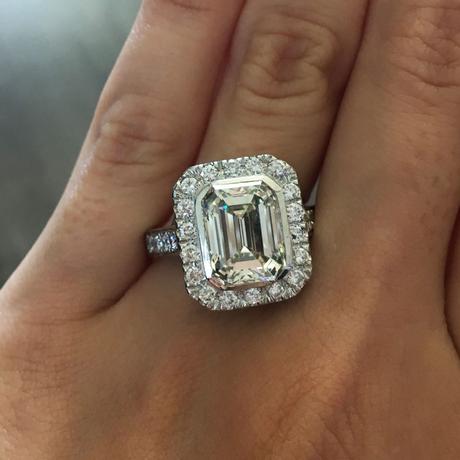 As far as carat weight goes, it's the same old story. Buy a diamond a little bit "shy" of the ideal carat weigh you're looking for. This will save you beaucoup bucks without sacrificing how big the diamond looks. Especially thanks to emerald cut's elongated shape, these diamonds tend to look larger than their square and round counterparts. They also have the added bonus of elongating fingers and looking beautifully elegant on the hand.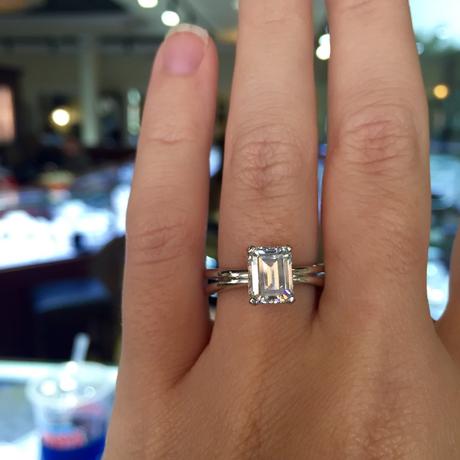 And for your 5th C- Yes, technically there are only 4 c's. But the 5th c is certificate. When it comes to all the grades mentioned above, GIA (the Gemological Institute of America) is the gold standard of diamond grading. A certificate from them means you are getting exactly what your jeweler is selling you, and exactly what is on the diamond's tag. GIA diamonds are slightly more expensive, because of the certification process and because you're buying a "premium" diamond. However many first time diamond buyers happily spend a tad more to get that peace of mind.