I've waxed poetic about emerald cut engagement rings before. And I've even broken down exactly what you need to look for when buying one. In short:
You need an excellent cut grade. This goes for every shape of diamond – you need the best you can afford. But it's especially important with an emerald cut because the facets are so spare.
Which means you also need a higher than average clarity grade. I wouldn't recommend going below a VS (Very Slightly Included) grade, though there are always exceptions. Remember to shop for the diamond and not the certificate. Trust me, you'll be able to tell if an emerald cut is too included for your tastes. There's nowhere for those little carbon imperfections and blemishes to hide!
Color is actually a tad more flexible, though not by much. Because an emerald cut's long, flat facets don't bounce light around as much as brilliant cuts, they also don't "hold onto" their color as well. So any warmth or hint of yellow will be less noticeable in this cut. It's also why you very, very rarely see step-cut fancy yellow diamonds.
As for Carat weight, well you already know I'm going to tell you to go big or go home! Emerald cuts look best when they weigh more than one carat, IMHO. Though their elongated shape gives them an advantage – they look bigger than a round of the same weight. You also can get a little more "spread-y" with them, thanks to that big, flat facet on top.
And allow me to demonstrate…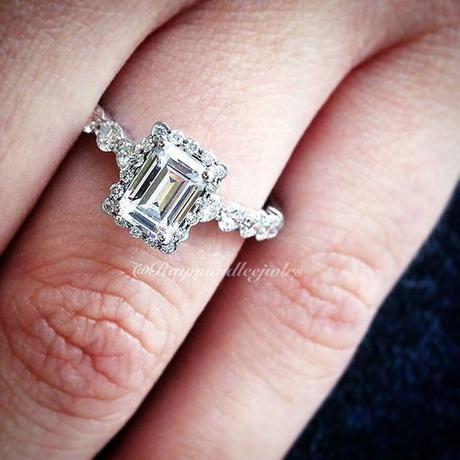 Simon G emerald cut halo engagement ring with diamond band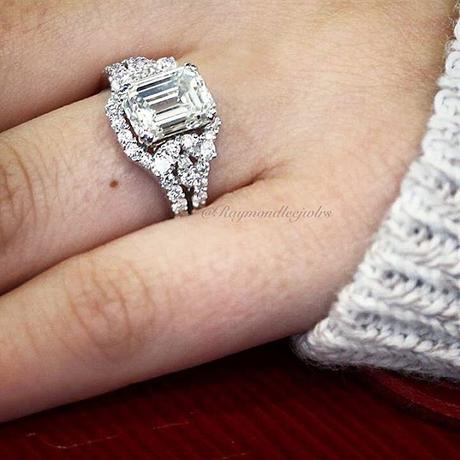 18k White Gold GIA 3ct Emerald Cut Diamond Engagement Ring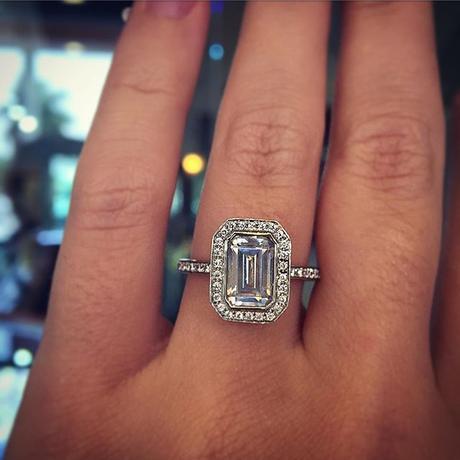 A. Jaffe Three Level Halo .65 carat Diamond Engagement Ring setting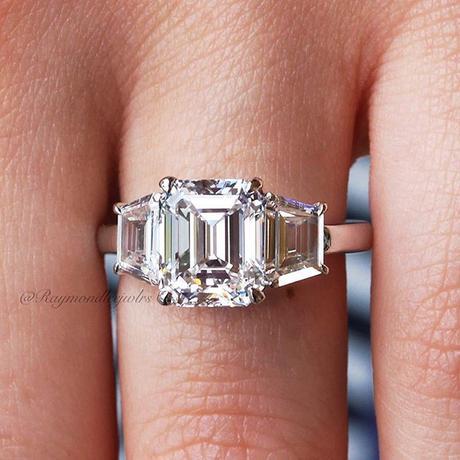 Platinum 3.02ct Emerald Cut GIA Certified Diamond Engagement Ring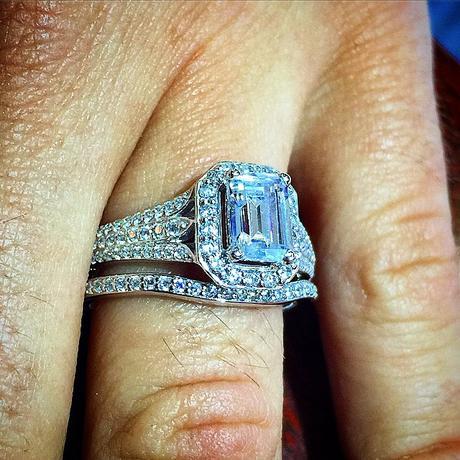 This was a custom ring we created for a customer, shown on her hand, worn proudly! RLJ's design experts are always happy to re-create it especially to your specifications.