So today I'm going to share some beau­ti­ful things with you, and then tomor­row I'm going to share even more. We're talk­ing hydrangea bou­quets in a rain­bow of colours, a gor­geous UK bride and groom, a quirky dream wed­ding venue, a cathe­dral length veil and a wed­ding dress by Roman­tica of Devon. Bev and Nath's wed­ding also fea­tures indi­vid­ual brides­maid styles, tons of ideas for recep­tion decor (com­ing up tomor­row!) and the most sub­limely roman­tic wed­ding photography…
Pho­tog­ra­pher Emma B says she was "in wed­ding heaven" with Bev and Nath at Wal­cot Hall — and I can really see why this gor­geous day made such an impres­sion.  I know you'll love it too. Remem­ber to come back tomor­row for more!
Photo cred­its: Emma B Pho­tog­ra­phy, based in Lan­cashire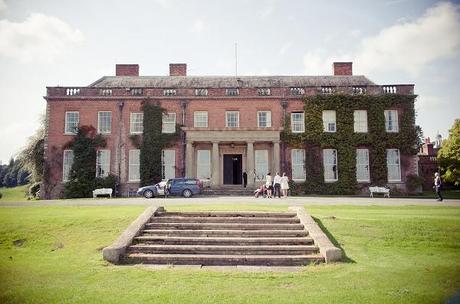 Bev and Nath: a vin­tage,
DIY

wed­ding at Wal­cot Hall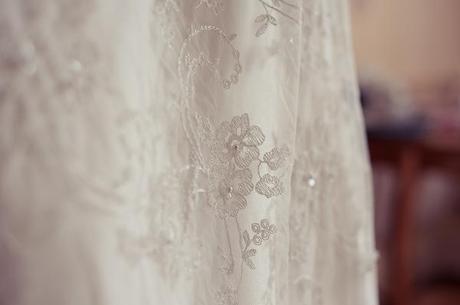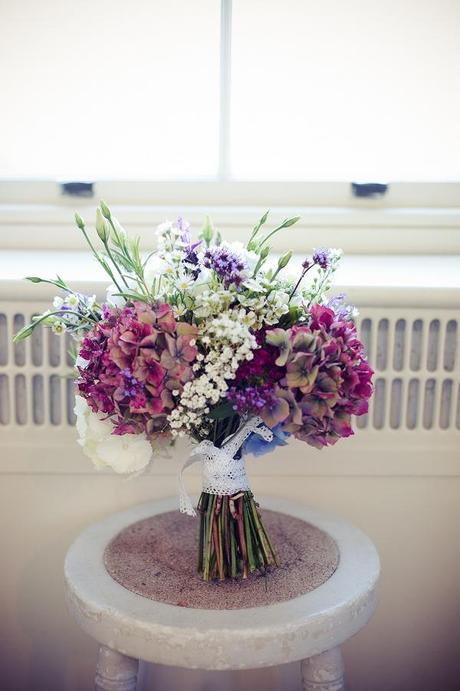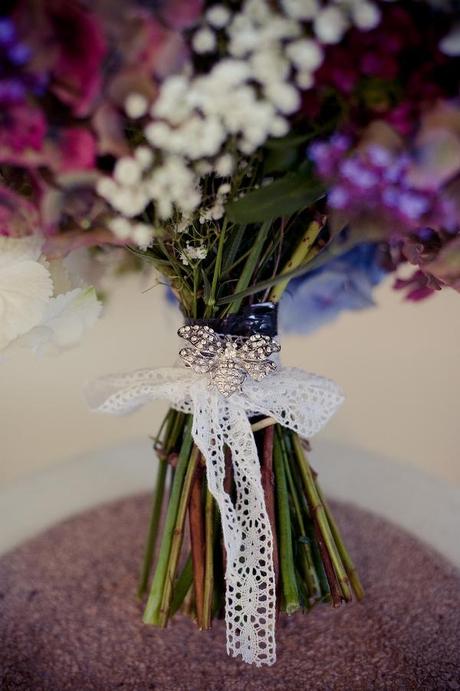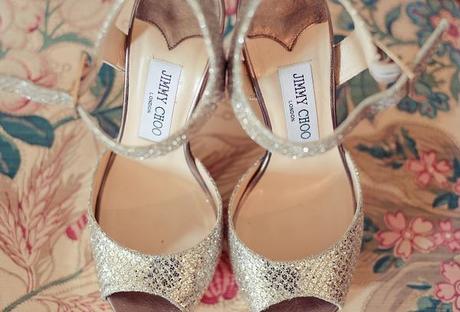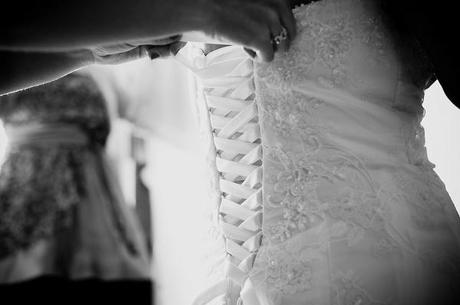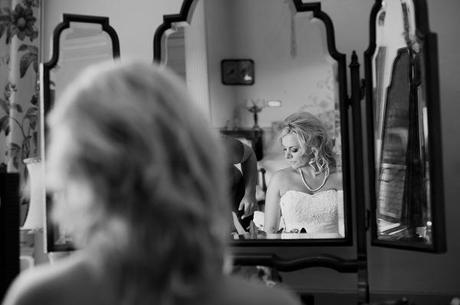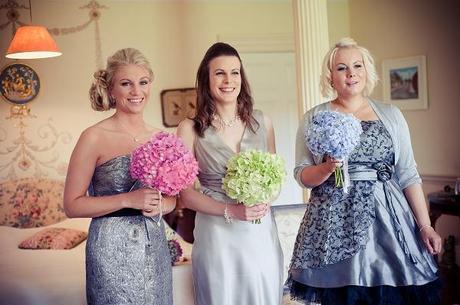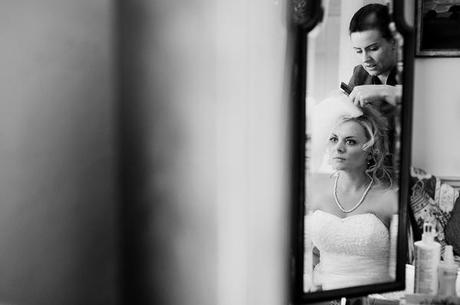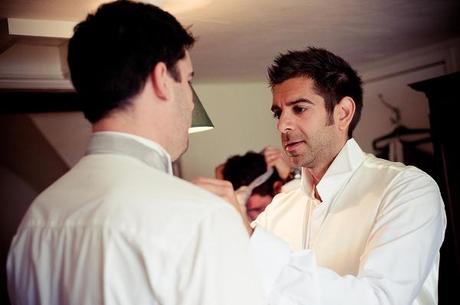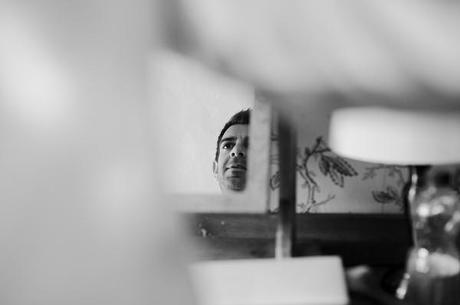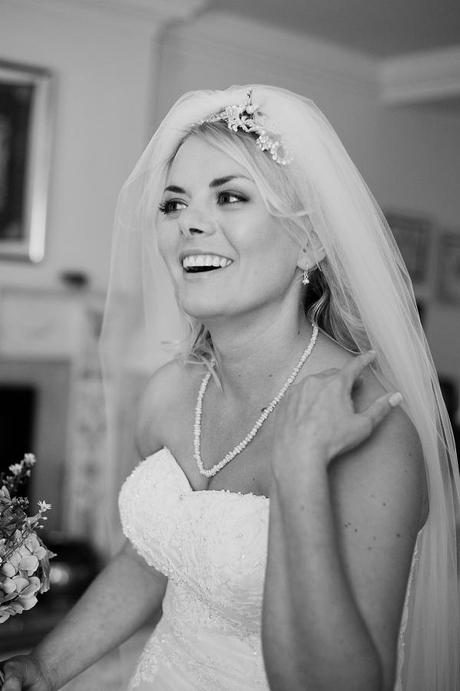 In July last year Nath & I (Bev) took a lovely hol­i­day to Tus­cany. We trav­elled around a bit and for my actual birth­day Nath was in charge of book­ing the accom­mo­da­tion. He con­tin­ued to tell me we were stay­ing in a hos­tel (!) right until we pulled up to an amaz­ing cas­tle! He pro­posed wear­ing only a towel (it was boil­ing hot and the cas­tle had no air con!) and I was delighted to accept.
We spent the fol­low­ing 14 months plan­ning all the lit­tle details. I was a very lucky bride as I had a fiancé who was very keen to be involved in the organ­i­sa­tion! We have been to so many wed­dings so we had in our heads the things we def­i­nitely wanted to have at our wed­ding, and also the things we wanted to avoid! We decided at an early stage that we wanted a fairly relaxed, laid back and per­sonal wed­ding. We are not sure we could describe it in one word but a vin­tage, DIY party with fam­ily and friends was the gen­eral idea.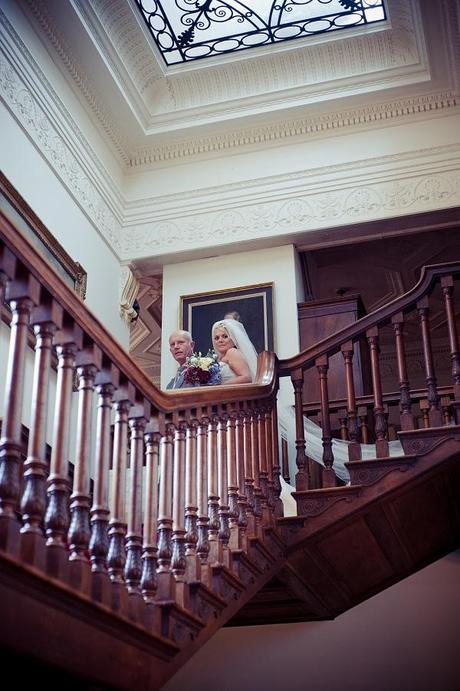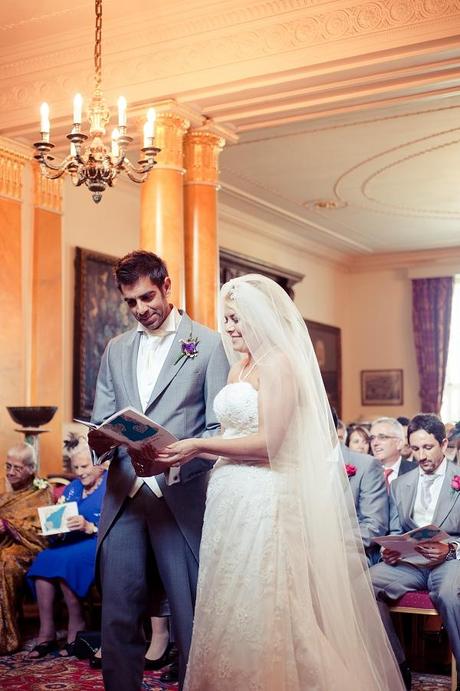 Wal­cot Hall wed­ding venue
Find­ing the venue was the first job. We knew we wanted some­where where our fam­ily and close friends could all stay but one of our main require­ment was hav­ing the abil­ity to bring our own booze with no cork­age charge! We stum­bled across Wal­cot Hall (www.walcothall.com) on an inter­net search and it was com­pletely per­fect. We imme­di­ately fell in love with the venue due to its stun­ning loca­tion and its quirky nature.
We also couldn't get over how flex­i­ble the place was com­pared to so many other venues. Set close to the Eng­land / Wales bor­der it was also a per­fect loca­tion for our English-Welsh wed­ding! Pick­ing the venue on the basis of some­where we liked rather than being 'tied' to a loca­tion was also a great way for us to find a part of the UK we had never pre­vi­ously been to. At Wal­cot Hall you are essen­tially hir­ing the venue for the week­end and it was then down to us to sort every­thing else out (cater­ers, bar etc), whilst this meant a bit of extra work for us it was just what we wanted because it meant we could put our own per­sonal stamp on the entire day!
Emma Be wed­ding photography
The next task was the pho­tog­ra­pher. Every one told us that the only thing you have left after the wed­ding is the pho­tos(!) so bet­ter get a good one!
We stum­bled across Emma after a friend of mine had rec­om­mended her. She was so relaxed and instantly got exactly the type of vibe we were after. One key piece of advice we would give is to make sure you like the peo­ple who are going to pro­vide the key ser­vices for your wed­ding and Emma was so easy to get on with and incred­i­bly help­ful. We can­not thank her enough for the beau­ti­ful engage­ment and wed­ding pho­tos we have as a per­fect mem­ory.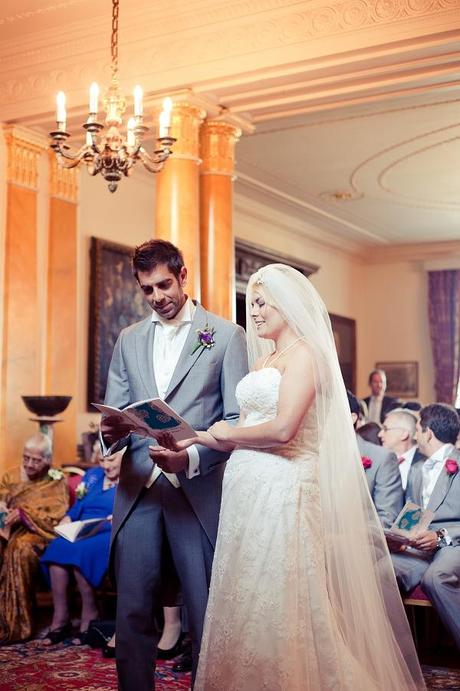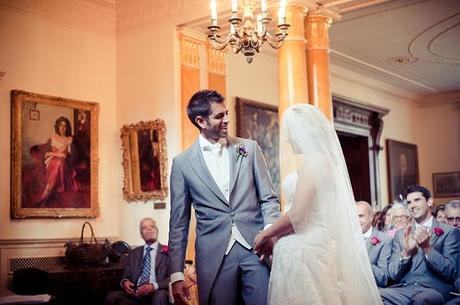 The cer­e­mony was held in the main house of the venue, we had a harpist and two read­ings– I'll be there by Louise Cud­don and My True Love Hath My Heart by Sir Philip Sid­ney. To fin­ish off the ser­vice we had every­one sing I Got You Babe by Sonny
&
Cher. Every­one belted it out
&
even the reg­is­trar was singing along!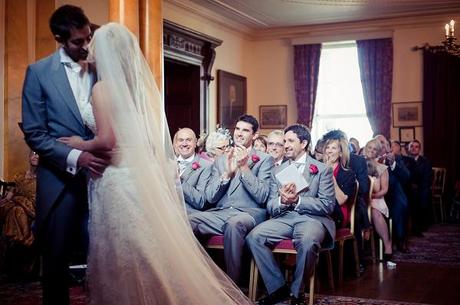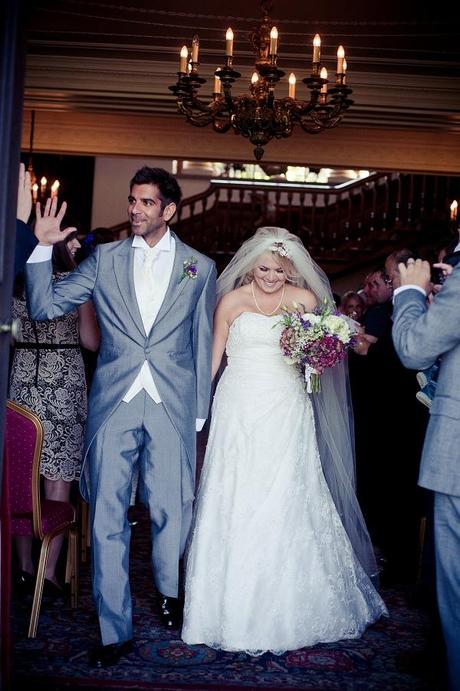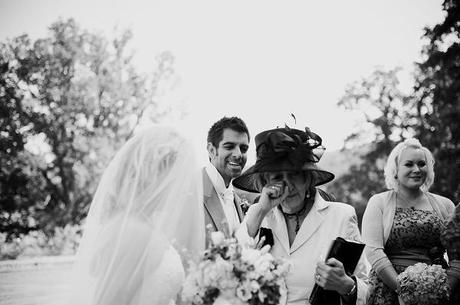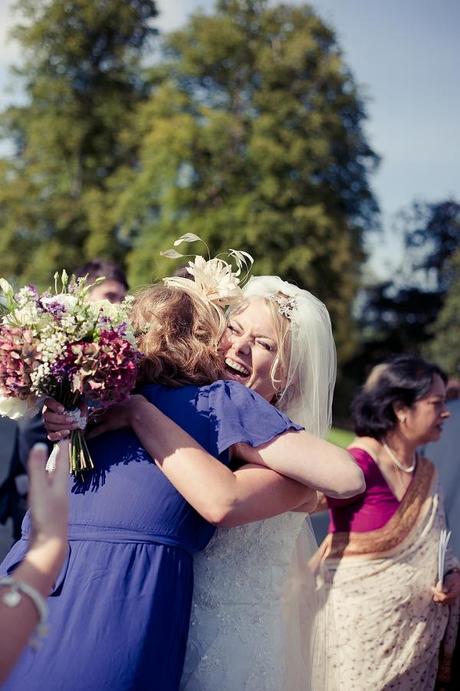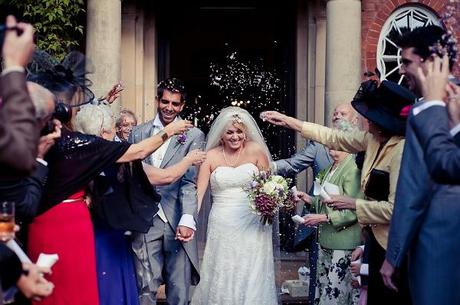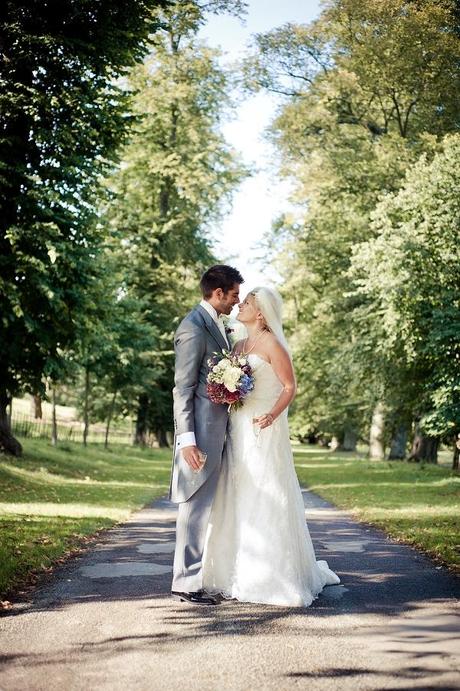 I always knew what kind of wed­ding dress I was after. As I was to walk down a grand stair­case a long train was always on the cards & I was inspired by K-Middleton to embrace the lace!
The dress was Vir­ginia by Roman­tica of Devon & I bought it at Cheshire Bridal in Altrin­cham who were very help­ful. A lovely local lady at 'Dream Veils' (www.dream-veils.co.uk) made me a beau­ti­ful cathe­dral length veil which was stun­ning on the day. For me the dress came sec­ond to the shoes. I bought the dress on the first day I tried it on. I must have tried the shoes 4–5 times! In the end I treated myself to a non-weddingy pair of glit­tery Jimmy Choo sky­scrap­ers which I man­aged to wear almost the whole day! The out­fit was topped off with a beau­ti­ful hand­made head­piece made from old jew­ellery again by a local designer at Ivory Tues­day (www.ivorytuesday.com).
My beau­ti­ful brides­maids are all very dif­fer­ent char­ac­ters and as such I decided to have them all in dif­fer­ent dresses. We went high street and they all chose some­thing they would wear again. The silvery-grey theme was tied together with match­ing hot pink shoes from Aldo.
My gor­geous hus­band rented his light gray tails from Groom in Man­ches­ter (www.groomhire.co.uk) they do a great selec­tion of suits and have a bespoke fit­ting ser­vice. As he con­tin­u­ally reminds me, his shoes were hired for £10 so that I could have my Jimmy Choos (!) oops!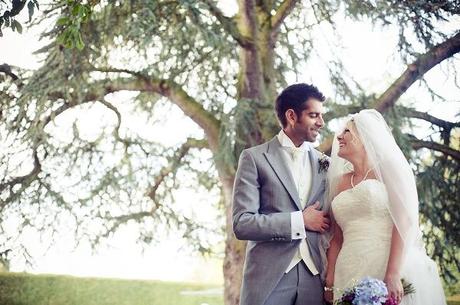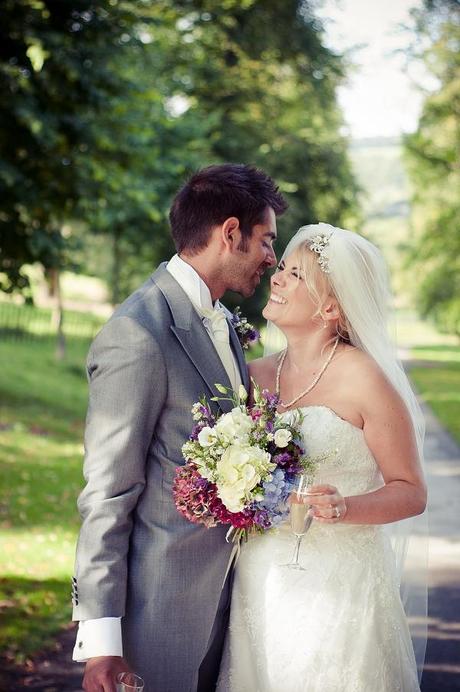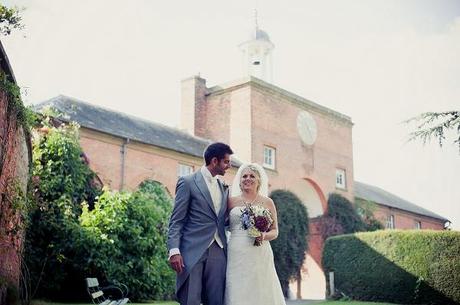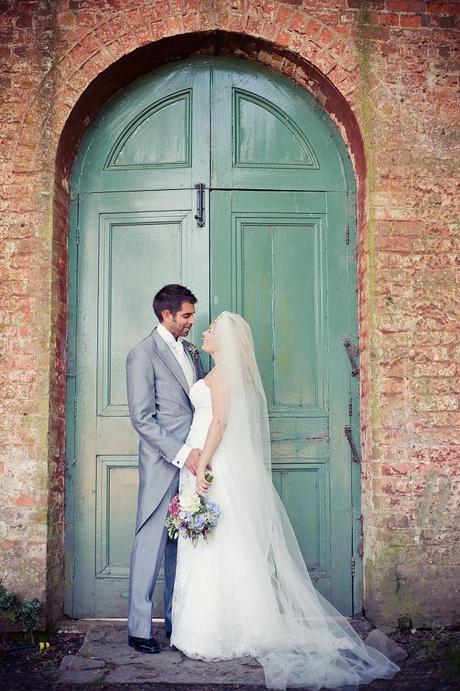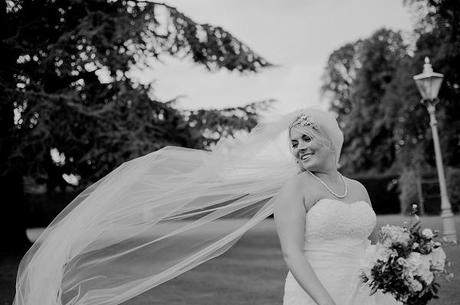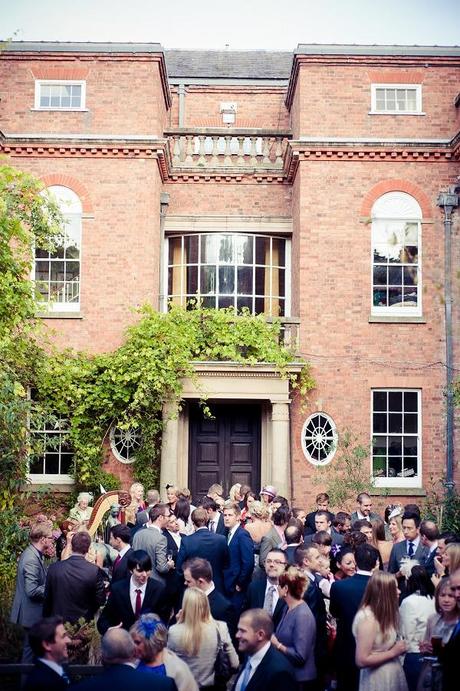 I hope you've loved reliv­ing Bev and Nath's wed­ding cer­e­mony with them — I think they make the loveli­est cou­ple! Just a quick men­tion of the harp in this last photo for today… I love how a crowd of peo­ple chat­ting, milling around and talk­ing about the wed­ding is inter­rupted by the curvy top end of a harp pok­ing out from the crowd!
Shall I share a quick peek of what's com­ing up tomor­row? Oh, go on then… one photo and then you'll have to pop by in the morn­ing (11am) to see more! It's worth it, I promise… ideas a-plenty!