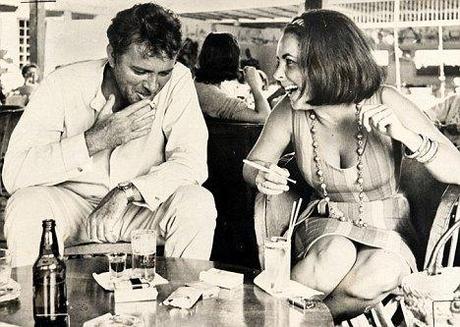 My most favourite photograph of Elizabeth Taylor and Richard Burton. I'm very proud of the fact that their second wedding took place on my first birthday.
God, I really miss Elizabeth Taylor. Don't you? It's almost three years now since she passed away and I swear that the world is still a duller, less glamorous place without her in it although I like to imagine that she and the divine Richard Burton are looking down on us from the clouds, cackling together as they used to do in life while knocking back several large gins and tonic. Love them.
The beauteous Elizabeth was born in London on this day in 1932 and was destined to become one of the most luminous and extraordinary beauties of our times. Better known for her love of diamonds and Richard Burton and all those husbands than her actual actual ability, she was nonetheless a talented actress who never failed to bring a frisson of glamour to every role.
Those diamonds though! Gracious me. I think that my most favourite item in Taylor's vast and dazzling jewel collection is the sumptuous pearl pendant La Peregrina, which Richard Burton bought for her in 1969, paying $37,000 for it at Sotheby's. I suppose that to some people, having a pearl with such a stately royal heritage gracing the neck of an actress could be regarded as a sort of lese-majesté but I think this is nonsense.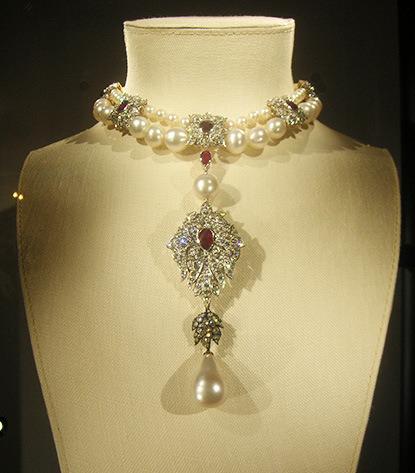 La Peregrina in the Cartier mount commissioned for it by Elizabeth Taylor. It's modelled on the one worn by Mary I in her portrait by Hans Eworth.
There's something so fascinating about royal jewels though, isn't there? They are splendid, of course but there's also something so intimate about pieces that have adorned the ears, necks or wrists of royal ladies over several generations, that have been warmed by the heat of their skin. This is especially true of pearls, which have always been regarded as such a uniquely feminine adornment and which take on warmth and a soft glow from the skin of their wearer.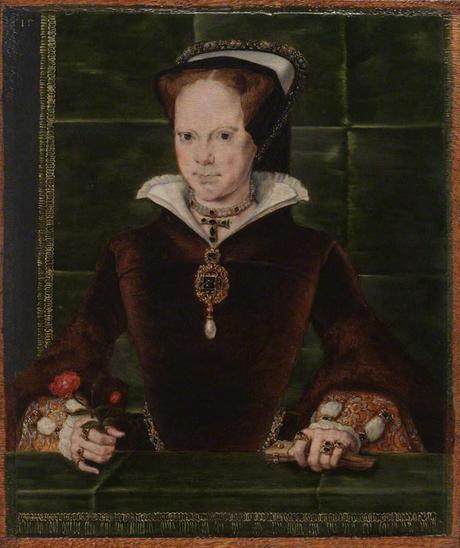 Mary I, Hans Eworth, 1554. Photo: National Portrait Gallery, London. Mary is wearing La Pelegrina in this painting, which was bought by the gallery in 1972 with the assistance of Richard Burton and Elizabeth Taylor.
La Peregrina has an especially vivid past though – discovered by an African slave on the isle of Santa Margarita in the Gulf of Panama in the sixteenth century, it found its way into the possession of Philip II of Spain, who gave it to Mary I of England as a rather fancy wedding present. I bet she was thrilled. In fact we know that she must have been as she wore the pendant in various portraits, where it hangs creamily against the rich brocades and velvets that she was so fond of.
After Mary died in 1558, the pearl pendant went back to Spain – much, I imagine, to the woe and chagrin of Elizabeth I who probably thought she could totally rock it with her ivory complexion, flowing auburn hair and fabulous dresses. However, Good Queen Bess' loss was the Spanish royal ladies' gain, although I think it would have looked better with her more flamboyant dress sense than the rather dourly gloomy outfits favoured at the Spanish court. We catch glimpses of it over the years though in the portraits of several Spanish queens, from Margaret of Austria, wife of Philip III to Elisabeth of France (sister of Henrietta Maria) and Mariana of Austria, who were consorts of Philip IV. It remained a favourite piece in their collections and was brought out on very special occasions, when it elicit gasps of astonished admiration from onlookers due to its size and general gorgeousness.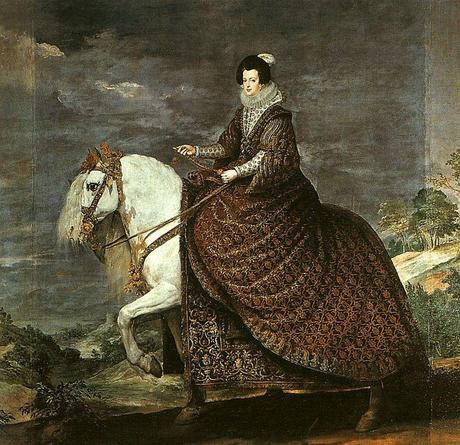 Elizabeth of France, Queen of Spain, Velazquez, c1635. Photo: Prado Museum. Here, the young queen is depicted on horseback while wearing La Peregrina – so sumptuous is her outfit though that the pearl almost disappears against it.
La Peregrina remained in the hands of the Spanish royal family until 1808 when Napoléon made his big brother Joseph King of Spain, an office which came with the palaces and possessions of the now dispossessed Spanish royals. It didn't last long though – Joseph, who was an extremely unpopular king, was, in his turn, chucked out of Spain to the relief of everyone in 1813 and did a runner back to France and then on to America, taking most of the Spanish royal jewels, including La Peregrina (which got its name, which means 'The Wanderer' now thanks to the wanderings of the dispossessed thieving Bonaparte prince) with him.
Ignoring the fact that it really wasn't his to give, Joseph Bonaparte left the fabulous pearl pendant to his nephew Napoléon III in his will, no doubt hoping that it would one day form part of the French crown jewels but Napoléon was pretty strapped for cash during his exile in England and so sold it to the fabulously wealthy James Hamilton, Duke of Abercorn, who gave it to his wife Louisa, who apparently lost it at least twice – once down the back of a sofa at Windsor Castle and the second time at a ball at Buckingham Palace, which I think successfully trumps all other 'losing jewellery in interesting places' stories.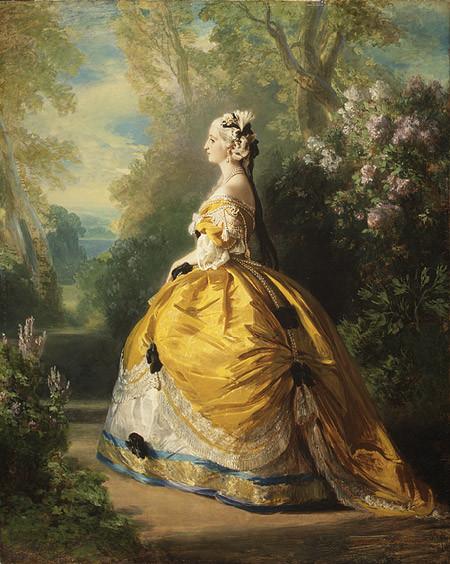 The Empress Eugènie, Winterhalter, 1854. Photo: Metropolitan Museum of Art, New York. Napoléon III's glamorous wife wore La Peregrina as an earring in this fabulous portrait of herself, which was intended as a tribute of sorts to the grand sweeping yet romantic Vigée Lebrun paintings of Marie Antoinette, of whom she was something of a fan girl.
La Peregrina remained in the possession of the Hamilton family and was worn with great aplomb and with no further incident until 1969, when it was bought at auction by Richard Taylor who intended it as perhaps one of the most extravagant Valentine's Day presents of all time.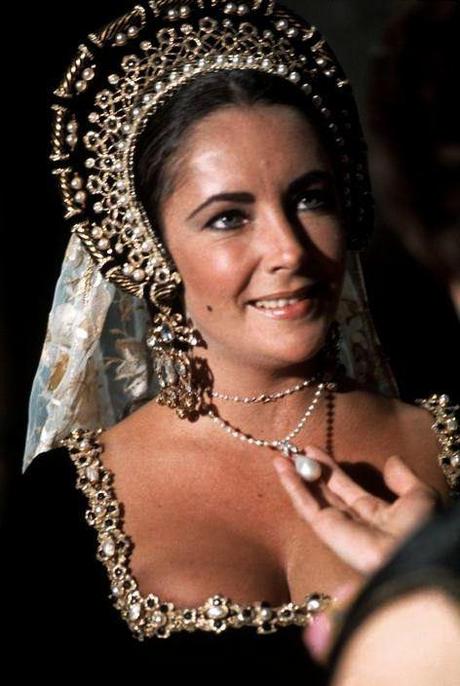 Elizabeth Taylor stealing the scene in La Peregrina on the set of Anne of the Thousand Days.
'I had recently received the Peregrina on the little chain and I was touching it like a talisman. We had the top floor at Caesar's Palace and walking back and forth through the room I reached down to touch the pearl and it wasn't there! I glanced at Richard and thank God he wasn't looking at me, I went in to the bedroom and buried my head into the pillow and screamed. Very slowly I retraced all my steps in the bedroom in my bare feet. I was walking by the white Pekingese and Richard's brown Pekingese with all the puppies, it was feeding time and I said "Hi babies, such sweet little babies…" then I noticed one of the puppies chewing on a bone—I thought—we don't give our puppies bones! I just casually opened the puppy's mouth and inside was the most perfect pearl in the world—and thank God—not scratched! Richard loved that pearl, anything historic was important to him. This pearl is unique in the world of gems, it's one of the most extraordinary pieces there is and I knew that he was proud inside. I did finally tell Richard — but I had to wait a week!' — Elizabeth Taylor.
Richard Burton was so fascinated by the jewel's wonderful history that he even contemplated writing a book about it, a project that sadly never came to fruition. He then considered buying himself the iconic Hans Eworth portrait of Mary I wearing the pendant but in the end donating the the painting to the National Portrait Gallery so that it could go on public show. Later on, Taylor would have the stone remounted by Cartier in a mount that echoed that worn by Mary I in her portrait, although, OF COURSE, Taylor's was rather more glitzy and glam than that sported by the formidable Tudor queen.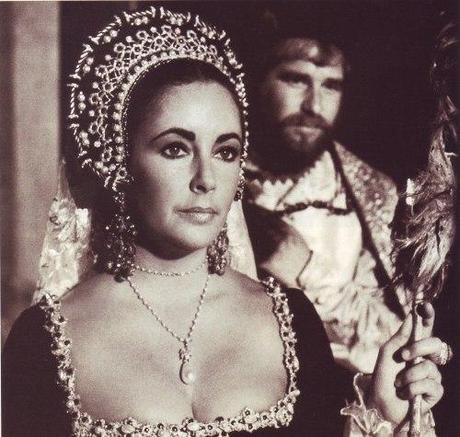 Elizabeth Taylor wearing La Peregrina on the set of Anne of the Thousand Days.
I'm sure he felt immense pride every time Elizabeth wore La Peregrina though – I don't think any of its previous owners, no matter how royal they were, could have carried it off with such elegance and superb aplomb. I especially love the fact that Elizabeth wore it while in Tudor costume as a lady of the court for her cameo appearance in Anne of the Thousand Days. She had reportedly wanted the part of Anne Boleyn for herself, which would have meant starring alongside her then husband, Richard Burton, but was gently told that she was too old to play Anne and then to top this all off she decided that Burton and Genevieve Bujold, who ended up playing Boleyn instead, were having an affair. It must have been a great consolation to her to walk on set knowing that she was the cynosure of all eyes in her massive great big pearl that had actually been worn by a Tudor queen. Way to show them all who is boss, Elizabeth Taylor!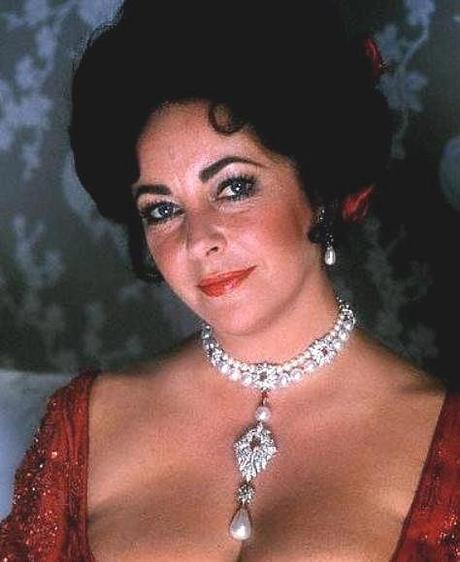 ******
'Frothy, light hearted, gorgeous. The perfect summer read.' Minette, my young adult novel of 17th century posh doom and intrigue is now £2.02 from Amazon UK and $2.99 from Amazon US.
Blood Sisters, my novel of posh doom and iniquity during the French Revolution is just a fiver (offer is UK only sorry!) right now! Just use the clicky box on my blog sidebar to order your copy!
Follow me on Instagram.