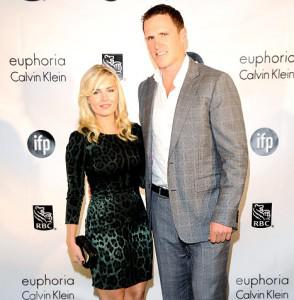 The 'Girl Next Door' actress, Elisha Cuthbert is engaged to ice hockey player Dion Phaneuf. The couple who started dating in 2008 shared this good news with family and friends over the past weekend.
"Happily, happily, happily, happily engaged!" Cuthbert tweeted. "This has been the most amazing weekend ever."
Cuthbert and Phaneuf celebrated their engagement at the New Glasgow Lobster restaurant on Prince Edward Island, Canada. The couple invited over 40 close family and friends to celebrate at the restaurant but none of the guests knew there was an ulterior motive to the dinner.
Phaneuf "made the reservation about a week ago but never said it was for an engagement party," a source told.
"Screams and applause could be heard coming from a private dining room after the couple broke the news," said a newspaper.
The restaurant tweeted about Elisha's engagement, writing, "Last night we had the privilege of hosting a surprise engagement party for Dion Phaneuf and Elisha Cuthbert. Congrats to them both."
The restaurant added, "A nice surprise for all their guests. Congrats to them both and LOVE The Ring!"
The group feasted on lobster in the restaurant's downstairs dining area and an eyewitness revealed, "Elisha looked very happy and pleased. She was showing off her diamond engagement rings to her family and the wait staffs. The female wait staffs were gushing about the engagement ring saying it was 'quite impressive' and 'huge.' At one point, Dion and Elisha both got up and gave a speech and thanked everyone for being there and celebrating this exciting time with them."
Phaneuf, 27, the captain of the Toronto Maple Leafs, made his NHL debut in 2005. Cuthbert, 29, a native of Alberta, Canada, made her debut through the TV show 'Are You Afraid of the Dark' in 1996 but became popular through 'The Girl Next Door'.
Cuthbert's other TV and film credits include 24, Old School, Lucky Girl, Love Actually and House of Wax. She is currently starring in the NBC comedy series "Happy Endings".
Also Read : Avril Lavigne & Chad Kroeger In Vegas Celebrating Their Engagement!