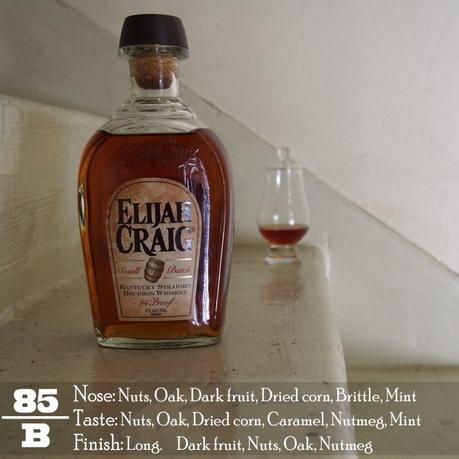 Elijah Craig Small Batch is the modern No Age Statement (NAS) version of what used to be the Elijah Craig 12 years and is now supposedly a combination of 8 and 12-year-old barrels. That's not the only change either. To accompany the label change, and the loss of age-statement. Elijah Criag Small Batch is now going to be bottled in a thinner, taller, more shelf-space-conscious bottle which HH had on display at Whisky Live. Anyways, back to the whiskey.
According to Heaven Hill the Elijah Craig Small Batch bourbon is made from batches of 200 barrels, or less, and is named after the supposed creator of bourbon as we know it. The tale, in a nutshell, is that Reverend Elijah Craig was a moonshiner and one day there was a fire. Some of his barrels got charred in that fire, but were still able to hold his moonshine. After realizing what charring a barrel did for the whiskey he began doing it on purpose and thus invented bourbon.
However, bourbon authority Chuck Cowdery tells a different story. To paraphrase Chuck, Rev. Elijah Craig was indeed a real person and a reverend, but it's impossible to credit him with inventing bourbon. Since the early 19th century all whiskey coming from Bourbon County was called Bourbon Whiskey, but the Rev operated out of Georgetown which wasn't in Bourbon County. Also, what we call bourbon wasn't being made until the mid 19th century which was long after his death in 1808. The claim may be unsupported, but Elijah Craig Small Batch has definitely been a staple in recent bourbon history.
Elijah Craig Small Batch Info
Region: Kentucky, USA
Distiller: Heaven Hill
Mashbill: 75% Corn, 13% Rye & 12% Malted Barley
Cask: New Charred Oak
Age: NAS
ABV: 47%
Non-Chill Filtered | Natural Color
Price: $30
Elijah Craig Small Batch Review
EYE
Caramel
NOSE
Oaky, nutty, dark fruit, dried corn, nutmeg, brittle and mint with a touch of vanilla. It's a solid bourbon aroma, but nothing special.
PALATE
Oaky, nutty, dried corn, caramel, nutmeg, and a light bit of mint. Like the aroma, the palate is also a solid example of a decent bourbon.
FINISH
Long oak, dark fruit, nuts and nutmeg.
BALANCE, BODY & FEEL
Ok balance, medium body and a warm oily feel.
OVERALL
Elijah Craig Small Batch definitely has a strong oaky backbone to the aroma and smells like some older bourbon is in there, which makes sense if the story of it being made from 8-12 year old barrels is true. The palate has a similar delivery and gives off some nice oaky notes, but lacks the depth of a well matured bourbon.
Smelling the Elijah Craig Small Batch next to both the age-stated and a 12 yo single barrel there is a noticable drop in richness and complexity. The palate follow suite with the noticeable difference in richness and the peanut quality is more pronounced in the SMB than the 12s. It's still a good bourbon, but there is a noticeable difference between it and the 12, but there's no use crying about it because them's the breaks and this is the time we live in.
SCORE: 85/100 (B)