Last up in our rye whiskey review mini-series is the Elijah Craig Rye Whiskey. One of the newest releases from the venerable whiskey powerhouse of Heaven Hill, this whiskey has the same mash bill as the Rittenhouse Bonded and the Pikesville Rye, but thanks to barrel maturation, proofing and selection it has a profile all its own… but why did they do it?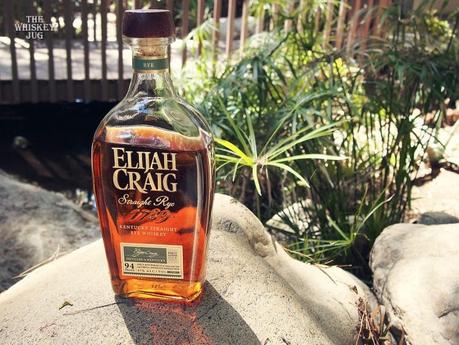 The Elijah Craig line is a good bourbon line that's become synonymous with two niche verticals for Heaven Hill: barrel proof and extra-aged bourbon. The Elijah Craig Barrel Proof is one of my favorite releases to pick up each year and the releases of 18 and 23-year-old Elijah Craig are highly sought after.
Is this shift of moving rye into this line a signal that we might be seeing a barrel proof and/or some extra-aged rye in the not-too-distant future? Only time will tell, but I sure hope so. Now on to the review.
Elijah Craig Rye Whiskey Review: Details and Tasting Notes
"This extraordinary extra-aged Rye Whiskey is the first to carry the name of Elijah Craig: the entrepreneur and distiller who is credited with being the first to age his American Whiskey in charred oak barrels to make Bourbon. Elijah's pioneering spirit and commitment to craft is on full display with this Kentucky Straight Rye Whiskey, which is produced from barrels specifically selected by our distillers. In the glass, Elijah Craig Rye reveals the imbuing spice of rye grains, perfectly balanced with corn for distinct smoothness and character."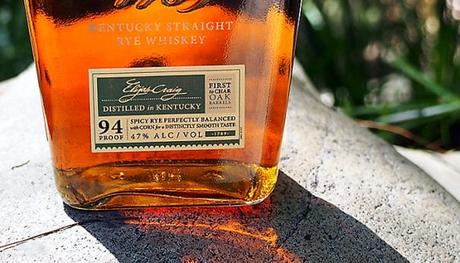 Details (price, mash bill, cask type, ABV, etc.)
Region: Kentucky, USA
Distiller: Heaven Hill Distillery
Mash Bill: 51% Rye, 35 % Corn, 14% Malted Barley
Cask: New Charred Oak
Age: 4+ Years
ABV: 47%
Natural Color
Price: $30*
Tasting Notes
EYE
Amber
NOSE
Roasted apples, caramel, oak, spice, vanilla, butterscotch, char, nuts and touches of leather and minerality.
PALATE
Oak, corn sweetness, caramel, roasted orchard fruit, baking spice, vanilla, butterscotch, char, nuts and touches of leather, licorice and minerality.
FINISH
Medium -> Sweet, spicy and a touch oaky.
BALANCE, BODY & FEEL
Good, med-full, warm and almost oily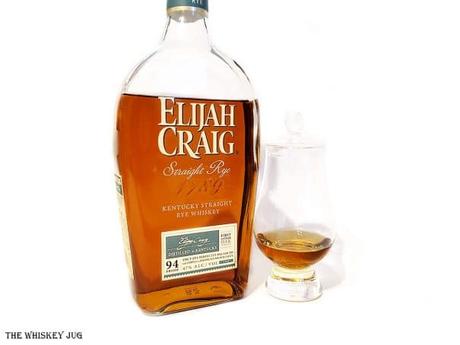 Elijah Craig Rye Whiskey Review: Overall and Score
Aroma is warm and lightly spiced with some grain and candy sweetness floating through with bits of oak; Palate is deeper with heavier oak and a more complex spice that picks up notes of nutmeg and clove; Finish is a nice fade of all the best sweet and rustic notes. Definitely enjoying this one.
Elijah Craig Rye Whiskey is a nice expression of the Heaven Hill rye mash. It pulls out more of that cereal corn sweetness found in their bourbons that neither the Rittenhouse Bonded nor the Pikesville Rye really put on display – yet it retains a good spiciness. A worthy addition to the Elijah Craig line… now we just need the ECBPR!
SCORE: 3.5/5
*Disclosure: The bottle for this rye whiskey review was graciously sent to me by the company without obligation. The views, opinions, and tasting notes are 100% my own.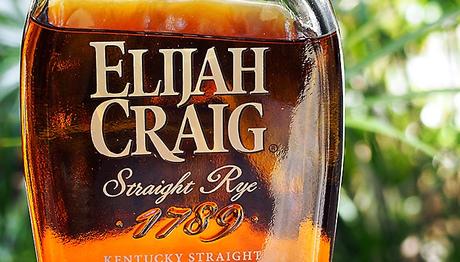 Elijah Craig Rye Whiskey Review
$30
Overall
3.5
Nose

(3.5)

Palate

(3.5)

Finish

(3.5)

BBF

(3.5)
Sending
User Review
0

(

0

votes)
Comments Rating
0

(

0

reviews)

Elijah Craig Rye Whiskey Review Summary
This is a tasty and aromatic rye that has a lot to offer for rye lovers of all tastes. It's warm and rich without being a punch to the face like the Pikesville but carries enough weight and character to work just as well in cocktails as the Rittenhouse. This is a workhorse rye for sure.
''