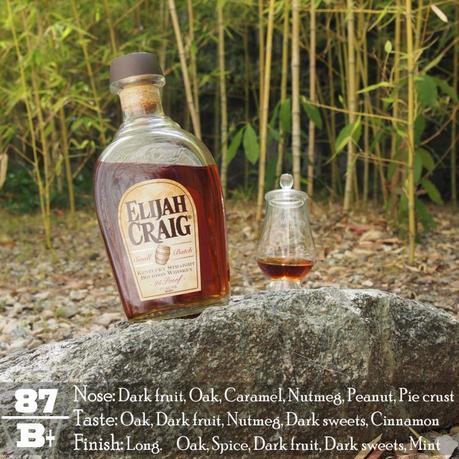 This Elijah Craig 12 years is the pre-cursor to the now NAS Elijah Craig Small Batch that adorns the shelves. This bottle is from the releases where they moved the 12 year age statement from the front of the bottle to the back. This movement towards NAS is part of a growing trend in the whisk(e)y world as a whole and represents a change in ideology and methodology in the industry.
For a long time, value has been associated with the age of the whiskey and not necessarily with the taste of the whiskey. You could slap a 30-year-old age statement on something, ask $400+ for it and that seemed ok because it was old. Taste didn't really matter. The move to NAS means we're now having to rely on something more etherial and elusive to determine value; our senses. Which is especially difficult to do with a product you can't always try before you buy, but that's a post for another time… on to the Elijah Craig 12 review!
Elijah Craig 12 Info
Region: Kentucky, USA
Distiller: Heaven Hill
Mashbill: 75% Corn, 13% Rye & 12% Malted Barley
Cask: New Charred Oak
Age: 12 Years
ABV: 47%
Non-Chill Filtered | Natural Color
Price: $30
Elijah Craig 12 Review
EYE
Caramel
NOSE
Dark fruit, oak, caramel, nutmeg, peanuts, pie crust and light notes of butterscotch and fresh dill.
PALATE
Oak, dark fruit, nutmeg, dark sweets, cinnamon and peanuts with light notes of vanilla and yellow cake.
FINISH
Long oak, spice, dark fruit, dark sweets and mint.
BALANCE, BODY & FEEL
Good balance, round body and a full oily feel.
OVERALL
Elijah Craig 12 has a nice rustic and fruity aroma and standard, but tasty, flavor through and through. A great example of a solid bourbon that displays the core characteristics of bourbon. Tasting this next to the NAS version I can tell you what's missing; the big oaky backbone and that's something that only shows up with age.
SCORE: 87/100 (B+)