Elie Saab Fall 2012
As you probably won't know, Elie Saab was the very first designer that I had ever heard of. At the age of eleven, I discovered Fashion TV via flicking through channels one afternoon in my grans house; there was a Spring/Summer collection currently showing, and it happened to be Elie Saabs. I was instantly transfixed with the colours, fabrics, lights, sounds and fierce stares of the models strutting down the catwalk. I knew from that moment that fashion was the industry that I just had to work in, and I wasn't going to stop until I made it big one day.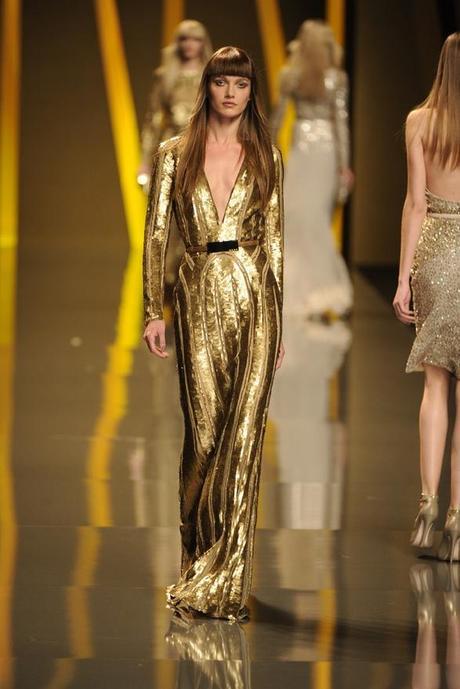 My favorite look - Elie Saab Fall 2012
Due to this fact, naturally, I had to watch the AW12 show when it aired online in Paris yesterday (March 7th). I sat with my eyes glued to the pc screen, lusting after every single look that came onto the catwalk.
Karlie Kloss in a gray skirt suit with black panels and peplums kicked the show off, followed by skater skirts, long-fur coats, pencil skirts, halter neck tops and high waisted flare trousers all of which in black, gray and cream.
There was an emphasis on structured daywear for the most part of the show, until the designers signature embellished, floaty, floor-length gowns began to appear; Spider-web lace paneled dresses in black and gorgeous, deep green and teal sequined floor length gowns paved the way for the finale gowns; cream and gold, long sleeved, floor length gowns with semi-exposed backs were covered head to toe in sequins which sparkled with a red carpet glow that is oh so familiar in Elie Saab designs. 
CLICK FOR A FULL LOOK AT THE COLLECTION.
It was breath-taking and everything I expected to see from the label. It reminded me just why I loved Elie Saabs collections to begin with and gave me that little boost to keep my head in the game, so that one day, I will have the dream job that I have wanted for so long.
What did you all think of the collection? I'd love to hear your opinions!