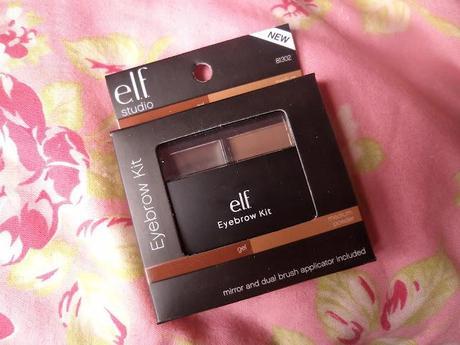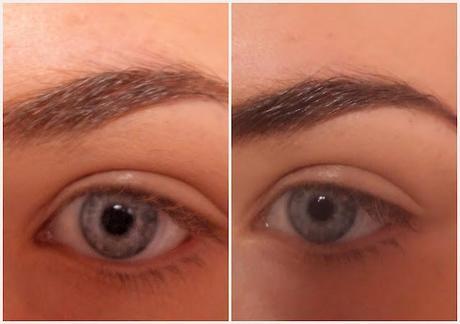 My best friend bought the Benefit Brow Zings kit a month or so ago and her eye brows have been looking fabulous and I've been greatly lusting after it - but my bank balance has not. At £22.50 I just can't justify my penniless self splurging on it. So when I spotted this ELF studio kit for just £3.50 here I had to get it. I have never done anything with my brows other than pluck them until a few months ago when I realised how much more definition it gave my eye to have a fuller more defined brow. 
I'm very lucky in that my brows are super thick and dark so I'm not in need of crazy amounts of assistance but they do look so much better a little more defined and coloured in for a deeper color. I love the ELF kit it comes with a powder and gel. I use the powder first to color over the brow losing the gaps between the brow hairs then I brush the gel over which really adds to the color of them. I have a bad habit of getting foundation all over my eyebrows when in a rush to do my make-up so this is perfect for just bringing out the color again. 
I bought the shade medium as my hair is more brown than black but the kit also comes in light, dark and ash. It has a mirror in the lid and a dual applicator brush. In comparison to my friends Brow Zings the biggest difference is the lack of a pair of tweezers - which is something I really don't miss as I have a love affair with my tweezermans however can see how they'd be handy if you are out and about. I think in terms of the powder there's not much difference - the quality of the gel though is better in the benefit version its a little more creamy in my opinion and applies a little better than the ELF version. 
All in all though £3.50 compared with £22.50 - I shall definitely be sticking with my ELF kit I absolutely love it and use it every day now! It's a complete must have in my make-up bag and I'm so glad I gave the lower priced kit a go.