Firstly let me apologize for my tardiness in writing a regular blog. At present my life is like an episode of a soap opera. Anyway, I settled down for a few minutes earlier this week and wrote this short piece....
   Our old van had a registration number that included the letters ENP, so in order to help me remember the registration,  I made up this little phrase.          
              "Elephants never party".
   So I came up with this little poem....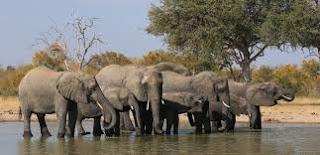 ENP
   "Hey", says mama elephant,
   " Let's party the night away.
     Put on your brightest gear
    And together we shall sway.
    I like reggae music, but Mildred
    Likes old pop.
    Make it a real all night party,
    We'll dance till we drop.
    Daisy, there, is almost past it,
    But she likes a bit of twist.
    So let's get down and boogie,
    Make sure no one is missed.
    Ethel will bring good food,
    And Dolores even better wine-
    Get us in a good mood.
    We're sure to have a good time.
    Don't say we never party-
    We can party like the best.
    So come on ladies let's travel,
    We haven't got time to rest.
    It's only a few days journey
    To our favorite party spot.
    So tails to trunks together
    And off we'll jolly well trot.
Thank you for reading, Kath
Email This
BlogThis!
Share to Twitter
Share to Facebook
Reactions: