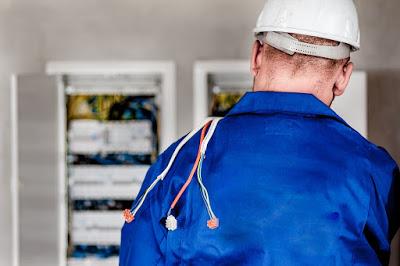 An electrician always maintains, designs, repairs and installs all the electrical systems that are used in every commercial and residential sectors. He or she also ensures that the electrical equipment, lights and other appliances can be operated reliably and safely. There are different types of electricians are available for homes, factories and businesses. The residential electricians mainly install wiring & fix all kinds of electrical problems. The commercial electricians mainly repair and maintain electrical equipment, motors and control systems in the factories and businesses. 
1. Key responsibility of an electrician:
The role and responsibilities of an
electrician
generally  vary depending on the field of their specialisation.
An electrician plans for the electrical systems for newly constructed buildings. They make a plan for the position of electrical outlets, heating outlets, ventilation systems and light fixtures. Interpret and read architect blueprints, technical documents and circuit diagrams.
Installs circuit breaker panels, switches, relays, other electrical control as well as distribution equipment. They also maintain control systems, wiring and lighting. Apart from that, they can inspect transformers, circuit breakers and other electrical parts regularly.
They also repair, replace and upgrade outdated or faulty electrical fixtures, wiring and other equipment.
Electricians should maintain all types of electrical standards.
2. Key skills:
Electricians should have different technical skills. They include:
Comprehension skills: These skills always help them to understand and interpret memos, technical documents and blueprints which they receive from their job sites.  
Hand-eye coordination and keen eyesight: Working with electrical systems, components and products are difficult. So, excellent vision and steady hands are highly required. 
Proper time management skill: It is very essential for the electrician to execute their work within the allotted schedule.  
Logical problem solving skills: When electrical systems and products fail, they should think logically and analytically to identify the alternative ways of solving the problems.
 Work environment of an electrician: Electricians may work in cramped conditions or large spaces. They generally spend working time in indoor and outdoor construction sites. They even work in remote areas. Therefore they always take proper safety precautions to avoid accidents. Electricians either work independently or work as a team. They do not have any fixed working location. 
Electricians work really hard to provide us better electrical solutions. They are highly essential in our day-to-day life. They solve all the problems associated with electrical wiring or its malfunctioning. In London, you will find many skilled electricians. They always provide the best services at a low cost.