Well another week has gone by and there has not been a lot of activity in the electrical dept. as of late but with exams finishing up at the end of this week we should be back in business soon. We will be going to the racetrack this Saturday to do some high speed testing, and hopefully if the weather turns around (its raining right now) it will be another great day driving Axiom.
Below I have posted some pictures of one of the many panels that will be going onto the car. Thirty Four of these types of panels will be going onto the car along with 6 other custom panels to fit tricky areas of the car (you might be able to see the areas in the other pictures Scott posted). Anyway as you can see the panels are 11 cells by 5 cells, each cell is about 2 volts, and so when they are all connected in series (they have not been connected yet) the panel is easily over 100 volts.
The panel that you see has been encapsulated (what I talked about in my previous post). It has been laminated inside of a clear protective material that protects the cells from moisture and physical damage whilst being very light transmissive.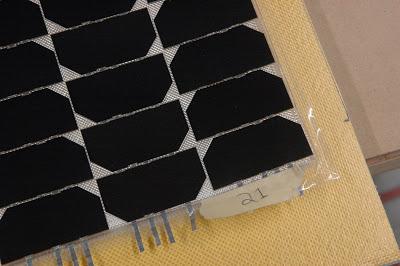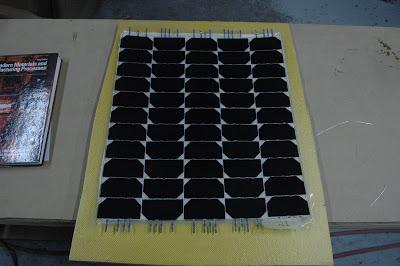 See Ya
Tim Gamber
Electrical Engineering Manager