The darkness of night will soon crack over the United States on the first Tuesday in November. Giving way to the light of dawn, millions will head to the polling stations. Some will be proud of their country, of their right to vote. Others will be angry that the nation is so divided, and that their vote is not how they truly feel. And some will look at a ballot blankly, not sure who to select. There is a danger to this.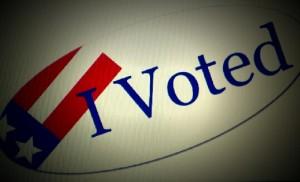 Yes, but do you know for whom?
Everywhere in America today people will be wearing "I Voted" stickers, proudly adorning their jackets and sweaters. Efforts have already begun to remind people of the importance of voting. Make no doubt, it is crucial, but it is not crucial that everyone vote. There are many people in the United States whose level of knowledge regarding government is so inadequate that they might actually vote for the wrong person. People who watch Fox, for example, who have been brainwashed into thinking we are an entitlement society, might vote for Romney, even when they depend on those very same social programs that Romney wants to cut. On a geo-political international level, there are even fewer people who can make an informed decision as to which man would be better at steering America through the complexities of international relations. Throw in the rash of negative attack ads broadcasted for the past six months and you have swirling misinformation left and right.
However much the average citizen might be expected to understand about each of the presidential candidates, as the pen drops further down the ballot, it moves into elections for post like Trustees for the local community college. It is guaranteed that almost no one outside of the direct circles of the candidates knows about what's at stake in those elections. The ballots don't provide us with any information other than name and party affiliation. This is unfair. On a hyper local level, party affiliation is not the same thing as the national stage. There are certainly some similarities, but the range of Democrats and Republicans increases at a local level. There could be a Republican who wants lower taxes but would never do anything to suppress gay people, women, minorities, or the disabled. There could also be a Democrat who wants lower taxes and less government regulation, but agrees that equal rights are more important right now than the percentage of profit margins. The point is, not knowing anything about the candidates for smaller elections means that a voter is much more likely to vote for the wrong candidate.
The voter then has three options, vote for the party and select all Democrat or all Republican; not vote for elections that the voter knows nothing about; or rely on a different system to select the candidates, for example, voting only for female candidates. Some might say that there is no difference between voting for candidates randomly or by another measure, but we disagree. Women are so underrepresented in politics and elections that simply getting more of them into office would be a step in the right direction, whether they are Republican or Democrat. But if you're not sure, leave it blank, these candidates have worked hard to be elected, and it is unfair that their fates are in the hands of the average voter.