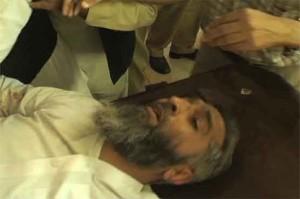 Election process has started in Pakistan to elect new members of Parliament. Election Campaign is gaining momentum each passing day with candidates filing nomination papers. Security situation is not exemplary in Pakistan and independent observes are fearing blood bath during elections. Such fears proved true when Election 2013 received 1st blood stains as a candidate is fired at and injured during electioneering.
According to details Jamat-i-Islami Candidate from NA-98 Gujranwala Bilal Qudrat Butt was busy in door to door campaign in Qila Deedar Singh when unknown assailants opened fire on him. He received several bullet injuries in stomach and chest. He was immediately rushed to District Headquarter Hospital (DHQ) Gujranwala where he was immediately operated. He is said to be in stable condition till filing of this report.
Attack on candidate has once again raised serious concerns over worsening law and order situation in the country. Constitutionally election cannot be held in a constituency if a candidate dies after filing nomination papers.