I was finally ready to embark on my virgin flight of hedgerow wine-making. The only bit of equipment I had was a demijohn that had been rescued from the depths of my friend's shed, so I went off in search of other bits and bobs I might need. These now consisted of: one piece of voile, one car washing bucket and one punch bowl. Armed with citric acid, wine yeast and an airlock , I was ready for the off.
I fished my elderberries out of the freezer and sterilised all my equipment.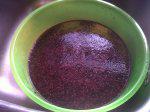 Mashed elderberries steeping in boiling water
Step one: put 3lb of elderberries in the punch bowl, mash them about with the spud masher and cover with boiling water. Leave for a few hours to go cold. (Note – smells like old socks)
Step two: put 3lb sugar in the demijohn (funnel required) and pour on a couple of pints of boiling water to disolve.
Step three: stretch the piece of voile over the bucket and secure with a big elastic band, tip cold elderberry mix on, and leave to strain through.
Step four: tip elderberry syrup into the demijohn. Agitate to mix with sugar. Ensure contents are just warm, add one teaspoon of citric acid and one sachet of wine yeast. Fill to the neck of the demijohn with lukewarm water, bung with an airlock.
Step five: leave in warm place.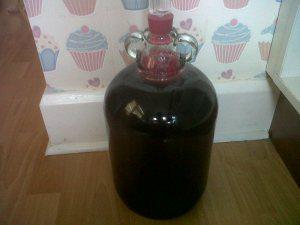 Roll on next year...
Happy to say that the wine is bubbling away like crazy this morning. I'm moving it around the house in order to catch the hot spots.  Apparently I do more stuff to it when it's finished bubbling (watch this space), and it should be drinkable in … ooh, about a year.