elchim 8th Sense Hair Dryer. Cold Weather Hair Savior……introducing the elchim 8th Sense Hair Dryer! Don't fry your hair dry it with the most luxurious hair dryer on the market
8th Sense by Elchim welcomes a new generation dryer featuring an innovative, very light and long lasting brushless digital motor (BLDC TECHNOLOGY), entirely made in Italy.  8 types of hair exist, and every type needs a specific air flow and temperature.
8th Sense is the very first dryer & styler that fits all eight existing types of hair, from thick hair to thin hair, to very delicate baby fine hair, to fragile and damaged hair.  Its AC professional motor is run by an advanced digital system, engineered to provide 36 drying programs, respecting the uniqueness of each type of hair.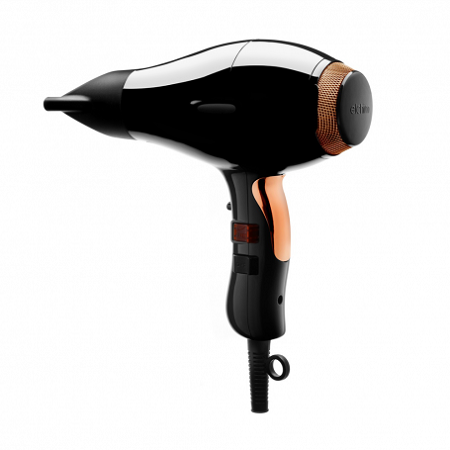 WHY this dryer rocks:
The 8th Sense motor is so revolutionary that has been developed for reduced electricity consumption. This is due to an advanced adjustable power setting from 300 Watts to 2,100 Watts (at 110-125 V) and the perfect air concentration which creates outstanding hair.
Moreover, 8th Sense is so silent that it will not disturb even a sleeping baby. The 8th Sense is an innovative invention of modern engineering and design. It was dreamed, projected and manufactured in Italy.
Elchim history
Right now, reading this, you are somewhere. Stop looking at the screen and look around you. There are all kinds of objects: telephones, pens, day planners, desks, chairs, maybe even a hair dryer. What do you know about the things surrounding you? Do you know their story? And the story of the person who made it for you? Alright, now go get the hair dryer that you have in your salon or at home and really look at it. What are the letters stamped onto it? E, L, C, H, I, M. If those letters are there, here's it's story.
Elchim was founded in 1945 – can you recall some images of the Second World War? Think of the years immediately afterwards, when everything had to be rebuilt and only passion and the intense desire for redemption transformed that rubble into a new country. Some of that passion still runs through our veins, because Elchim has one family's dream behind it.
Elchim stands for "Elettro-professionali Chiminello" (Electro-professional Chiminello): Chiminello, a very Italian last name, right? It was the last name of the founders: a brother and sister, Egle and Riccardo. Today the son and grandson of Egle, Roberto and Luca Sabbatini, are at the helm of the Milan based company with a presence in 48 different countries.
elchim 8th Sense Hair Dryer
1945 "Fratelli Chiminello" was founded in Milan, later to become Elchim; this is where it all began.