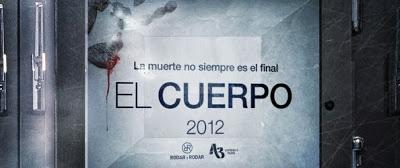 It had been quite a while since I saw a nice little suspense thriller, a void that the Spanish film El cuerpo (The Body) has successfully been able to fill.
It seems that the makers of the film cashed in on the idea of everyone having skeletons in their closets as the film sees a husband defend his innocence when the body of his recently deceased wife is taken from the morgue before an autopsy could be conducted on it. Director Oriol Paula sets up most of the film within the confines of the Morgue giving tiny hints throughout the film in the form of phone-calls and flashbacks to what might have really happened.
Alex Ullioa (Hugo Silva) and Jamie Pena (Jose Coronado), the two main leads in the films, one a husband with a dark secret and the other a detective trying to follow his instincts, give a solid performance as they fight each other in a psychological warfare of one-upmanship. Adding in the right amount of suspicion and tension that more than once tricks the audience, the cast and the director are able to slowly disclose the truth behind the various faces in the story.
The film does drag a little in the middle and seems to head towards a predestined ending, but I have never been happy to be proved wrong. There are twists-a-plenty and that doesn't end till the very end. The film wraps up nicely without leaving too many loopholes leaving the audience in awe of what just happened.
The Body is a little long yet intense thriller that gives the look of an average whodunit on the surface but turns out to be a strong drama full of revenge, passion, lust, and mystery.
Rating 4/5